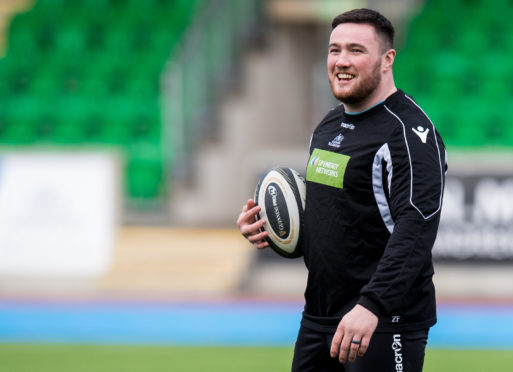 Zander Fagerson and Fraser Brown could be pitched straight into Scotland's opening Guinness Six Nations meeting with Italy despite being out injured for several weeks.
Fagerson underwent ankle surgery after picking up an injury against the Cheetahs back in September and Brown has been absent with a knee injury since mid-December but both were back in camp and training with Scotland yesterday.
Assistant coach Matt Taylor said it was too early to tell whether the pair were candidates to play against the Italians or against Ireland in the second week, but if they were ready, there would be no hesitation.
"If we think they're ready, they'll play, whether that's as a reserve or whatever, that's our call," he said. "Of course you want them to play (warm-up) games, but you also want to pick the best team, and it depends on a lot of things, whether we see them as reserves.
"Fraser, for example might just get 15-20 minutes and he's an exceptional professional, keeps himself in very good shape.
"We won't be putting a guy in a place where he's going to re-injure something. It's a balance, you don't want them to get injured and we lose them for the whole tournament.
"Their clubs have such a professional environment they're really tested quite heavily around their injury before we involve them even training.
"We work closely with the strength and conditioning teams from the pro teams, so we know how many miles and how much high speed running they're doing, we're right on top of where they're at."
Fagerson has missed nearly five months and plays in such a physically intensive position at tight-head, so it's unlikely he will be called on with Simon Berghan a relatively experienced back up to WP Nel already in place.
But Brown, if ready, would prevent the need to pick one of three uncapped hookers – Grant Stewart, Dave Cherry and Jake Kerr – as a replacement as Stuart McInally starts the crucial first game.
"The three guys have done an excellent job, they've impressed us," continued Taylor. "Once again, it's a question of do you bring Fraser back if he's ready or do you give an opportunity to a young guy who is performing pretty well?
"The decision is around what's best for the team and what you need. There are always calls to be made in selection. Fraser's an excellent hooker and really experienced, and there's a possibility he could be right, so if you think he's right then yeah, you could pick him.
"If we think he needs a little more time, to get a few more miles under the belt or some rehab, we'd sit him down until the next game. Today was the first time we've trained since Friday, so it was the first time we've seen them with us."
The eternal reshuffle of bodies at the training camp at Oriam continued with Edinburgh's Henry Pyrgos, Glasgow wing Rory Hughes and Stafford McDowall called up, while Rob Harley, Alex Dunbar and Matt Smith returned to Glasgow.
Pyrgos is there for cover against a shoulder injury hampering George Horne, while Hughes covers an injury to lee Jones that is still be assessed. McDowall, the powerfully built centre who was Scotland's Under-20 captain last year, is there to experience his first national squad training camp.
Taylor said that if the squad are to achieve their stated aim of winning the Six Nations, there was a necessity to win all their three home games, including the two to start the championship.
"We've talked about it every day, wanting to be the first Scottish team to win the Six Nations title," he said.
"We've got two home games to start. Whoever you're playing, whether it's Italy or Ireland or England, in your first game you want to get off to a good start," he said.
"What we need to do is turn up with the right attitude and mentality to face a good Italian team, and if we do that we'll put in a good performance and get a good result.
"As we all know, we didn't do that last year in Rome . We did win the game, but it was touch-and-go whether we were going to do that.
"We're going to pay them the respect they're due. We have to front up."