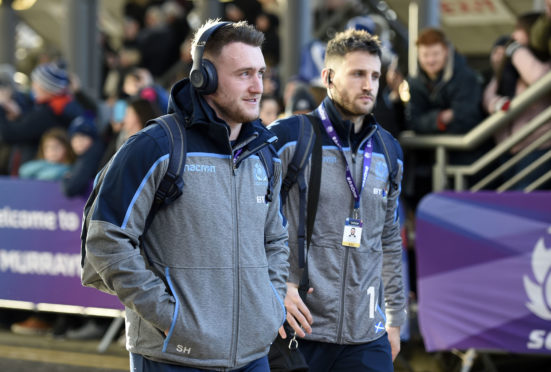 The race for Scotland's all-time try-scoring record took another turn on Saturday, but Tommy Seymour and Stuart Hogg's battle is mainly conducted in banter.
The Ulster raised wing seemed to get a jump on his long-time back three partner with a hat-trick against Fiji last November, only for Hogg to pull level again on Saturday against Italy with his opportunistic touchdown to also reach 19 tries, now just five short of the record for Scotland held by the legendary "Flying Scotsman" Ian Smith and 1990 Grand Slam hero Tony Stanger.
"Hoggy's got a few years on me, and over the long run I don't think there's going to be much competition for the record," admitted the 30-year-old (Hogg is still only 26).
"But we enjoy it now, we're level pegging at the moment and Hoggy and I can have a bit of fun with it.
"He likes winding me up and I was winding him up about his second try which was chalked off at the weekend. That was very unlucky for him because it was a fantastic finish, but it's maybe given me a little bit of an opportunity.
"We have some fun with it, but the main thing is that we play well as a team and that we are scoring tries, wherever they come from. If we are playing the kind of rugby we want to, we are in a good position."
Both the active try-scoring leaders were pretty much eclipsed on Saturday by Blair Kinghorn, who bagged a hat-trick, the first in the championship since Iwan Tukalo's three against Ireland in 1989. The time before that was Smith's three tries against Wales in 1925, the last of his three hat-tricks in an incredible career.
"He played well, didn't he?," said Seymour. "Obviously you want to be getting across for tries, so I'd have loved one myself, but the really pleasing thing is we played some really good stuff.
"I can honestly say I'm chuffed for Blair. He played a brilliant game and took the chances he was provided with really well.
"He's the first Scotsman to score a hat-trick in the Six Nations, so brilliant for the young fella to get an achievement like that and get in the history books."
The Scots have be focusing on what they did well for 65 minutes rather than the disappointing final 15 minutes, with a view to Ireland coming to Murrayfield on Saturday.
"Certainly for the first 65 minutes I thought we showed some really good play, we did a lot of things well," he said. "We were accurate with good sparks of creativity and we obviously got the bonus point wrapped up early.
"To concede the points we did in the last 15 minutes is disappointing, but it's probably a good thing for us, a reality check. It brings us back down to earth a little bit about things that can go wrong if we're not fully switched on or we start to think the job's done."
There's no question that Ireland represent a full 80-minute challenge for Scotland, but they are preparing well, said Seymour.
"Ireland are one of the best teams in the world, one of the best coached sides in the world and they have some of the best players in the world," he said.
"We know Ireland have a fantastic kicking game. Their half-backs are very skilled at putting the ball in the right areas and putting balls up to compete with or to put pressure on you behind. So certainly we'll go into this week knowing it's a tactic they can exploit very well.
"But that's the way it works in the modern game: you've got to have the ability to expose the weakness in their kicking game or try to counterbalance it.
"I think England did incredibly well against Ireland. Tactically, they seemed to be on point and they put a lot of pressure on. But Ireland will be back on song this week and will be putting a lot of pressure on themselves to concentrate on this week.
"We know what is coming and we will be prepared for it."