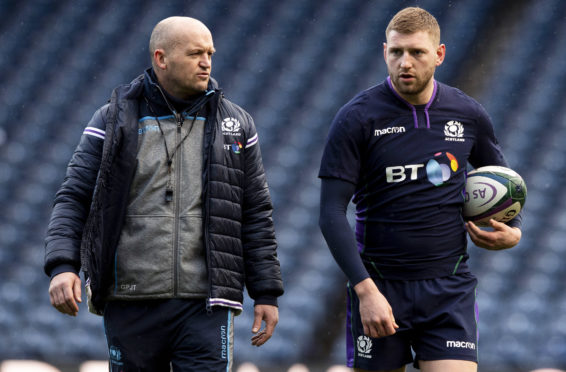 The "Finn Watch" will last all week at the Scotland Six Nations training camp with the star stand-off's place in Saturday's game against France in Paris on a knife-edge.
Russell was replaced just before half-time after taking a knee to the head playing for Racing 92 against Toulouse on Sunday, failed a Head Injury Assessment test and did not return.
Reports from France on Sunday evening had him being ruled out of this weekend's game at the Stade de France, but the ebullient playmaker rejoined the training camp at Oriam west of Edinburgh on schedule yesterday morning, and was reported as free from any concussion symptoms.
He needs to stay that way all week, however, and may only be restricted to simple walkthroughs rather than full-speed training right up until game day.
Russell is certainly out of any kind of activity until the end of the week, and even the slightest setback will force him out of Saturday's game. He is on the tightest of schedules with the statutory six-day protocol in operation barely fitting into the time between Sunday's incident and next Saturday's game.
Assistant coach Danny Wilson agreed that Russell's presence alone augured well, but that there was "a long way to go" before he made the team for Paris.
"Things need to go swimmingly well for it to happen," he agreed. "He's in his usual high spirits, nothing untoward.
"It's a really good thing that he's here and symptom-free. As you all know, if he wasn't, that would be that and he wouldn't be here. But there's still a long way to go between now and Saturday."
Wilson had been watching the Racing-Toulouse game but went back to the hotel to start prep work before Russell's injury, although word soon got around.
""We were all separate (at that time) but news travels fast, doesn't it?" he said. "There were a few messages flying about, it would be fair to say.
"It's part of the game and part of rugby generally. Thankfully there's a protocol in place that is far, far better than it used to be, the players are protected and there won't be any risks taken with players from that point of view."
Russell stood on the sidelines with a cup of coffee watching yesterday's light morning session, with much of the squad still in recovery from games at the weekend.
"In any given week your role as coaching staff is make sure you're prepared for a worst case scenario," continued Wilson. "I know Gregor (Townsend) with the detail he plans, we've planned for injuries during the game, before the game. Those things are covered, but absolutely the prep has to be adjusted if your 10 from the previous game isn't available early part of the week in training."
The "Finn Watch" meant a recall to the squad for Duncan Weir, now with Worcester Warriors, but it seems likely that if Russell doesn't make it that Pete Horne or Adam Hastings will play in his place.
Scotland also added five more players, including the three forwards – Magnus Bradbury, Xander Fagerson and George Turner – who made successful comebacks from injury at the weekend, as well as Dougie Fife and James Johnstone to provide cover for the absent Stuart Hogg and Huw Jones.
"We talked about injuries making opportunities for others and there's some real good news there," continued Wilson. "We had three outstanding rugby players returning and not just play, but play I thought really well.
"Magnus Bradbury's was a man of the match performance, and I was really impressed with him, and likewise Zander and George against the Blues both had really strong games.
"What impressed me especially about Magnus was to come back from a lay off like that to a performance in the way he did, added to the amount of time he was on the field. I was really impressed and it can only be good for Scotland."
Stuart Hogg, nursing a shoulder injury which rules him out of Paris, has not rejoined the camp, while George Horne (shoulder) and Stafford McDowall (ankle) have dropped out with injuries. Hooker Jake Kerr, who won his first cap against Italy, and Edinburgh duo Dave Cherry and Murray McCallum have returned to their clubs.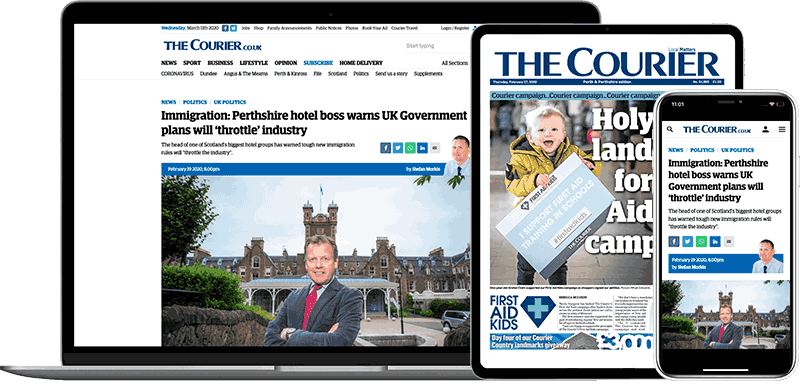 Help support quality local journalism … become a digital subscriber to The Courier
For as little as £5.99 a month you can access all of our content, including Premium articles.
Subscribe