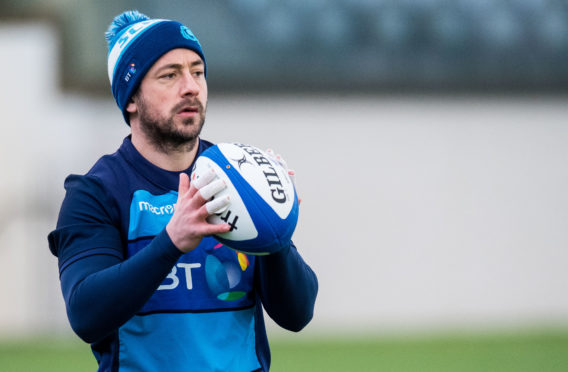 Greig Laidlaw needed to go recruiting for the Scotland team leadership group this week – but he's reportedly still ahead of the French in that regard.
The injury crisis has left the Scotland captain without many of his usual senior lieutenants like Ryan Wilson, Finn Russell and Stuart Hogg for this weekend's 6 Nations meeting with France, but he found it fairly simple to organise another one.
"We have more leaders, naturally, within the group these days," said the skipper. "Whether that be boys coming through from Edinburgh, guys like Grant Gilchrist, Stuart McInally, or from Glasgow like Fraser Brown and Jonny Gray. Sean Maitland as well, who has a lot of experience down at Sarries.
"So we have a lot of leaders – and I've spoken to them at length this week about making sure we're connecting, delivering the right message but also doing our own jobs and leading by example. That's the most important thing."
This is in contrast to France, who according to local reports only constituted a players' leadership group in the last couple of weeks, after their debacle at Twickenham.
In the aftermath of the 44-8 thrashing there, senior figures publicly criticised the lack of strategy, which led to both the establishment of the leadership group to enable the players while simultaneously resulting in the axeing some of those who made the complaints, notably scrum-half and frontline kicker Morgan Parra, and stand-off Camille Lopez.
One is always reticent about making too much of a crisis in French rugby, due to their ability to suddenly harness their unquestioned advantages in resources and ability, and click almost without warning. Scotland have certainly come here plenty of times in the last 20 years thinking France were there for the taking yet been disabused of that notion.
The mood in Paris is half-bemusement and disgust at what's happened to their team in the championship this far, yet there's definitely an assumption among the faithful that it will all click and everything will be okay, and that process will probably start today.
The Stade de France will be full to the gunnels again  – the less-than-capacity crowd in the tournament opener against Wales was wholly due to the late Friday night kick-off making the game unattainable for the rugby heartland support from the deep south.
The 6 Nations remains a  prime ticket here as everywhere else, and there is still a massive level of expectation from the French rugby public.
And while the French half-backs N'tamack and Dupont are unquestionably callow and inexperienced – N'tamack has just made three starts at 10 for Toulouse this season – but the Scots are hardly any better, as Peter Horne has had a similar number of starts in the position for Glasgow.
Horne does have a lot more miles in the tank than his opposite number, however, and fits fairly comfortably into the gameplan Scotland want to play.
"We'll have to change our approach from how we play with Finn slightly to suit Pete's strengths," continued the captain. "You have to play to your strengths in the team and Pete brings some different attributes to Finn.
"But he also brings a lot of the same ones Finn provides and we won't be deviating too much from our gameplan and we'll play like we want to play."
There are as many fresh faces in the Scotland team as the French, though, and it was notable to see those faces arriving at the Stade for the captain's run yesterday scanning the upper reaches of the massive 80,000 seater bowl. Nearly half the starting Scotland team and all but three of the bench have never played here before.
"They were just admiring the weather," joked assistant coach Mike Blair. "It's been a while since we've seen the sun.
"I don't think the guys who haven't been here before will be overawed by it. They'll see the sun shining, recognise the fact it's a beautiful pitch and a great place to go and play some rugby.
"I don't think there is a fear there. Our defence needs to be on its toes. We can't allow them to get into the game, or allow the fans to get into the game.
"If we can manage that it will be a tough afternoon for them, if we don't then they will enjoy themselves."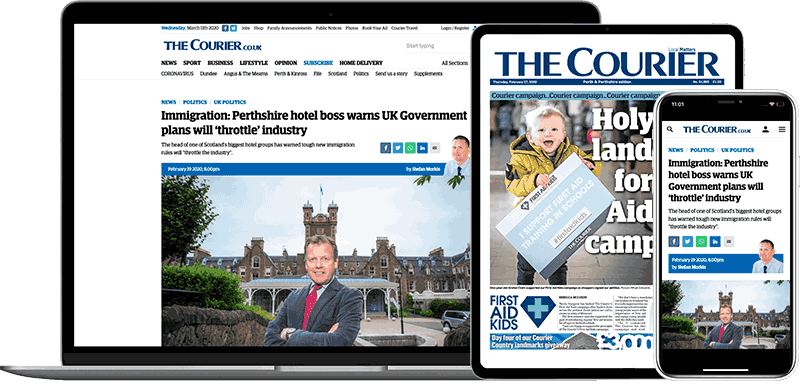 Help support quality local journalism … become a digital subscriber to The Courier
For as little as £5.99 a month you can access all of our content, including Premium articles.
Subscribe