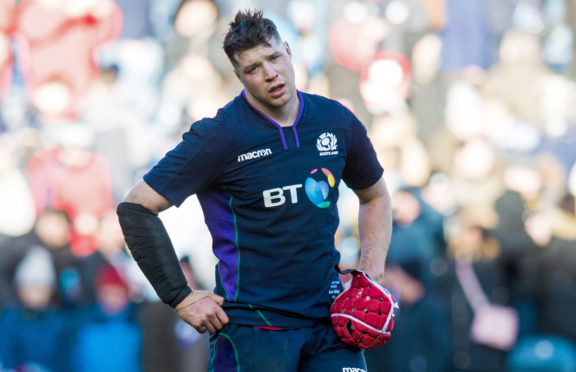 Scotland need to be "more physical than we've ever been before" if they are to upset England and win at Twickenham for the first time in 36 years, says Grant Gilchrist.
The effort will be the same, it is the accuracy in bringing the phsycial element to a huge England side that will be important, explained the lock.
"The physicality isn't just about effort, it's about accuracy as well," he said. "You can try and hit somebody hard, but you've got to be in the right position to hit in twos, to make sure that we get set first so that we can then get off the line and get in at them.
"At times against Wales on Saturday it wasn't our tackling, it was getting round the corner – getting beaten round the corner or getting beaten on the edge.
"Ball in hand you can only be physical if you know what you're doing and your shape's right – the right shape around you to get one-on-one tackles and stuff like that.
"Obviously there's a lot of things that go on behind that that make it the most physical we've ever been, but basically it's about the best rugby we've ever played, really."
Gilchrist didn't play in the record equalling loss to Twickenham two years ago – it's likely just four players will start who played in that 61-21 defeat – but it's a reminder to everyone what can go wrong if the Scots aren't in the right place.
"You know the size of the task anyway," he continued. "The standard of the 6 Nations says that if you're away from home and you get it wrong, you can end up looking pretty silly.
"So we understand the pressure on us to perform; if we don't get it right we won't compete and we won't get the win we are desperately looking for.
"We believe we can (win), we know the size of the challenge but we believe if we put together the bits we have got right throughout the tournament into one performance we can beat any team."
The main work-on this week will be finishing in the 22 after Scotland's attempts to do so on Saturday floundered against the Welsh defence.
"Our work when we got into the 22 of Wales wasn't quite good enough," continued Gilchrist. "Getting down there as many times as we did was a positive, but we didn't turn that pressure into points as well as we could have.
"The work that you do near the opposition's line is different, defences are different. It doesn't always have to be a score from 30 metres out, 60-metre tries. Yeah, that's brilliant when we do that, but what we're working on this week is how we can finish when we're in the opposition zone."
As for the reception at Twickenham and the fact that Scotland are being written off in all quarters, that doesn't even register with Gilchrist.
"We've enough to be worried about with our own game and going down there getting prepared to play a game of rugby," he said.
"I don't think you need any more motivation. It's a huge game, playing any of these massive games, England, Wales or Ireland and representing Scotland, you feel the responsibility.
"If you're not motivated to play for Scotland regardless of position there's something seriously wrong. I don't think (Twickenham) makes any difference."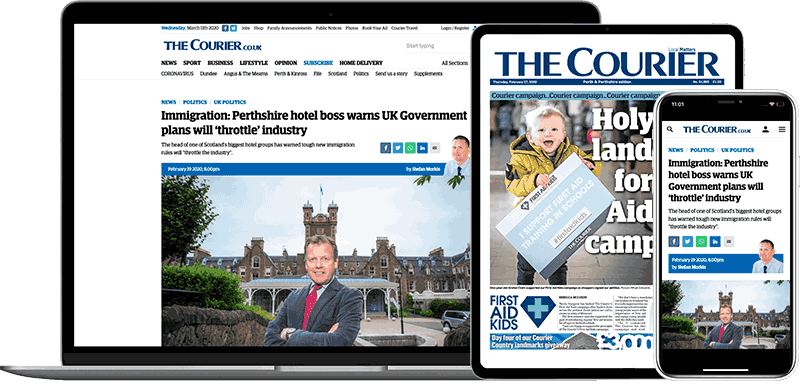 Help support quality local journalism … become a digital subscriber to The Courier
For as little as £5.99 a month you can access all of our content, including Premium articles.
Subscribe