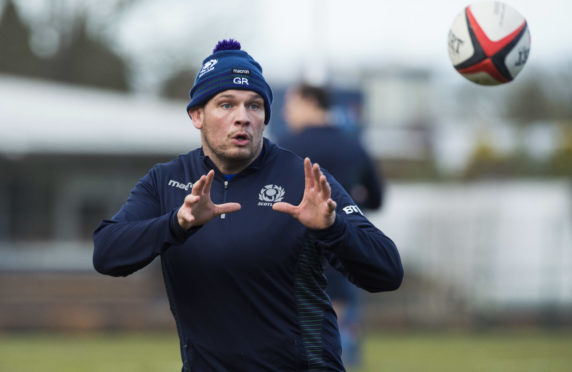 Scotland's joy at beating England last season and their "over-celebrating" was partly because they had been "embarrassed" at Twickenham the previous year, says prop Gordon Reid.
The prop has returned to the Scotland set-up in the last couple of weeks and is in line for a place on the ground where he scored his first international try – although that was a very small positive on an awful day for the Scots, routed 61-21 when many north of the border thought they had a chance to win there for the first time since 1983.
"Yeah, it was a tough one to take," said the London Irish loose head, who also played in last year's 25-13 win. "You try to take a positive in that I was quite happy that I scored, but obviously you would take that away for the win.
"I think they embarrassed us a little bit when we were down there two years ago. The scoreline was just too much for us.
"I felt we did take what happened there on board. We knew we could do better and I think that's why, with other reasons too, that we were so pumped up at Murrayfield last year. Hopefully we can continue that at Twickenham."
Reid is a little puzzled – like most of the Scots – at England head coach Eddie Jones' attempts to wind up the intensity this week, given that the Scots are always wound up for this fixture.
"It's one of those games that, when you're growing up, you always want to be involved in, and I'm looking forward to it," he said.
"They're going to come out firing after Murrayfield last year, just like we did in that game. All this stuff motivates us more.
"We know how big a game it is. We've not won down there in a long time, although everyone talks about the past with this game when we're concentrating on the future. We want to go down there
and put on the best performance we can.
"There may be some boys that haven't had that much experience of Twickenham, but we just have to work hard as a team. I think we can do well."
Reid was originally left out of the Scotland 6 Nations squad having started just one game in the autumn, but he agreed with Gregor Townsend that he wasn't in his best form at the key time leading up to the championship.
"I've known Gregor a long time, and we always have a bit of fun when he phones," said Reid. "I took the mickey out of him a little, just some chat and friendly banter.
"We always have these talks at the beginning of the season, what you need to work on, and what the coaches won't know about you. Well, I always say, you know everything there is to know about me!
"I knew I wasn't playing the best around Christmas time, I wasn't having fun playing rugby. I'm down in London and the wife is back here in Scotland, and it's sometimes tough.
"But I found some fun again, I wanted to improve and get better and I feel like I've done that. Gregor has obviously noticed that, so he's brought me back in and I'm happy with that.
"You never say `I'm definitely going to be involved'. You always wish and you always hope that you can represent your country and come back up the road to where the thistle is."
Reid didn't get on against Wales from off the bench but Allan Dell has his full backing.
"I can be raging, I can be annoyed, but the thing is, Gregor's there to make a decision, I just need to back it," he said. "Allan was playing awesome last week, I thought he had a really good game.
"I would have kept him on, because he was running hard with the ball, he was scrummaging well. His stats show that he hit something like 45 rucks and that's being first or second there, so I thought he had a classic game.
"He's a fit boy. I'm just happy to be here. If I'm involved at the weekend, then great, if I'm not, then that's what it is."