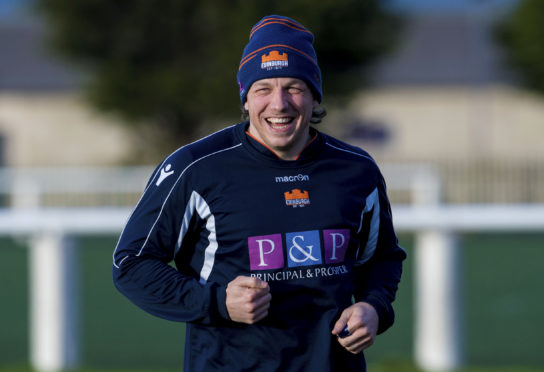 The customary clichés of re-signing contracts were trotted out by Hamish Watson ahead of this weekend's Heineken Cup quarter-final – but this time they felt absolutely accurate.
Watson extended his contract at Edinburgh for a further two years this week in a timely boost to the club before they meet Munster, making the customary statements about family and being impressed with a club that are going places.
However the family thing is accurate enough – he and his fiancée have a new baby girl they want to raise in the capital – and since Watson was at Edinburgh when they seemed to be going nowhere, he should have a fair idea if things are different now.
The Scotland backrower was just 19 when Edinburgh went all the way to the semi-final in 2011, and there's been some difficult times in the intervening eight years.
"I was pretty young back then," he recalled. "It feels different because I'm more involved in it. I played a few games that year, but with Europe I was very much looking in from the outside.
"I remember it was a really exciting experience for everyone and to get 40,000 at Murrayfield for a club game (the quarter-final against Toulouse) was very special. If we can get that again it will be amazing, I've never played in front of that many fans for Edinburgh so it will be a huge game and we have to make sure we take our opportunity."
In those days, Edinburgh would have "upward waves and then it would just stop".
"This definitely feels different," he said. "I really want to try and win stuff with Edinburgh.
"I feel there is a lot of unfinished business here. We're in the Champions Cup, in the quarter-final, pushing for play-offs in consecutive years. We've managed to keep high-profile players so it really does feel that we're going in the right direction."
And there's unfinished business for Watson in this remaining season, he points out.
"I didn't play Munster in the quarter-final of the PRO14 last year because I had a shoulder operation after the 6 Nations. That was quite a disappointing loss in the end because we could have won.
"It was probably the best season we have had as an Edinburgh team since I've been here. To miss the tail end of the season when it was getting really exciting was gutting.
"So I'm really focused and enjoying playing these tail end of season games. Last week was a massive game to put our foot forward for play-offs, which we did and got five points.
"All focus has now shifted to the Champions Cup, which will probably be the biggest game I've played for Edinburgh so far. After that there could be a semi-final and we could be pushing for PRO14 play-offs. It's a big end to the season."
Last week's back row of Watson, John Barclay and Bill Mata was the combination Edinburgh fans have been dreaming of all season, and right now with Magnus Bradbury and Jamie Ritchie on the bench, it's harder to get into the Edinburgh back row than Scotland's right now.
"I'd rather have Bill on my team than play against him," said Watson. "He's a great player to play with and he has had a massive part to play in our success in Europe this year.
"He does very special things but he also does the basics really well. It was awesome to see him commit to Edinburgh as well, that's pretty exciting for the fans to see us lock down players like that when French teams were supposedly after him for whatever money.
"It is great to have Barcs back. He has been out for 10 months but you could see the impact he had on the game.
"His workrate is up there with the best. He is also a real leader on the field. We have a lot of players who lead by example but he definitely leads with communication and with his actions."