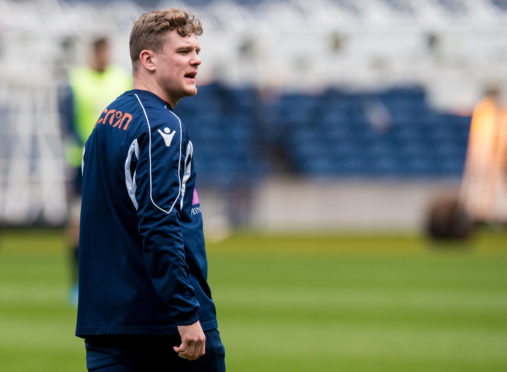 Every test Darcy Graham has been handed this season he's passed, and the Edinburgh flier is handed another "roll of the dice" examination by Edinburgh head coach Richard Cockerill for today's Heineken Champions Cup quarter-final against Munster at Murrayfield.
The 22-year-old will play at full-back – a position he's been in only once before for the club – in order to add "that little sharp edge, a little bit more threat to our attacking game" in the absence of Blair Kinghorn, a key figure in this campaign but out for the rest of the season.
Cockerill wanted Damien Hoyland on the wing because he feels he is better suited to the high ball Munster (and Edinburgh) prefer, so with Duhan van der Merwe on the other side this is the best  back-three combination the coach thinks he has.
But will Munster target the diminutive Graham, as good as he is in the air?
"Maybe, but they are not a team that kicks the ball particularly long," said Cockerill. "Let's face it, the ball will be in the air a lot down the edges of the field from both teams.
"It makes it interesting, doesn't it? We'll all look forward to see how Darcy goes and if he's really good it will be down to him and if he isn't it will be my fault. That's how it should be.
"It's a roll of the dice to a point, I'm taking a risk but I trust the individuals to do what I want them to do. Without Kinghorn I think we're a bit blunt in the back three if we go with any other combination."
His faith in Graham has been there from the outset, and has been rewarded by seeing him star for Edinburgh and go into the Scoitland team.
"I like his attitude to get better, to play, to put his body on the line and play for his team," continued Cockerill. "He's not very complicated; what you see is what you get, he works hard and he cares about his team.
"He wants to be as good a player as he can be, and if every player was like that my life would be a lot easier. He's a really humble kid from a really good family background. There's a raw naivety that's really good about him."
In all other positions but one, Cockerill has held faith with the players that brought Edinburgh to a home quarter-final with 35,000 tickets sold and the hope it'll push to over 40,000 from walk-ups on the day.
John Barclay's performance last week against Leinster convinced the coach that the erstwhile Scotland captain needed to play even after almost a year out injured, while Matt Scott and Mark Bennett have not done enough to displace midfield combo Chris Dean and James Johnstone.
Stuart McInally and Grant Gilchrist return to the pack, and all five forward replacements for Edinburgh are Scotland internationals. Despite the threat of cutting edge from Graham and van der Merwe for Edinburgh and Joey Carbery for Munster, upfront is really where the match will be won.
"It should be a good game of chess," continued  Cockerill. "We are not too dissimilar as teams. I don't expect them to run it from their goal line and I am sure they don't expect us to do that from ours.
"I think they'll come head on and guaranteed 100% we'll come head on at them too. It should be a great contest."
No-one at Edinburgh is satisfied with a last eight place, but Cockerill has detected that his initial aim since coming to Edinburgh 20 months ago seems to have been achieved.
"I don't think any team takes us lightly anymore," he said. "Previously, you'd expect these big sides to beat us.
"Every team that plays us treats us with respect, they need to because if they don't get beaten. You hear them talking about us and it's about `resilience, they're well organised and tough to beat'.
"We're nowhere hear where Munster are yet but it's what we talked about when we began this process. Two years later we've got teams like Munster and their coaching staff talking about how resilient, tough and hard we are.
"I think we should take pride in that. And then not disappoint them tomorrow when they come and play us."
Edinburgh team: Darcy Graham; Damien Hoyland, James Johnstone, Chris Dean, Duhan van der Merwe; Jaco van der Walt, Henry Pyrgos; Pierre Schoeman, Stuart McInally, WP Nel; Grant Gilchrist, Ben Toolis; John Barclay, Hamish Watson, Viliame Mata.
Replacements: Ross Ford, Allan Dell, Simon Berghan, Magnus Bradbury, Jamie Ritchie, Charlie Shiel, Simon Hickey, Mark Bennett.