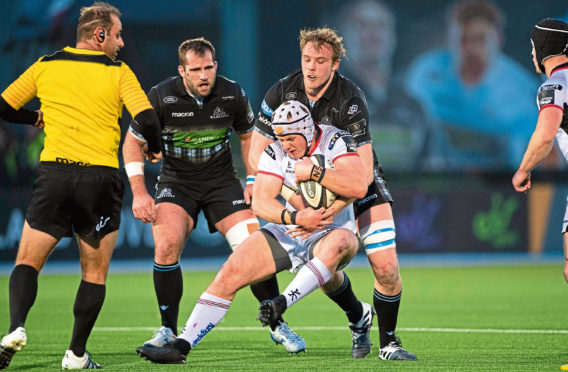 In rugby's new-found obsession with stats, one stood out like a beacon from the weekend's play. In the PRO14 game between Leinster and Glasgow at the RDS, the Warriors' Jonny Gray made 43 tackles.
Regular readers know we treat rugby stats with extreme caution here. But 43 tackles is astonishing, even by Gray's standards. 20 tackles in a game is considered an outstanding shift.
Glasgow won 39-24, their first victory in Dublin in eight years, and stayed on course for a precious home semi-final in the play-offs. Jonny was man of the match, named as such before his stratospheric tackle was revealed.
It was his second MoM in a row, following his award against Ulster the previous week, in his 100th game, when he made a mere 19 tackles.
20-25 tackles a game is not unusual for Jonny. Ever since he first emerged as a 19-year-old, coaches have spoke in hushed tones that his stats are "off the charts". He has an incredible engine, carries well, calls lineouts and doesn't give away many penalties for a lock forward. He's been a fixture in the Scotland side since Vern Cotter gave him his first start in Argentina in 2014.
After that Ulster game, I tweeted a comment of praise for Jonny. He's had a difficult season, probably carrying a shoulder problem for a good part of it, and his play has been below his usual Stakhanovite standards.
He was even dropped to the bench by Scotland for the Calcutta Cup game, and two weeks later also by Glasgow for their Heineken Cup quarter-final against Saracens.
Against Ulster, he showed a great deal more dynamism and purpose than he had done all season, like he'd got a monkey (or more likely that injury) off his back, and that was the basis of my praise.
But the tweet elicited a reply from a fan pointing out that Jonny is not a dynamic ball carrying lock like Saracens' Maro Itoje or George Kruis, and repeating a comment of Jim Telfer's made earlier in the season that he could "teach a donkey" to do what Gray does.
I don't for a moment agree with Jim's assessment – if it were true then we'd surely have legions of Jonny Grays – but the general view is one I've even agreed with in discussions with colleagues in recent times.
Gray is certainly not the dynamic, athletic modern lock in the mould of Itoje, or New Zealand's Brodie Retallick, or Ireland's James Ryan. He's a throwback to a "hard yard and hard as nails" second row of the past.
They did try to make him more dynamic. A couple of years ago he spent a summer studying other sports trying to find more "explosiveness". He looked at a lot of NFL film and this is another Gray trait – he tries manfully to improve himself all the time.
That summer didn't really change the kind of player he is. His biggest improvement in recent times has been to vastly improve in the maul game, in both attack and defence.
Mind you, 43 tackles? That figure is exceptional, but once again rugby's stats are pretty devoid of context, and Jonny's high tackle counts are a case in point.
Many are just "stops". That's fine, somebody's got to stop the opposition at some point if you want to win and those tackles have to be made, but the tackles that really count are the "offensive" ones, that drive back the ball carrier to lose yards.
Gray does make a few of those, and certainly in the last couple of games he has more noticeably. This season, however, there's been too many of those simple passive "stops".
But I've come 180 degrees on this, only in the last couple of weeks. Yes, it's true that Jonny is not the super-athletic modern lock like Retallick, Itoje and Ryan. Yes, he is a coach's dream at ticking off the boring stuff that needs to be done in a rugby game.
But complaining Jonny is not Maro Itoje is a bit like complaining Darcy Graham is not Jonah Lomu. They are a totally different kind of player in the same position.
If we had an Itoje or a Ryan, then the complainers would have a point, but we don't. Jonny is an exceptional player in different ways and presently we have no-one better when he's on top form.
All we can ask of him is that he plays as well as he can, and if he's better than his current Scotland rivals Grant Gilchrist and Ben Toolis, he has to be picked.
That's no easy task, as the Edinburgh duo are a complimentary pairing, and man-to-man they've outplayed Jonny and whoever his second partner has been in the last few 1872 Cup matches.
But there's another one of those games next week. Jonny seems to be rounding into some form, while Gilko and Big Ben looked a little season-weary – not without reason given their workload with club and country – in Edinburgh's loss to Ulster last week.
Jonny's attributes are considerable, if not super-dynamic as some. Paired with a more athletic and dynamic partner who is decent at lineout time – say, his big brother Richie – Scotland will do alright.
The elder Gray seems to be coming back strongly with Toulouse after successive injuries and will play for his club against Leinster (and Ryan) in the Heineken Cup semis this week.
Perhaps it's time for both the Gray boys to make a big statement.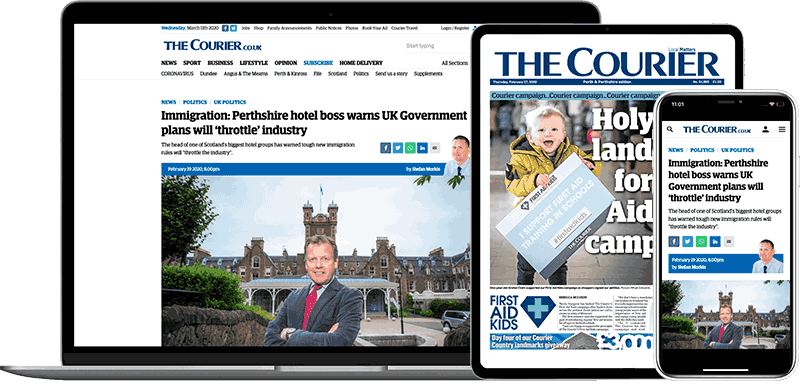 Help support quality local journalism … become a digital subscriber to The Courier
For as little as £5.99 a month you can access all of our content, including Premium articles.
Subscribe