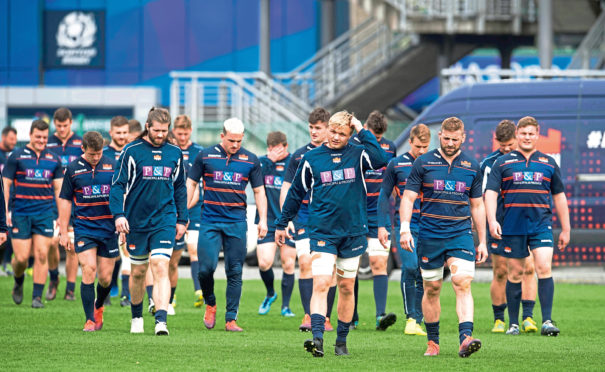 Second season syndrome was almost assured for Richard Cockerill at Edinburgh. It was almost impossible to avoid.
Leaping from also-rans to a play-off team in the first season was impressive enough. But as we've mentioned before in these columns, Cockerill basically did it with some-one else's squad, while also installing a culture within the club that had badly gone awry.
His second term was always going to prove more difficult. No-one was surprised by Edinburgh now – perhaps with a couple of exceptions – and the gained respect Cockerill had mentioned so many times as pivotal in his attempt to restart the club was definitely achieved.
Furthermore, this was HIS squad now. The decisions on who had come and gone in the off-season were his call. No more scouring other team's doghouses for spare players, far fewer dips into the national 7s squad to make up the numbers.
And Cockerill was also to a good degree the victim of his own success. Edinburgh's pack this season, barring imports Pierre Schoeman and Vili Mata, effectively became Scotland's.
Blair Kinghorn and Darcy Graham graduated to be full-time Scotland players. International demands on Edinburgh at least doubled in the space of just a year.
In addition, they were less lucky with injuries. Scotland captain John Barclay, the marquee signing, injured his achilles in the death throes of last season and didn't make his Edinburgh debut until last month. Mark Bennett, Matt Scott, Magnus Bradbury and the heavily underrated Lewis Carmichael were also missing injured for long spells.
Despite this, Edinburgh's qualification for the Heineken Cup produced their best rugby in wins at Toulon and Newcastle and a quarter-final place. They weren't too far away from beating Munster in the quarter-final.
But their general form has fluctuated this year. In Cockerill's first season there was really only one game where you sighed and thought "same old Edinburgh", an early season loss to Benetton. But there's been a fair few like that this year, not least the rather meek capitulation to Ulster two weeks ago.
That loss left Edinburgh probably needing a bonus point victory against Glasgow in Saturday's third 1872 Cup game to have a chance of making the play-offs and to stay in with a chance of retaining Heineken Cup status next year.
Given that Heineken Cup quarter-final, it would stretching it uncharitably to suggest this season was a step back. Winning back-to-back games against Toulon, Newcastle and Glasgow were feats probably beyond last year's team.
But those games were with Cockerill's first XV. That team, at least until the Ulster game, was pretty formidable any time it took the field.
The second team, minus the Scotland internationals, struggled badly away from home and in one crucial Murrayfield game against Cardiff Blues, lost 19-17 from a 17-0 lead at half-time.
Had they taken a bonus point from that game, they probably would have made both play-offs and Europe before this weekend's machinations.
Cockerill has now realised what his counterpart along the M8 clocked very early on. On his arrival at Glasgow Dave Rennie saw how many Warriors ended up on Scotland duty and bolstered his squad with imports and development players who had been carefully blooded.
Glasgow's record the last two seasons has been firmly built on their exemplary record in the international windows, when they are missing their Scotland stars. It's a scenario you also see at Leinster and Munster, and used to be the same at Ospreys until thecash dried up.
The spate of signings for Edinburgh – mostly non-Scottish qualified – made for next season do show an appreciation of this. But the flexibility to keep his younger fill-ins topped up playing with the stars seems to have been wanting.
When at full strength, Cockerill has been effectively picking the same team week on week. Not surprisingly, it's a good team that wins games and as he argues, they should be able to stack it up week on week as the likes of Saracens do.
The coach also argues that he has kept stringently to the player welfare protocols and there's not a single one of his stars who has been overplayed.
But unlike in his first season, when expediency forced his hand, Cockerill's definitely been less willing to insert young players among his stars.
Charlie Shiel, a livewire scrum-half, has only recently got the tail end of games, Luke Crosbie has been underused, Callum Hunter-Hill needs more time playing with Ben Toolis or Grant Gilchrist.
Perhaps the biggest difference of all between Year One and Two at Cockerill's Edinburgh was expectation.
Even the long-suffering Edinburgh fans became accustomed to having a competitive team. Arguably the expectation is all the greater next year.
If they don't make the Heineken – and a betting man would balk at their odds – then there is nothing but the PR014.
That would mean the play-offs as a target, and competing to win their conference with Leinster and a resurgent Ulster. That's a significantly taller order.