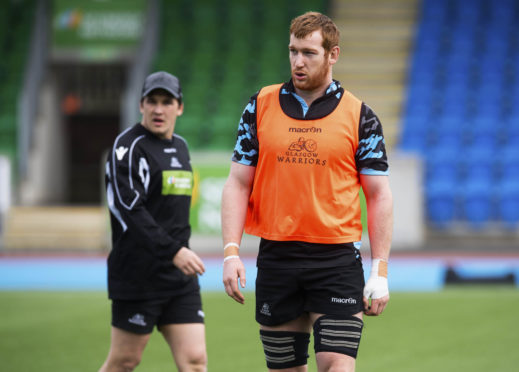 Edinburgh's recent dominance over Glasgow in head-to-head clashes is starting to seriously bug the Warriors, veteran forward Rob Harley admitted.
Glasgow have lost to their rivals in four of the last five and eight of the last 10 matches, and this year's 1872 Cup was sewn up by the capital club before 2019 had begun with back-to-back victories in the two matches over the festive period.
In Harley's long time at Scotstoun the boot's been on the other foot – the Warriors won ten out of 12 matches with one draw in a run between 2009 and 2014 – but there is frustration particularly at the way Edinburgh have dictated the pace and direction of recent games between the clubs.
Only there are bigger fish to fry this time with the Warriors seeking to nail down a Guinness PRO14 semi-final, while Edinburgh need to win to either sneak into the play-offs or keep their hopes of Heineken Champions Cup qualification alive.
"It is bugging us," he agreed. "The challenge for us to front up, try and maintain our physicality from our two recent games no matter what kind of game Edinburgh choose to play.
"We'd take a win however it comes, but Edinburgh are very good at the style of rugby that they want to play – they go direct, they try and control the tempo of the game. We've looked closely at the way they played in those games earlier this season.
"They might well try and surprise us with some other stuff, so we've got to be ready for that. It might be a tough, hard-nosed battle that they try and take us to, and they also might try and throw the ball around, so it's something we'll have to prepare for and be ready for."
Edinburgh need not only a win but probably a bonus point for four tries, but Harley doesn't expect them to switch their style.
"I'm sure they'll be looking to win first and foremost," he said. "You're going out there to win the game, tactical considerations come in later on. The primary thing for both teams is you have to win the game first."
But the aim of a home semi-final, and the final at Celtic Park to come after is major motivation for the Warriors, added Harley.
"It's massive for us," he said. "We've got our destiny in our hands, if we win the next two games we could play all our games the rest of the season in Glasgow.
"That's a huge advantage for us – I think everyone in the squad is excited about taking that chance, and hopefully that will be a great run-in to the business end of the season."