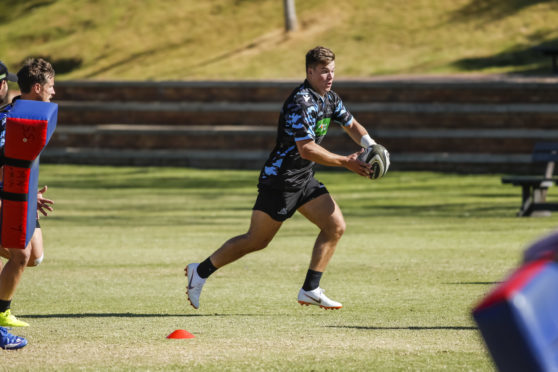 Huw Jones aims to bounce back from a difficult year by making himself "undroppable" for both Scotland and Glasgow Warriors.
The centre had a meteoric rise into prominence with 10 tries in his first 13 starts for Scotland over 18 months after being discovered playing for Western Province in South Africa.
However a series of injuries, a loss of form and favour at Glasgow and questions about his defensive abilities stalled that progress during the 2018-19 season.
The 25-year-old is still probably Gregor Townsend's first choice outside centre, but that's not the certainty it was just a year ago and Jones knows he's got a battle on his hands with the midfield one of the most competitive areas of the Scotland squad preparing for next month's Rugby World Cup in Japan.
"Last season was pretty frustrating," he admitted. "I was in-and-out with Glasgow, and I had a couple of injuries. I went into the Six Nations thinking it was going to be a good chance to get a few games under my belt, then did my knee in the second game and I didn't really play very much after that.
"My career shot up from nothing really quickly and it was all going really well, and then a few injuries and having a bit of a tough time with Glasgow brought me back down to earth.
"I think the experience has made me better as a player. It has been frustrating, but I've improved as a result. I've chatted to a few guys who have been through the same – Hoggy (Stuart Hogg) says that he's missed on selection a few times for Glasgow when he was younger, and Pete Horne has been through it all, so it is good to get advice from them."
Jones understands that the onus is on him to silence the doubters and make himself indispensable.
"I've missed a lot of rugby and a lot of opportunities, so I think this will be an important year," he continued. "Fingers crossed, the World Cup is the priority at the moment but after that I would really like to kick on with Glasgow, really give it my best because my two seasons so far I've not really done much.
"From what (Dave Rennie) said to me, he does rate me, which is always nice to hear, but you'd obviously like to be picked.
"I suppose it is always tough to pick someone when they are coming back from injury or back from Scotland camp, when the guys who have been playing in that position have been going really well. I understand it is part of the process and one of my aims this season as long as I can stay fit is to become undroppable.
"That's my aim as a player, that's what I'd like to achieve."
Making yourself indispensable from the scope of talent Scotland have for the centre slots – Jones could also play on the wing and at full-back, and has been doing so in "emergency" scenarios in training – is not going to be easy, he concedes.
"Back-row and centre is probably where there is most competition," he agreed. "We're all good players and there is no way of reading into anything we have done so far because it has basically been just small-sided games, but I think from this week onwards we might start getting an inkling of what the coaches are thinking.
"There is obviously no Test match at the end of this week but it will be more rugby-based than conditioning-based going into next week when there is a Test match at the end of it."