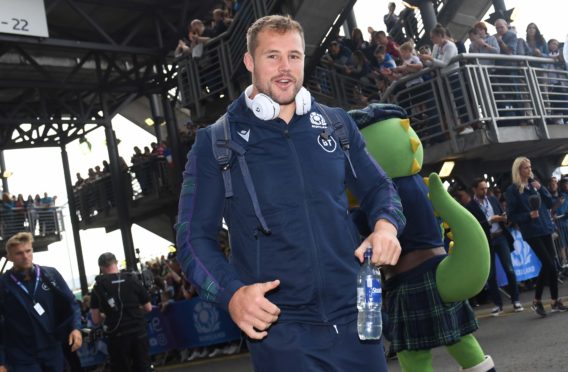 Scotland are relishing a hostile atmosphere in The Lelos' Lair in Tbilisi tonight – as much for the practice it'll give them before others to come, says prop Allan Dell.
A capacity crowd of over 50,000 is expected at the Dinamo Stadium with the Georgian welcome for their first Tier One visitors expected to be loud and passionate from the stands and physically demanding on the pitch against The Lelos – the Wolves – of the Georgia national team.
It's taken far too long for one of the "established" nations to pick up the gauntlet and play in the rugby-mad Caucasus nation, and the Scots arrive just as an almost entirely professional home team – most of which play their rugby in France's Top 14 – are perhaps at their peak of development.
But while this match means a huge amount to Georgian rugby, not least in their continuing desire to win promotion to the 6 Nations, it's also a crucial one for Scotland.
"It's exciting going to play them here, a little like when we went to play Fiji a couple of summers ago," said Dell, who makes his first start of the warm-up games.
"It's a new challenge and it's good we've come here. The Georgians have a lot to prove with all the talk of them potentially joining the Six Nations.
"They are going to want to prove they can compete. They usually fill out the stadium so they will have the backing of some very passionate fans.
"I don't know what the thinking behind taking this game was, but we know we will play Japan in front of a pretty noisy and hostile home crowd in the World Cup so this just adds that something extra to the game at the weekend.
"You want to play away, you want to experience different stadiums and I think it will be a good build up for us.
"You don't want to play in places that are quiet and dull. You feed off a loud, hostile atmosphere and it makes it interesting."
Scotland had the better of the contest with a bigger French pack last week, but it is attitude – particularly away from Murrayfield for the Scots – that counts most, added Dell.
"A lot of the packs we play against have a lot of bigger guys in there, and we faced a very strong, physical pack at the weekend so we know what's coming.
"We need to be going there with the right attitude. We need to be fronting up, you need to be up for every game mentally. It doesn't really change how you hype yourself up.
"But it's going to be a fun game. I hear the weather is to be miserable so we are looking forward to that."
Georgia's traditional strength is in their forwards, especially in the scrum where Georgian props are hugely valued by France's Top 14 clubs as quality imports.
"They're big guys but skilful too," said Dell. "I saw one of them score for Stade Francais on tape and he was throwing dummies running it in from 30 metres out.
"But we dealt well with a strong French scrummage on Saturday. When the new regulations came in during the summer there was a little bit of panic, but really there hasn't been as much change as we imagined there would be.
"The adjustments mean the weight has been taken off the hookers' neck and transferred to the arms of the front row. Perhaps in that first game against France we struggled a bit, but I think we were over-thinking the whole thing. We went back to what we know last week and it worked pretty well."
There's been much discussion of the team Scotland will field tonight, with players crucial to the World Cup cause in Finn Russell, Hamish Watson and WP Nel all starting the game with just three days to go before the final World Cup squad of 31 is named, but as Dell points out, playing with a fear of injury usually has just one result.
"It's a Test match at the end of the day, people label it a pre-season game but we know what it is," he said. "It's all about getting your fitness and your attitude right.
"You need to get into your rhythm and not try and over-play things. There is no point in trying to do something you wouldn't normally do just because you might think it will get you on that plane."
"If you think different, that's when you get hurt. If you going in half-hearted or you're trying to hold something back then you're going to get smashed.
"It's a physical sport, you're going to pick up injuries. Hopefully that's not the case this weekend and you certainly can't think like that.
"We have such a competitive squad with only a few places up for grabs. You want to play well, put in a performance and make sure your name is in the hat."