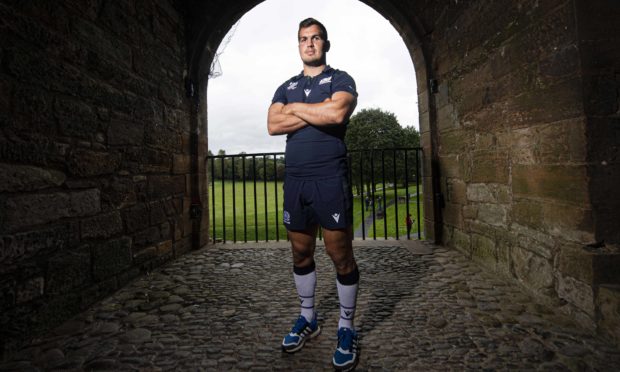 The memories of sitting at home injured watching the games in the 2015 are still painful, but Stuart McInally knows it was ultimately for the best as he prepares to lead Scotland in Japan 2019.
The hooker suffered a neck injury on the very eve of the tournament four years ago – "between the leaving dinner and getting on the plane" – having been named in the squad and was forced to withdraw.
However he was a young player still dealing with a switch from back row to hooker, had only a couple of caps to his name and he feels confident in his playing and captaincy abilities now.
"It's a really proud moment for me," he admitted, revealing that Gregor Townsend had asked him to take the job last week when informing him that he would skipper the side in the test match against Georgia in Tbilisi.
"I said yes immediately, because I really wanted it," he said. "I did so knowing I have vast experience and leadership around me as well, to have Greig (Laidlaw) and John (Barclay) who take a lot of responsibility off me.
"That's 130-140 caps between them and I know I can tap into that experience anytime and that makes me even more relaxed about taking the job."
His own experience of the last World did stiffen his resolve to make this one, he said.
"2015 was good for me in a lot of ways because I got my first cap as hooker, proving I had made that transition, but it's a real mix of emotions because there's painful memories of having to watch the games at home," he said.
"I feel like a different player now, to be honest. Then I was just coming to the end of the transition from back row and was still really inexperienced as hooker.
"I wouldn't have been nearly as comfortable as I am now. This time around I'm relaxed and in a good place."
The player who made the late run to make the squad was Scott Cummings, who was uncapped prior to the warm-ups and one of two "extra" players included three weeks after the original squad was named.
"It's been a whirlwind last six months to be honest," said the 22-year-old, who is the youngest squad member and made his pro debut for Glasgow straight out of school at 18. "Last winter I wasn't even getting a regular game for Glasgow.
"When I was picked after the PRO14 final I just thought, `I'll train as hard as I can and hopefully I'll get involved in one of the warm-ups'. To play in all three so far has been amazing and getting the call at the weekend to say I was going to Japan was even more amazing.
"It was a steady thing, I just tried to keep chipping away and my head down, make it as hard as possible for the coaches to leave me out."
On Saturday against Georgia he played the last 15 minutes – scoring his first international try – and admitted he'd been throwing everything into it to impress.
"That was my last chance, so I just tried to do all I could in the last 14 to 15 minutes," he said.