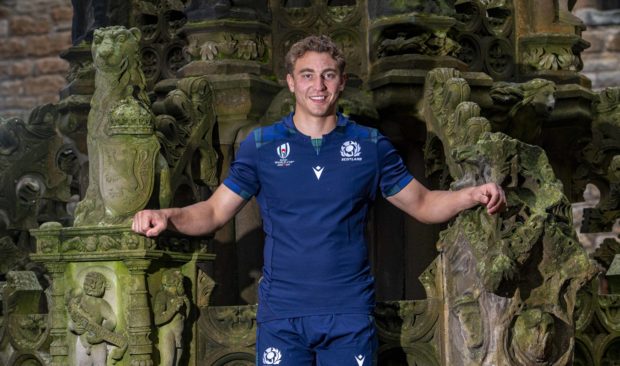 Jamie Ritchie has been earmarked for a Scotland shirt for so long – captain of age-group teams all the way up, professional debut at just 17 – it should be almost natural that he makes the Rugby World Cup squad at his first attempt, but it still seems a rapid rise.
The 23-year-old was on the periphery of the international squad until just under a year ago, when he forced his way into the team for the November games and seized his chance, playing in eight of the nine test matches during last season.
"I feel I put my hand up and took my chance," he said, as he was named as one of the 31 to go to Japan. "I'd been on the summer tour and got an opportunity in November, starting three games and coming off the bench against South Africa.
"I felt I played well then and carried that into the 6 Nations. It was unfortunate to miss the final game against England through injury, but I felt I'd made a good case for myself."
He played just one of the warm-up games prior to the squad announcement – he'll play on Friday in the final game against Georgia – and that was the hammering in the opening match in Nice.
However, he was largely regarded as having had another strong game, and even if he made way for Hamish Watson in the return against France and the game in Tbilisi, he still felt he had done enough.
"Back row is obviously a very hotly contested area in the squad, and I was a little nervous about the announcement but concerned isn't a word I'd use," he said.
"I feel I offer enough for the team and I've shown in the games I've played for Scotland I can compete and be really good at this level. I think my versatility in being able to play both sides of the scrum is important as well.
"You never really know where it might be going. There's discussions about selection in the build-up and you're looking for hints but you're always trying to figure out what the coaches mean.
"But I was quite confident. Let's face it, in the back row especially there's an argument to pick any of the nine in the original squad. Gregor (Townsend) makes that decision, we can only control what we do."
He feels for his Edinburgh team-mate and friend Magnus Bradbury, who missed out, but is thrilled to be going to a World Cup with another club and country team-mate, Hamish Watson.
"I love Maggy as a player and I've no doubt he'll play in a World Cup at some point, potentially even this one, as you never know what might happen," he continued.
"I do a lot of work with Mish, especially on jackalling and passing, and he's such a good player, it's important for me to work with him, because he pulls us all along.
"Obviously you're never going to emulate some of the things he does, like his carrying, but you try to keep up with him in terms of workrate and what he does in the gym.
"He's been a huge part of my development at Edinburgh, he's even kept me humble in training a few times! He's a great guy to work with."
The only downside for the player who started at Madras FP's Madrascals mini rugby, played for the Howe of Fife and went to Strathallan School – at the latter two being a team-mate with George Horne, who is also in the squad – is being away from his two young children, Oscar (3) and Eva (18 months).
"Oscar was very pleased when I told him, but I don't think he realises that I'm going to be away for at least six weeks," added Ritchie.
"Obviously in this game you're away a lot, but modern technology helps, Facetime is a great thing and I'll be doing that every day from Japan."