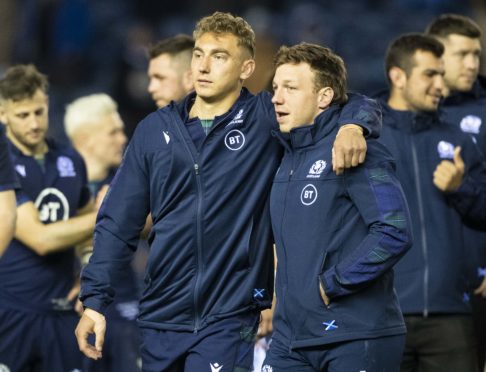 Jamie Ritchie is most likely out of Scotland's opening game in the Rugby World Cup on Sunday but won't have to wear a mask on his facial injury when he does take part in the tournament, said assistant coach Danny Wilson.
The Scotland squad had their first training session at their base in the south central location in Shinagawa City and Ritchie played a full part for the first time since rejoining the squad after having a plate inserted on the injury he sustained in the final warm-up game against Georgia.
The 23-year-old is "a big question mark for this weekend" said the forwards coach. Magnus Bradbury, who took Ritchie's place in the squad for the first few days now no longer can train with the team due to tournament regulations, but is being allowed to stay until after Sunday's opening game against Ireland at Yokohama Stadium.
"Jamie won't play in a mask, we've probably all seen examples in the past but in those situations boys can return pretty quickly," added Wilson.
"Obviously our medical staff will tick all the boxes if he will need to tick before he is available for selection, but I don't think he will have to play in any mask."
The assistant coach added that the tension had risen in the squad with the knowledge that after 12 weeks of preparation, the tournament was about to start for Scotland on Sunday.
"It is a stepping stone to go from the training camp in Nagasaki to being here in Tokyo," said Wilson. "That game week feeling is definitely here, with the excitement that goes with it."
Ireland's occasional struggles in the warm-ups have been noted by Scotland but they don't expect any different a challenge to the team now ranked No 1 in the world.
"We've looked at all the recent games they have played, they are No 1 in the world, a good side, well coached," added Wilson. "They have had their ups and downs, but like us in recent games they have tried things, experimented with things.
"You don't necessarily reveal your full gameplan going into your first game. All teams have done that.
"I think they are one of the best teams in the world. They have had some huge wins and maybe the odd game they wouldn't be happy with, but they are full of quality players and quality coaches so we know that we are going against a very good team."