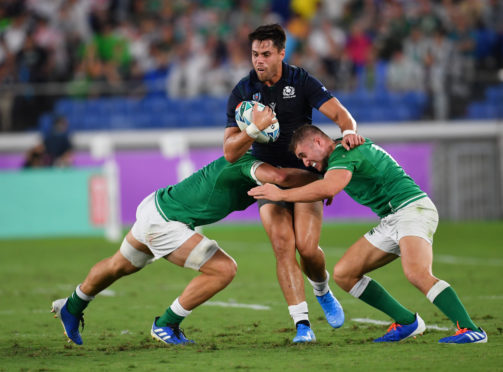 Changes are inevitable after the debacle against Ireland in the first game but Scotland will bounce back against Samoa and get their Rugby World Cup campaign moving, vowed wing Sean Maitland.
The New Zealand-born wing has close family ties with Samoa so the match in Kobe Misaki Stadium on Monday has a special meaning for him, but there is absolutely no room for sentiment with Scotland in such a dire situation after the 27-3 defeat to the Irish.
"The only good thing about Sunday and being at a World Cup is that we have a second chance," he said. "We've got these eight days between games to get it right.
"I'm sure there are going to be some changes, and that's got to happen, but as Gregor (Townsend) said in the dressing room, the main thing is that we stay tight and we've got each other's back. Now we go again."
And the Scots have experience of going into a game against Samoa knowing that it's a last chance, he pointed out.
"Now, we've got to win all our games," he said. "We were in that situation in the last World Cup where we lost to South Africa and had to win to qualify, but we managed to win the game against Samoa in Newcastle qualify.
"That was a pretty special game for me because my mum's half-Samoan and my grandad's full Samoan, born on the island, so I've got a bit of a connection.
"When I played against them in the World Cup four years ago that was a big game for me and a great game to play in, and I'm sure this one's going to be another cracker.
"They're always really physical and they'll be licking their lips a little bit after watching our game against Ireland, no doubt. So we've got to front up, we've got to sort it out before Monday.
"And we'll do that. You saw the reaction after the game against France in Nice the following week, and we can do the same again."
What has to change is execution, continued Maitland.
"We know our kicking game has got to improve, we didn't really utilise it, especially at a time when Ireland are suffocating you," he said.
"Instead we tried to chuck the ball around and they got those turnovers and ended up in our five-metre channel. We need to look to our kicking game a bit more.
"The first 30 minutes were pretty bad and you can't start a test match like that. At 19-3 at half-time and the weather getting bad, the damage had been done.
"You're chasing the game against a quality team like Ireland with a wet ball, that's always going to be tough.
"I'm sure there are going to be some personnel changes, but the good thing about this competition is that you get another chance to get it right and we've got 8 days to do it."