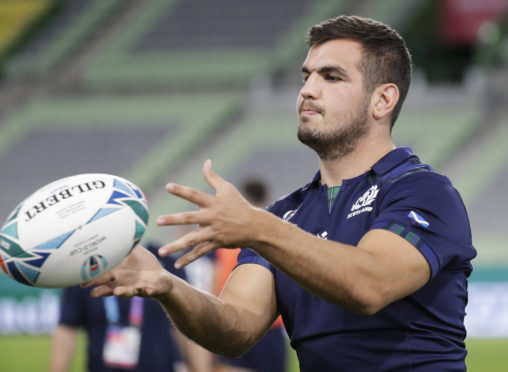 Scotland have "done the numbers" on their path to the quarter-finals after Japan's shock victory over Ireland but won't go chasing bonuses before games are won, vowed captain Stuart McInally.
Saturday's epic 19-12 victory by the host nation over the Irish – who thrashed Scotland 27-3 just over a week ago – has left the Scots probably having to win their last three games, all with a four-try bonus point, if they're to reach their bottom line of a quarter-final place.
However the Scots aren't getting ahead of themselves with thoughts of their clash with Japan in Yokohama on October 13 but figuring out a way to simply get the win over Samoa in Kobe.
"We obviously watched the Japan game and we've done the numbers," said the Scotland skipper. "We know the implications and what it could mean for us.
"But we just have to go out and win this game first and foremost. In my experience if you start chasing anything else before the game starts then you can get into a bit of trouble.
"So we'll go out, try to win the game and if we're in a position in the last 20 minutes to go for that bonus point then of course we're aware of what we have to do."
The numbers are complicated, but winning all three games with bonus points would remove any question, although on current form in the tournament beating the Japanese is obviously a huge ask.
"We're just focused on the next game," continued McInally. "I feel we have to focus on beating Samoa because that's a big challenge.
"They are a really good side who put a lot of points on Russia and didn't concede a try so we're very aware of the threat they have.
"You see Japan beating Ireland and it reminds you that anyone can beat anyone."
The result in Shizuoka was "a disappointing one" for Scotland, he added, but Japan had deserved it.
"I was very impressed by the Japanese side," added McInally. "I thought they played exceptionally well, they played very fast, they were very direct, and they looked after the ball well.
"They defended very well as well, and when you play like they did I'm not surprised that they won.
The Scottish camp believes that the ultimate goal is still the same.
"I feel that nothing changes for us," McInally continued. "The task is still the same; It may be a little harder in terms of needing bonus points now, but ultimately we're just going to need to win all of our games to get out of the pool.
"That wouldn't have changed whether we'd beaten Ireland or not, you don't know what else is going to happen. Nothing changes for us as a group."
McInally believes the Scots won't wilt against the Samoans in the Kobe Misaki Stadium, where the retractable roof will be closed and the heat is likely to be intense during game time.
"The fact it's an indoor stadium keeps the heat and the moisture in," he said. "We didn't do too much running around in the team run just to save the legs and we were definitely sweating.
"It's something we've been aware of and it's not something that's surprised us. Training has been fine. We've been working in these hot conditions for three weeks now so we're all used to it.
"It does make things slightly harder but it's the same for both teams. I don't think it's going to be a massive issue."
Scotland turned to Samoa very quickly after Ireland because "this is the only thing that matters now".
"It was definitely a tough couple of days straight after the Ireland game," he said. "You invest a lot in one game and to come up as short as we did was disappointing.
"But such is the nature of the tournament you have to get back on the horse. We've worked hard and made sure we learned our lesson from the Ireland game.
"We've got a big challenge against a tough Samoan team but we're in a much better place now than we were a few days out after the game."
The first few minutes – Scotland have lost the first try in six of their nine tests this season – will be important, but not the only important time, he added.
"We'll be looking to start well, of course but Samoa will be dangerous for more than five minutes," continued McInally. "We know with the quality players they have up front and in their backline that they can cause us problems for the whole 80 minutes if we're not switched on.
"We'll be looking to start well and be physical, make sure we're able to match their threat in that area."