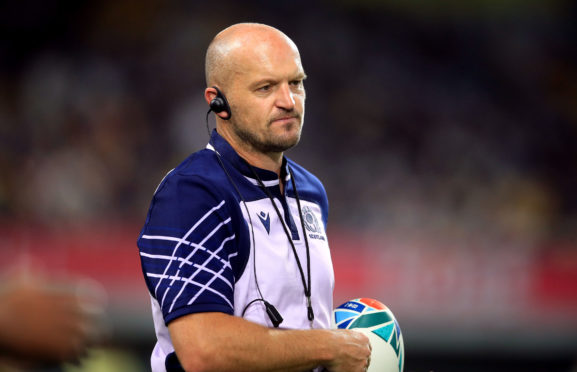 Scotland gave "a true reflection" of their abilities at last in this World Cup as head coach Gregor Townsend took responsibility for their failings against Ireland and deferred credit for their 34-0 success against Samoa in Kobe.
The Scots got the win that they needed against the Samoans and shut them off the scoreboard into the bargain, but it was the precious bonus point forced by two second half penalty tries – both of them stone-wallers – that was the major prize.
For Townsend, it was proof that the crushing loss to Ireland nine days ago "didn't make us a bad team".
"That was a true reflection of who we are and what we are capable of, and what playing for Scotland means to the players," he said. "It was a tough challenge to face, knowing that if we underperformed we were out of the World Cup.
"Last week we missed the beginning of the game and I take responsibility for not preparing the team well enough to start well against Ireland. Tonight was great to see them get the rewards for their effort.
"We are glad we got (the bonus point). To win and play better was the target and anything extra would be an exceptional performance.
"We are still in the tournament and the bonus point gives us an opportunity to go to our next match and get maximum points again. If we do that it will be a match against Japan to get to the quarter-finals."
Townsend paid tribute to his inexperienced back row, which he had to replace wholesale from the first game.
"I thought Jamie Ritchie was outstanding," he continued. "To think he could have missed the World Cup with his cheek injury – to come back from surgery to do that showed what an exceptional player he is, but also his character.
"Magnus (Bradbury) gave us go-forward and hit hard in the tackle and fronted up against their big men.
"Blade (Thomson), as he has done for us so far, did the little things really well. He made good decisions and was technically very good in the lineouts and base of the scrum and linking forwards and backs."
Townsend also paid tribute to star man Stuart Hogg, who launched a superb drop goal from 40 metres to take Scotland 20-0 ahead at half-time.
"He is over the moon with his drop goal, he's been practising them in training," said Townsend. "He kicked a goal from 60m in training yesterday.
"Stuart is a real team man. You can see pace and power in his game. He kicks to touch for us, kicks restarts, and his ability to put others into space is excellent.
"He's maturing into all-round player who can help the team to win in different ways."