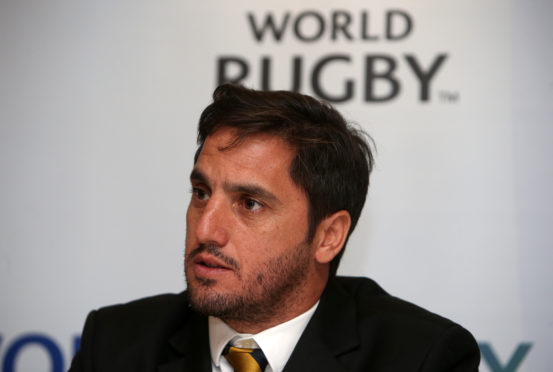 Since he retired from an illustrious playing career where he did more than anyone to hoist Argentina into the top tier of playing nations, Agustin Pichot has had a few ideas in his position as vice-chair of World Rugby.
But the latest is by far the worst. Pichot wants to use the Hawkeye technology pioneered in cricket but since adapted to tennis and soccer into rugby…to police the offside line.
If this isn't a massive overreaction to Luis Picamoles being at least two yards offside to intercept a ball at the end of the France-Argentina game the other week and thereby preserve France's victory, then Pichot isn't doing much to convince anyone.
Now, one can wholeheartedly agree that the offside line is not being policed properly or in a standardised fashion. Referees have their eyes on half a dozen things going on at any one time, and often they're too distracted to check where the rear feet are.
But anyway the offside line is a fairly fluid thing, and lots of parts of a rugby game are fairly fluid. Having the TMO constantly checking on a yellow line superimposed across the pitch and interrupting play whenever it's breached – remember there are potentially hundreds of such situations in any game – is going to make the game stop constantly.
Pichot is of the opinion that after a few instances of clamping down by way of Hawkeye, players will learn to respect the offside line and applying the law will not be an issue. Yeah, you can tell for sure he was a scrum-half and not an open-side flanker.
In an ideal world, everyone would adhere to the law. But rugby tends to be not like that, there's a certain respect in the game for what you can get away with. The fact is that every team in the game, especially at the elite level, breaches the offside line.
Complaints emanating from New Zealand and from Ireland in the wake of their loss to Japan has had everyone's Irony Overload Alert light flashing here.
The best way to deal with the issue – perhaps to get it to more manageable levels – is to get the onfield officials communicating and co-operating even better than they do at present.
Touch judges – or assistant referees as we're now told to call them – have to help with this, although some refs, prominent ones, are none too keen to get messages from the touchline. Perhaps it might be better to enforce that and have three pairs of eyes fully on the action.
Keep the TMO's eyes for real injustices, those involving foul play and scoring opportunities. Don't make the mistake of football thinking that video technology can solve every ill.
What you see isn't always what you get
An illustrious predecessor of mine in this job, Alan Fraser, had a cardinal rule of dining when on tour: namely, if there were pictures of the food outside any restaurant, it was to be avoided at all costs.
I'm sure that in his many later travels during his career Fozzie must have come to Japan, and he'd have struggled. Because every single dining establishment in the country, whether plush restaurant or corner ramen shop, has pictures of the food as helpful illustration to what you may expect.
More than that, some have lifescale plastic models of the dishes you might want to enjoy posted outside. Apparently there's actual businesses devoted to making these rather shiny models, which to my eyes render any dish to appear entirely unpalatable and, so far, utterly unlike what they are supposed to represent.
For a nation with very few fatties, the Japanese certainly love their food. Only in America – where I once counted over 60 establishments in the course of a 15-minute car drive – have I seen more eating places.
But it's day-time dining they seem to like best. In the evenings there's no struggle to get a seat anywhere, except maybe at the ramen shops late on – a bowl of ramen is the Japanese equivalent to a Dundonian's hangover-repelling visit to Clark's 24-hour bakery.
At lunchtimes, which seems to last two or three hours in Japan, there's queues outside every place serving food, which includes every one of the multitude of convenience stores. But nobody eats on the walk – that's considered to be very unseemly.
You can stand still and snack, but you look a bit daft and get stared at, so it's generally better to sit down and savour.