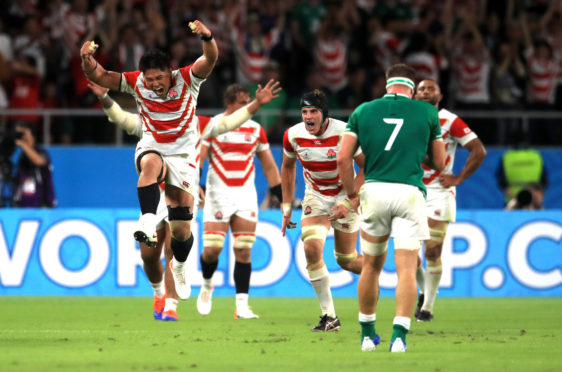 Scotland's Rugby World Cup pool hasn't exactly shaken out as anyone expected, and not just the obvious shock of Japan beating Ireland in Shizuoka last week.
Russia have proved to be far more competitive than anyone expected, holding Japan, Samoa and Ireland to less than 40 points and making the bonus point most considered almost automatic a bit of a struggle.
The Irish themselves, after what seemed to be an almost perfect start in beating Scotland, have taken a huge body blow from the Japanese, whose pace of game – so far the fastest in the tournament, and just what Scotland aspire to – threw them right out of their comfort zone.
The laboured win over Russia has the newly expectant Irish rugby public having open season on their team. The expectation brought by a couple of recent Grand Slams has hugely increased interest in the country and some estimates had the Irish travelling support outnumbering the Scots as much as ten to one when they met in Yokohama.
It's the same with each nation's press corps; there's a huge contingent here from the Irish media, which also includes far more `new media' than in the Scottish group.
This level of scrutiny is fairly recent in Ireland, and when they're winning, Joe Schmidt is treated almost as a rugby shaman. However Coach Joe Cool seems to have an unlikely habit of losing it when things go against his team.
Take the prolonged fixation with Ireland being called for offside three times against Japan by Angus Gardner, the Australian referee. Schmidt was still on about this in the preview press conference before the Russia game, having gone to the World Rugby hierarchy to get a personal apology for the three penalties.
There's talk of Gardner not getting any more big games, which would be a shame, because he's a decent ref and certainly reffed the game pretty much fair and square. Ireland do fringe the offside line as much as almost all teams do, and none of the decisions seems that heinous to the neutral.
It's an oddity to go with a few more in recent times involving Schmidt and Ireland, not least the infamous "late bus" excuse at Murrayfield a couple of years ago, when the coach brought up their team bus getting caught in Edinburgh traffic by the very small matter of 15 minutes and suggested it was responsible for their slow start and eventual defeat in that game.
Laughable, yes, but certain Irish media outlets were actually timing the team bus when the team returned to Murrayfield this year.
Anyone who thinks that three marginal penalties were the reason for Ireland losing to Japan is surely delusional; Japan were hugely impressive and didn't need any luck. Ireland played as if they hadn't moved on from that game against Russia, which is understandable in a sense but extremely dangerous for the team that saw itself as potential champions.
Farewell to Kobe and its ubiquitous beef
The Scottish caravan is moving on from Kobe tomorrow, after a 13-day stopover in the Pacific port when we've got to know the hot spots around the Sannomiya station complex fairly well.
One thing has stood out about Kobe – just how much they are proud of, nay obsessed by, their beef. There are signs for Kobe beef everywhere, and I thought I'd gone beyond saturation point until wandering through the (largely empty) shopping mall that is attached to Scotland's team hotel.
There's an actual Kobe Beef Gallery in the mall, featuring pictures and plastic models of the most famous and historic cuts, effectively a beef museum.
"Photographs welcome!" says the sign as you go in, and then view the various illustrations of marbled cuts. I wasn't sure that they actually served any, but passing it later I saw a (western) couple tucking into what looked like prime beef.
Kobe Beef is roughly four times more expensive than regular beef, so when your correspondent broke his vegetarian tangent this week we went for just the normal stuff.
While my colleagues had sirloin and rump, I could not resist trying the cheapest cut, which was described as `Flaps'. It sounded unappetising, but it was very nice.