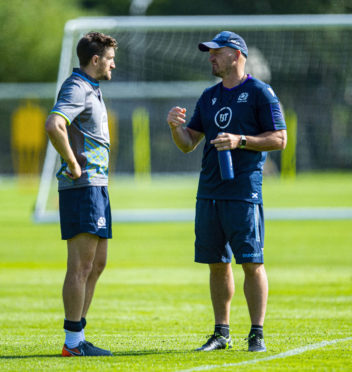 Henry Pyrgos was lying in bed under the weather when the call came from Gregor Townsend to get himself packed and on a plane to Japan, but the Edinburgh scrum-half is used to these quick summons across the world.
Pyrgos played in Japan – and helped beat them – at Under-20 level, on the same team as Stuart McInally, Grant Gilchrist and Peter Horne, and was captain the last time Scotland played Japan here, in 2016.
However he was one of four players cut from the Scotland training squad at the first turn back in August, and two months later he finds himself playing some part in the tournament against Russia next Wednesday after he replaced the injured Ali Price.
"You work hard as a player and the World Cup comes around every four years and you want to be involved," he said. "I was disappointed with being left out but I went back to Edinburgh, things change pretty quickly in sport and I find myself here now.
"I had no idea that Ali was definitely out, because he finished the Ireland game I didn't think there was anything untoward.
"Then I was in bed with a touch of the flu when I got the call. I got it on Monday, I left on the Wednesday and arrived here on Thursday. I have bene out here before so even though it was straight to the training ground on Thursday the boys have helped me settle in."
The biggest change is switching from Edinburgh calls back to Scotland ones, and finding out a few new ones that have been developed since August.
"The terminology is the big thing, but I have been here more than a week now, so have had a chance to slot back into things," he continued. "I have got my head in the right place.
"I really enjoy playing for Scotland, it's a massive honour every time you get involved.
"This is a competitive position I'm in and missing out on the World Cup was disappointing, especially when you work really hard and hope to get that opportunity but sometimes you don't get it."
It was quite a change for a player considered captaincy material the last time Scotland were in Japan, when he covered from Greig Laidlaw in the second test in both that role and the scrum-half jersey.
"Similar feeling to this time," he said. "It was really humid and hot, with a slippy ball. Japan were really good, fast, fit and moving the ball side to side and we were a little bit inaccurate at times.
"We respect Japan and they're a quality team, it was a tough team and we came over and got the win in the end, but we know what a challenge it's going to be."