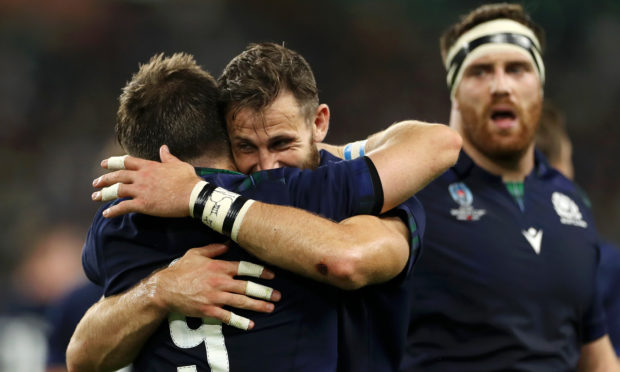 It's difficult to know exactly how to rate Scotland's 61-point beanfeast against Russia, which ended up nine tries going on eleven.
You certainly can't decry them for doing exactly what they had to do against an opposition that had proved awkward for the three other teams in Pool A. The landslide win also took care of points differential for the Scots, who now have a superior total to both Ireland and Japan, at least until the Irish play Samoa.
There was none of the traditionally Scottish nervous moments in these games against minnow opposition, other than the first three minutes when the Russians held on to the ball with some decent phases. But then they started fumbling, and missing tackle after tackle, and the whole thing got a little ugly for them.
You have to factor in that this was the fourth and final game the Russians were playing in Japan, and it certainly looked like they had very little left in the tank, having had less than a week's break to the Scots' ten days.
But the Scots could only beat whatever was in front of them, and whatever state they were in. They did it clinically and without appearing to pick up many injuries – team doctor James Robson can't ever have had a quieter match during his thirty-year tenure in the job.
Thus the Scots go on to Yokohama – maybe, depending on the weather – probably to play with a very different team against the Japanese, so perhaps this game says more about what Scotland will have in the long-term rather than this coming weekend.
George Horne's hat-trick, the first-ever by a Scottish scrum-half, certainly underwrites his position as the coming man at nine when Greig Laidlaw, possibly before the end of the month, hangs up his international boots at 34.
Horne's exceptional support lines and speed have now brought him six tries in just nine tests (three of them starts) and he had a good game in terms of control and kicking, only once over-egging it when he tried to sneak under a tackle for the bonus point try just before half-time.
Adam Hastings played with confidence and elan, varied his game superbly, and deserved his own hat-trick but for Tommy Seymour's forward pass right at the end.
He's still only 22 and inconsistent, but there's enough basic tools there to make him a serious international player and an option to Finn Russell in the future.
George Turner had a solid game at hooker, as did Blair Kinghorn at full-back. The depth is certainly there in difficult specialist positions.
And if this was the last major international that we'll see the likes of John Barclay, Ryan Wilson and Tommy Seymour, it was a fairly decent way for that trio to sign off.
Barclay scored a try captaining the team, and Seymour bagged his 20th in a Scotland shirt – although it seems unlikely now that he'll get to the all-time record of 24 held jointly by Ian Smith and Tony Stanger.