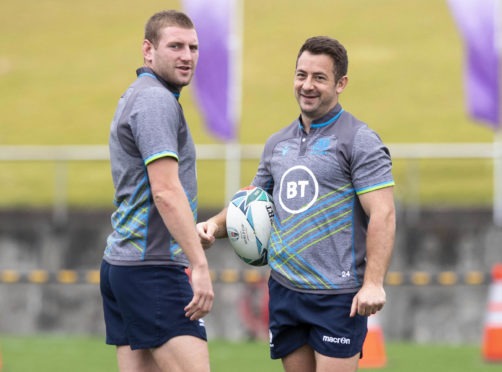 Greig Laidlaw has seen everything now in his 76 caps for Scotland, including captaining his country at the Rugby World Cup for the second time in strained circumstances in Yokohama this weekend.
"It is certainly different to a normal build-up to a Test match," he said. "First and foremost we all hope everyone is safe in Japan.
"As players we can only control what we can control. We have to prepare like it is going to happen because we can't be unprepared going into this game.
"As a playing group and leadership group we've tried to prepare the boys as much as we can. This is a knockout game and the players will be highly motivated and ready to go."
Scotland's main focus will be on defence, which they have got right in the last two games with no points against them.
"Japan are an excellent attacking outfit and we have to defend them extremely well," he said. "The way we've defended in the last two games gives us confidence to do that.
"We feel if we get the attack right we can score some points, but first and foremost we will be looking to our defence."
It was frustrating for both teams that the game was in doubt, he added.
"Japan have been excellent in organising this World Cup and this is certainly not their fault," he said. "They want to play the game and so do we, and it's frustrating to work so hard to come into competitions like this and you can't control what the weather is going to do.
"We are not going to get caught up in it. Japan are top of the group and have played really good rugby, beating teams like Ireland does not happen by chance.
"Japan have improved greatly over the last four years and have improved in the set piece and both attack and defence. But we also feel we improved as well and when we put best foot forward on the pitch we are a match for anyone.
"We just want the game to go ahead and qualify for the quarter-finals on merit."