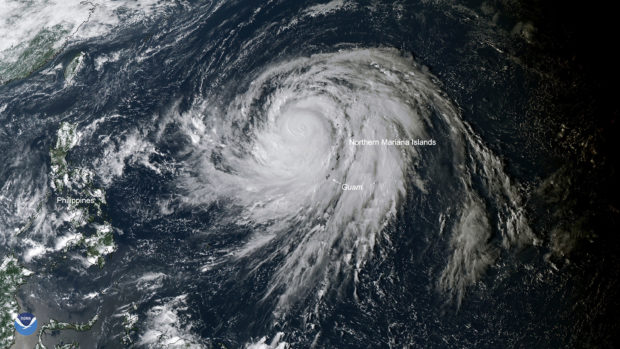 The classy thing for World Rugby to do after Mark Dodson called them out for their intransigence and downright incompetence in Yokohama yesterday would have been to keep their mouths shut, and just made the SRU CEO's words hang uselessly on the winds of Typhoon Hagibis.
However they're such control freaks and so bound up in pleasing themselves and favouring certain major nations at the expense of others that they couldn't help themselves. A mealy mouthed statement came out from HQ in central Tokyo last night.
"It is disappointing that the Scottish Rugby Union should make such comments at a time when we are doing everything we can to enable all Sunday's matches to take place as scheduled, and when there is a real and significant threat to public safety owing to what is predicted to be one of the largest and most destructive typhoons to hit Japan since 1958," they said.
Yep, that's the storm in which World Rugby downright encouraged people to return to face by procrastinating a decision on Sunday's game.
The Shinkansen were packed to the gunnels heading up to Tokyo yesterday, and the Scots are here in numbers to back their team. Of course they would, they were never actually warned it might be dangerous.
WR then went back to their own rules and regulations, which they foisted on Italy and for whatever reason, the Italians didn't speak out until their formidable captain Sergio Parisse called out the governing body for the injustice on Thursday. Where was the special World Rugby statement refuting this distinguished great of the modern game?
In addition, the reaction of Parisse and Italy head coach Conor O'Shea exposed the lie purported by WR on Thursday that all teams were accepting of the decision to cancel games. Italy wanted to play, England said they wanted to play, France say they wanted to play. Japan and Scotland definitely want to play. Only New Zealand, it seems, didn't.
"It was the fair and correct decision for all teams to maintain the position outlined in the terms of participation," say WR. Absolute, arrant nonsense. It is not fair to Italy, not fair to Scotland and Japan, not fair to France who had the chance for an easier quarter-final if they beat England.
World Rugby have utterly failed these teams and the fans who have travelled to Japan to support them. They should have had proper contingency plans in place that could be enacted at short notice.
It's what proper, organised governing bodies do. They are no such thing.
Meanwhile, Japan gets on with it
Coming up to Yokohama into the teeth of tomorrow's typhoon, it's impossible to detect any sense of panic amongst the Japanese and even, actually, much sense of urgency.
Part of this is that they're so well practiced in these things. A few diaries ago I remarked upon the warning systems that broadcast messages across the rooftops. Most of the buildings are well prepared and protected from tropical storms.
Hagibis is big, but all the Japanese I talked to over the last couple of days think that the country's systems will handle it. There might be a few power outages and a few windows might blow in, but the Japanese phrase for such things is "shikata ga nai" which means, it can't be helped, so it's best just to get on with it.
The trains went off at midnight, and won't come back on until Sunday morning. Everyone tells you just to stay indoors, close the shutters tight if you have them, keep a pair of slippers or shoes by your bed so that if a window does shatter, you don't cut your feet to ribbons leaving the room. It's stoicism of the highest order.
In preparation for Hagibis, Yokohama people simply were going about their usual business. The city is part of the enormous Tokyo Metropolitan area and usually included in the population estimates of nearly 40 million.
It was very busy on Friday afternoon in the posh food hall underneath Scotland's team hotel, but there wasn't any panic buying going on – just as well, it seemed like Fortnum and Masons in places.
Similarly, once ensconced in The Courier's compact – and reassuringly sheltered – hotel, I went out to one of Japan's ubiquitous convenience stores (there seems to be one on the corner of every street) for a day's provisions and there weren't any queues. The chilled sandwich section was cleared out, and there seemed to extra bottles of water, but no other evidence of special measures.
This stoic cool extends to whether Sunday's game will be able to be played or not. Almost every native Japanese (English speaker, obviously) I talked to thinks the game will be played at the allotted time. It might be behind closed doors if the transport systems aren't great after Hagibis has come through, but everyone's confident the game will be played.
Is it complacency? I bloody well hope not.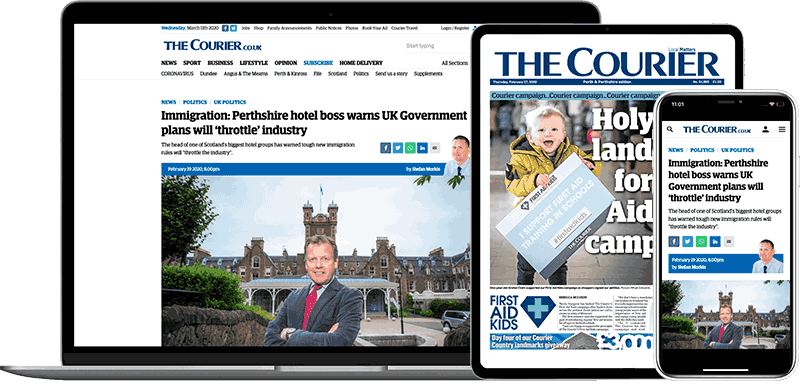 Help support quality local journalism … become a digital subscriber to The Courier
For as little as £5.99 a month you can access all of our content, including Premium articles.
Subscribe