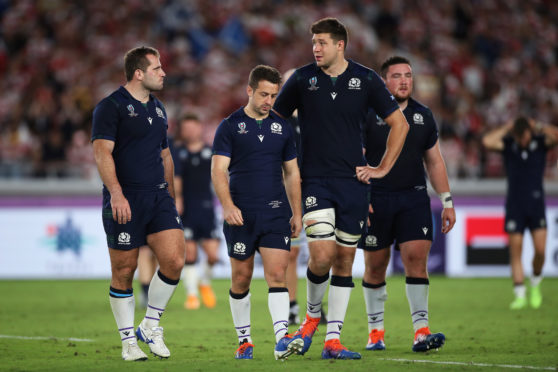 Losing out in the pool stages of the Rugby World Cup for only the second time in nine attempts was a bitter blow for Gregor Townsend and the Scotland squad, he admitted after the defeat in Yokohama.
"We came here with high aspirations and getting out of pool stages was stage one of those," said the head coach. "We have worked really hard throughout last four months and throughout the tournament to go further than we did tonight. It is obviously very disappointing not to make it out of the pool."
Townsend did believe his players got themselves back in the game after two "soft tries" either side of half-time left them cut adrift at 28-7 needing to score a minimum of 29 points in only 38 minutes to turn the qualification race around.
"Two tries which were soft from our perspective in that they both came from our possession made it very difficult," he said. "The players ut a huge effort into the next 10 to 15 minutes and with 58 minutes gone we were only seven points behind.
"But we did not do enough to get the win from there."
Townsend still believes he is the man to take the team on to the next Six Nations and the World Cup four years from now beyond that.
"There's a lot more in this team," he said. "Experiences are what make you as a group and how you react to those experiences. This was a unique situation we were in and we always knew it was going to be a challenge given our short turnaround from the Russia game.
"But I believe we had the team and we had the ability at the start of the game to go on and win it by the necessary amount of points.
"That we didn't was hugely disappointing. We have to learn from that and we've got to improve as we get to next tournament, the Six Nations."
Townsend paid tribute to Japan's performance and their cohesion and belief in their game plan.
"The confidence from Ireland win was evident tonight," he said. "They will be a tough team to beat and (the quarter-final) will be a tough game for South Africa.
"I believe opposition coaches have known for some while that Japan are a quality side. Beating Ireland who were ranked No 1 or 2 at the time and beating us – they cause you problems in a number of areas. Obviously they are a very fit team as well."
Scotland captain Greig Laidlaw, 34 the day before the game, said he would "go away and think" about his future in the international game.
"Firstly we're disappointed as a group because we had aspirations to come here," he said. "It is not about me at this moment in time, it is about the team, it is about staying together as a group and for the group to learn from the situation.
"I will go away and have a think about what to do next."
Laidlaw said it was impossible to give 28 points so early and compete.
"We knew Japan have really improved as a team since 2015 and since 2016 since we last came here on tour," he said. "First and foremost we want to give credit for the way they have progressed and the way they performed here.
"But we look at ourselves first and we gave away two really soft tries from our team. In a Test match where we needed to win by eight, giving away 28 is way too many. We have to take that on the chin."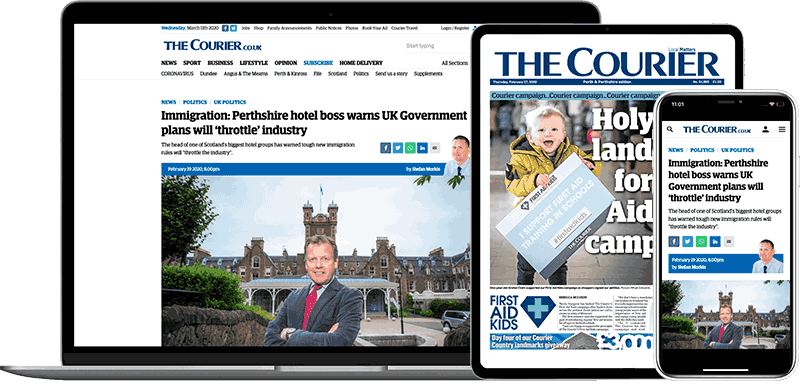 Help support quality local journalism … become a digital subscriber to The Courier
For as little as £5.99 a month you can access all of our content, including Premium articles.
Subscribe