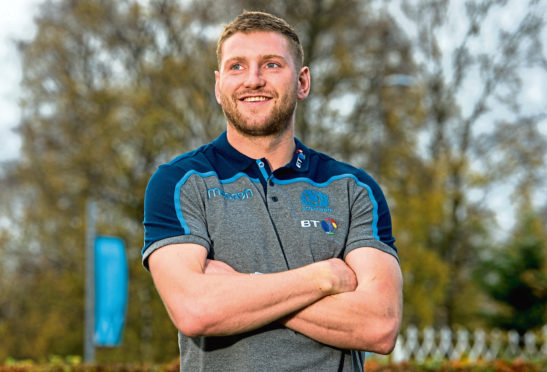 Scotland in 2023, at the next World Cup, will have vast experience in some positions. Stuart Hogg and Finn Russell will be 31. Hoggy should be the most capped Scottish player ever by then, and probably the record try-scorer as well.
Hamish Watson will be 32, Jonny Gray will be 29. But along with that experience, we'll also have a batch of players who will be in their prime.
George Horne will be 28 and hopefully a fixture at scrum-half. Jamie Ritchie will be 27, and possibly the captain. Zander Fagerson, Magnus Bradbury, Darcy Graham, Blair Kinghorn, Scott Cummings and Adam Hastings will all be in their mid-to-late twenties.
Dave Rennie, his current coach at Glasgow, thinks a maturing Hastings will supplant Finn Russell in time, and I actually think the Kiwi could be right.
That might seem sacrilege to some, but everyone knows Finn – he can be maddeningly mercurial. Hastings is inconsistent too, but Russell is five years older; if Adam develops into a reliable and commanding player, while not losing his flair, he may be the better option sooner than many think.
Also, we can add in players who didn't make this trip – Rory Hutchinson, who must surely now get a long look in the centre, and may be paired with Glasgow's up and coming physical specimen Stafford McDowall in the not-so-distant future. Matt Fagerson will come strong, although I still think his best position in the back row is to be found.
There's also qualified players like Duhan van der Merwe, Oli Kebble and Pierre Schoeman who may become available before 2023. Scotland has had an issue at loose-head since Ali Dickinson's departure from the international scene.
We've been down this road before, of course. In 2007, the last time the Rugby World Cup was in France, Scotland reached the quarter-finals and lost an eminently winnable game against Argentina in the quarter-finals.
That team had a bunch of young players who were maturing, and I remember at the time the widespread view that four years on, in New Zealand in 2011, they would all be at their peak.
It didn't quite work out that way. Hamstrung in part by a terribly limited gameplan, the Scots lost two close games to Argentina and England from positions of strength and failed to get out of the pool, the first time that had happened. Sunday in Yokohama was the second.
Injuries and fatigue will play a part. One of the most troubling of recent retirements was Lions and Wales captain Sam Warburton last year at only 29; a great player forced to quit prematurely because of the toll modern international rugby had taken on him.
All being well – which will never happen, obviously – here's what I think Scotland's 2023 team might look like.
Stuart Hogg; Darcy Graham, Rory Hutchinson, Sam Johnson, Blair Kinghorn; Adam Hastings, George Horne; Pierre Schoeman, George Turner, Zander Fagerson; Jonny Gray, Scott Cummings; Jamie Ritchie, Hamish Watson, Magnus Bradbury.
As this is the last of the diaries, and I'm on my way home, here's the things I wish I could go way over my baggage allowance with, in no particular order…
The Shinkansen and the urban trains and the subways and everything on tracks, basically. My daily commute to Murrayfield during November Tests or 6 Nations time taking 20 minutes door-to-door is now a dream that seems achievable. Only, of course, it will never happen.
The convenience stores. Where there is everything from a cup of coffee to hot food to beer to ATMs to emergency underwear. There are literally hundreds of these shops – Family Mart, 7-11, the Lawson chain – all over Japan. Within two minutes' walk of my Yokohama hotel, there were six convenience stores. Be careful of the crisps, though, you might get something unexpectedly fishy.
The widespread availability of blood orange juice. Saved a peely-wally North Country Boy in the heat every single day.
The toilets. I've hinted but haven't gone into explicit detail about these, but they are amazing. Some of them even have special sound effect buttons – you know, to cover up the sound of anything you might be doing. Seriously.
Politeness and deference. I'm told by some that the ever-smiling greetings and actual professions of what an honour it is to serve you are quite insincere and that Japanese people really don't like foreigners. I got little impression of that in nearly five weeks here. Sometimes the bowing can get a bit of hand, though.
Ramen. I'm hooked. Slurper for life.
Japanglish. It's deeply patronising, of course, but Japan's approximations of the English language, seen everywhere on billboards and t-shirts, are hilarious. I heard a theory that this is because they're great at remembering English words but haven't a clue about grammar.
They also aren't great at context of some of our fruitier words. For example, at the elementary school Scotland visited when they were in Kobe, leading the young children was a teacher wearing a lanyard for her credentials which had the slogan "Fifty F—–g Five" printed on it.
In a junior school. Japan is a bit crazy.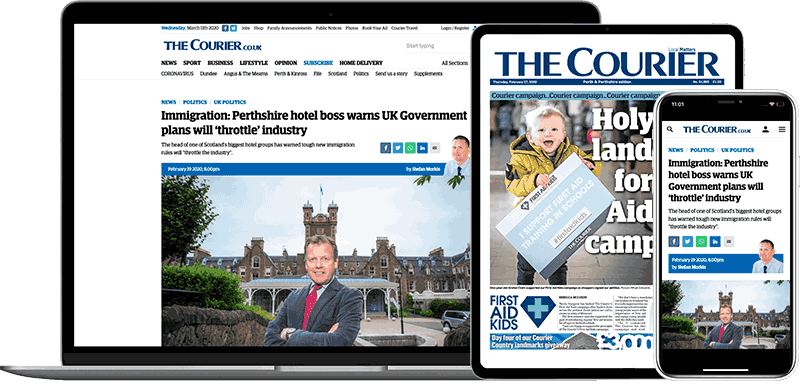 Help support quality local journalism … become a digital subscriber to The Courier
For as little as £5.99 a month you can access all of our content, including Premium articles.
Subscribe