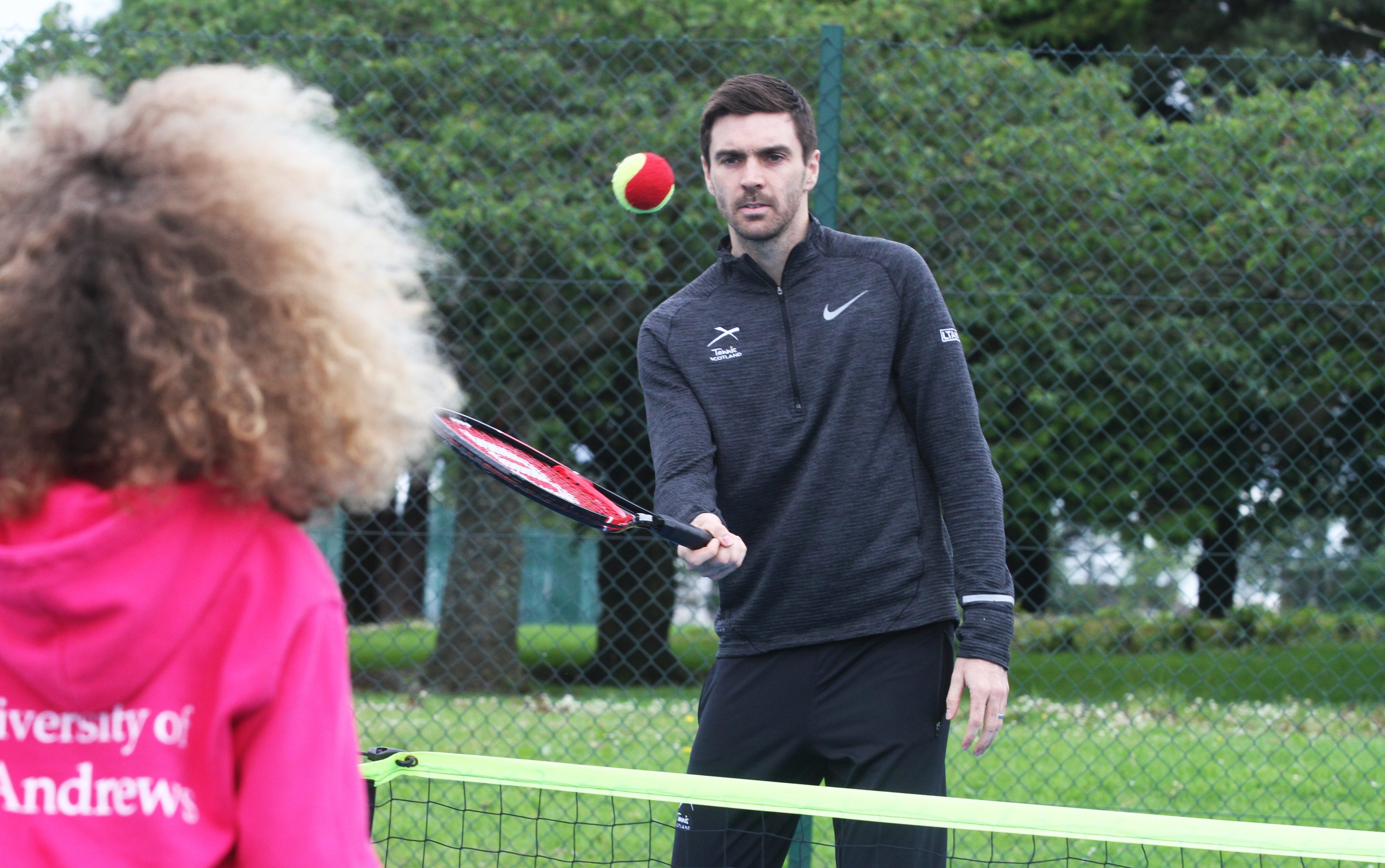 As an injury-afflicted Andy Murray prepares to enhance his playing legacy by winning a third Wimbledon crown, major progress has been made towards securing a wider legacy for tennis on the back of the unprecedented interest generated in the sport by the world number one's achievements.
For many – Andy and his mum and brother among them – there was a fear that the golden age would come and go without sporting governing bodies making hay.
The announcement yesterday that the LTA, Tennis Scotland and sportscotland have come up with £15 million to double the number of indoor tennis courts north of the border should go some way to reassuring the country's most famous sporting family that the Murray effect is a permanent and tangible one.
Colin Fleming, a former doubles partner of Andy and a long-time friend, is the recently-appointed national coach for Tennis Scotland.
And, on a visit to Dundee's Dawson Park to launch the Transforming Scottish Indoor Tennis Fund, he expressed his conviction that the much talked about and much worried about legacy is taking shape.
"This is absolutely massive," said the Commonwealth Games gold medallist and former Davis Cup player.
"It's a continuation of momentum that has built up. There will be a surge of adrenaline into Scottish tennis.
"The opportunity to double the number of indoor courts in the country is huge. I'm confident that we'll make the most of it and really grow the game and hopefully produce new players on the back of it.
"The success Andy, Jamie and Gordon Reid are enjoying has meant the profile of the sport is as high as it has ever been.
"There's a massive opportunity to maximise that and this is a huge step towards doing it.
"Whenever they stop playing we can say we've doubled the number of indoor courts and hugely increased the number of people playing the sport, as well as hopefully getting more new players at the top end of the game."
Fleming is not long in his new job and thus far swapping backhands and top-spin lobs for performance pathways and coaching clinics hasn't proved to be a hardship.
"I started in mid-January as national coach," he said.
"It's been a big change for me, from travelling and playing. I was still playing as recently as last October. But I have enjoyed it. It's been really busy, getting stuck into the new role, so I haven't really had the time to miss playing.
"I've been trying to get a good overview of what's going on, assessing the landscape of the programmes that we're running and players who we're supporting.
"We're hoping to make an operations appointment which will allow me to spend more time on court with our leading junior players. I'm really excited about trying to pass on the experience I've got from my years as a player."
It was no coincidence that the funding announcement was made at a time when the country's sporting gaze is diverted towards the green grass of Wimbledon. Given Murray's recent hip problem and his more up than down form in 2017, there's a bit of trepidation in the Scottish air that all is not as it usually is going into most high profile fortnight of the tennis calendar.
Fleming, though, is as optimistic as ever about his countryman's chances at the All England Club. Murray begins on Monday afternoon with a first round against qualifier Sasha Bublik.
"There's certainly no such thing as an easy draw because of the depth in men's tennis," said Fleming.
"Andy's preparation hasn't been what he would have wanted but he proved at the French Open that he can put in a great performance without everything going perfectly in the build-up.
"He nearly got to the final again.
"I'm confident that if he can come through his first couple of games, find his feet on the grass and find his confidence then he'll put up a real challenge to defend his title.
"Sometimes you don't know why, but you can just get to a certain venue and play well. That seems to be the case with Andy at Wimbledon. He gets huge support and he's got so many good memories to draw on.
"He's relaxed there and he has his home comforts. I'm confident he'll have a good run."
There will be Angus Wimbledon interest in the form of Arbroath's Jonny O'Mara, who received a wildcard into the men's doubles with partner Scott Clayton.
Ranked 579 in the world for singles and 318 for doubles, O'Mara has ambitions on both fronts.
He has a strong juniors pedigree behind him and is starting to find his feet with the men.
"It's a huge period for Jonny and obviously a massive tournament," said Fleming.
"To get the wildcard into the doubles main draw is well deserved.
"He and Scott Clayton have won a number of Futures level events in doubles. They've earned that wildcard.
"They had an opportunity to play in Eastbourne – their first main tour event. Speaking to Jonny, it opened his eyes to that top level. They only lost narrowly. They're not making up the numbers at Wimbledon. Depending on the draw, they could cause some upsets."
Fleming added: "He's still young at 22. The average age of a top singles player is about 26. He's got time to develop in singles but I definitely think he's got a lot of the skills that are an asset on the doubles court and there could definitely be a future down the line in that.
"The future's looking bright for Jonny.
"It's step by step. He can't get too far ahead of himself. For singles his next big goal would be trying to play grand slam qualifying events which is pushing 250 in the world.
"And he should be looking to get towards the top 100 in doubles. That would allow him to play in some of the main ATP tour events and get to grand slams not just as a wildcard but a direct entry.
"There's definitely room for improvement in both
"There will be a lot of Jonny O'Maras across the world. It's a real global game. He's got to put in the extra work and application that makes sure he's the one who goes on to greater things.
"Eastbourne and Wimbledon are huge for him because they'll give him the extra surge of motivation to make it a reality week in, week out.
"I've worked with him a bit and I'm hoping to work more with him as we move forward."
* Community tennis groups across Scotland can now register their interest to benefit from the £15 million fund.
They should then collaborate with local partners to put together joined-up bids which demonstrate their plans to bring tennis to a wider local audience.
The national initiative is the biggest capital investment programme to transform grassroots that the sport has ever seen.
It aims to –
• Double the number of indoor courts from 112 – 225 to increase available playing hours when it's raining and when the sun has gone down
• Fill the geographical gaps in indoor tennis provision that currently exist across Scotland, including Tayside and Fife
• Support other innovative and creative ideas that meet local demand
Mel Young, Chairman of sportscotland, said: "I urge those who want to make a positive contribution to Scottish tennis to register their interest by applying for investment through the Transforming Scottish Indoor Tennis Fund. This partnership, created through a £7.5 million sportscotland contribution from our National Lottery investment stream, and LTA's £7.5 million investment, will have a transformational impact on Scottish tennis by providing more and better opportunities for people to get involved in tennis. Importantly, it will also increase tennis's accessibility across all areas of our society."
Blane Dodds, chairman of Tennis Scotland, added: "This level of funding will bring tennis to life within Scotland, and Tennis Scotland will do everything in its power to ensure the investment is maximised so the whole country benefits. We are delighted to be working with the LTA and sportscotland to make this happen. To those considering applying for funding, I remind you that this is a once in a life time opportunity for tennis facilities to become the social hubs of our communities once again."
All tennis clubs, parks, local government, volunteers, coaches and businesses in Scotland who are interested in registering their interest in bidding for the funds to transform their local tennis courts should visit www.tennisscotland.org/facilities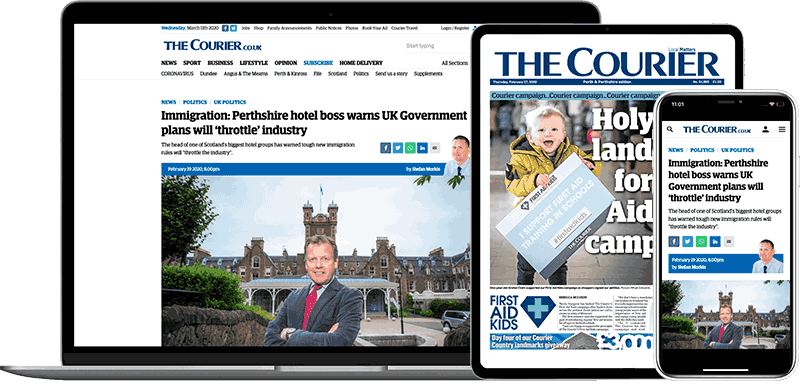 Help support quality local journalism … become a digital subscriber to The Courier
For as little as £5.99 a month you can access all of our content, including Premium articles.
Subscribe