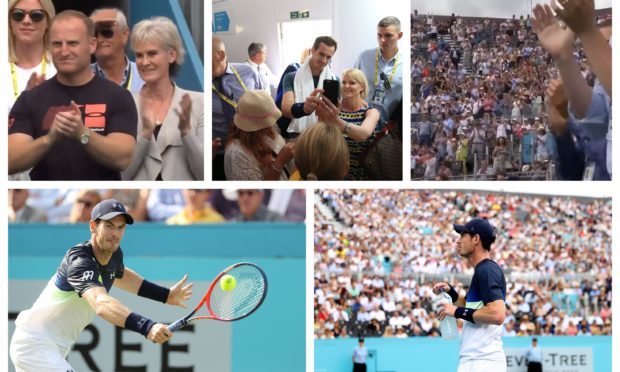 Andy Murray received a rousing standing ovation as he returned to the court at Queen's on Tuesday afternoon.
The Scots star's comeback has been long-awaited after he suffered a hip injury last summer. The 31-year-old has not played since Wimbledon.
He's back! ?

Standing O for 5-time #QueensTennis champion @andy_murray as he takes the court for the first time in 11 months.

Watch Murray v Kyrgios live now ? https://t.co/3vvQfoJmv9 pic.twitter.com/oxR3Q0g3kZ

— Tennis TV (@TennisTV) June 19, 2018
He faced off against Australia's Nick Kyrgios on Centre Court during day two of the Fever-Tree Championship.
However Sir Andy wasn't victorious on his return, despite winning the first set and impressing throughout.
Kyrgios won the game 6-2, 6-7, 5-7.
What a fabulous return for Andy Murray!

He didn't come away with the win but what a great comeback. ?

Murray 6-2 6-7 (4-7) 5-7 Kyrgios

? https://t.co/9i6tntabaT#bbctennis #queens pic.twitter.com/bQnM3j10oW

— BBC Tennis (@bbctennis) June 19, 2018
The tennis star received a heartwarming round of applause in West Kensington as he walked out onto court, and was greeted with roars of encouragement from the crowd.
His mum Judy and wife Kim were among those spotted clapping as he made his return.
He told the BBC that it is "not about winning" before he took to the court.
The moment Murray walked out onto the court was captured on video and is said to have given spectators "goosebumps".
Welcome back @andy_murray! ??

Not a bad reception @QueensTennis #BackTheBrits ?? pic.twitter.com/jzEL26Wgjf

— British Tennis (@BritishTennis) June 19, 2018
Goosebumps. Andy Murray is back. #QueensTennis pic.twitter.com/gA0wKUCf7U

— Fever-Tree Championships (@QueensTennis) June 19, 2018
He's won his first set! ?

Murray 6-2 Kyrgios

LIVE:
? @BBCTwo
? https://t.co/9i6tntabaT#bbctennis #queens pic.twitter.com/044aYTIbYi

— BBC Tennis (@bbctennis) June 19, 2018
Guess who's back?!

He's been away for 11 months but it doesn't look like it at all!

Welcome back Andy Murray!

Murray v Kyrgios LIVE:
? @BBCTwo
? https://t.co/9i6tntabaT#bbctennis #queens pic.twitter.com/P3CVoU2dcy

— BBC Tennis (@bbctennis) June 19, 2018
People also took to Twitter to welcome his return to the sport.
Welcome back Sir Andy @andy_murray Great to see you in action @TheQueensClub and hitting your shots so well. #You'veBeenMissed

— Juliette Bradbury (@JB937) June 19, 2018
Sooooo good to see @andy_murray back playing again ??

— Elina Svitolina (@ElinaSvitolina) June 19, 2018
There's a hell of a lot wrong with the world, and I know this doesn't matter a jot in the grand scheme of things, but seeing Andy Murray back on a tennis court is a beautiful thing.

— Peter Ross (@PeterAlanRoss) June 19, 2018
HUGE roars around Queen's Club. @andy_murray is back, and back competing well: 6-2/6-7 so far against a rather erratic @NickKyrgios as we go into a third and deciding set. Just the match-practice he wanted

— BBCKheredine (@BBCKheredine) June 19, 2018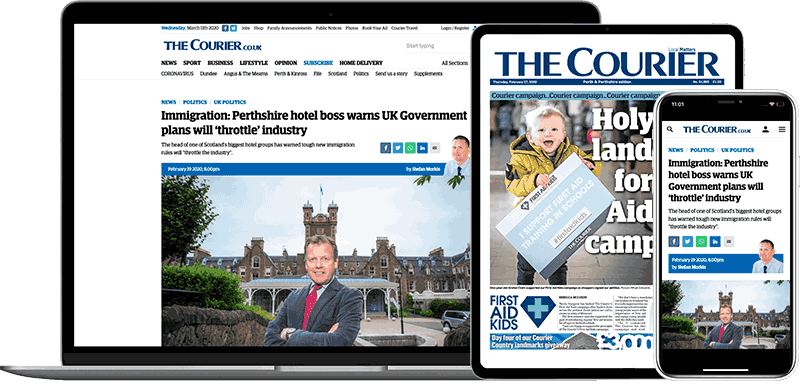 Help support quality local journalism … become a digital subscriber to The Courier
For as little as £5.99 a month you can access all of our content, including Premium articles.
Subscribe