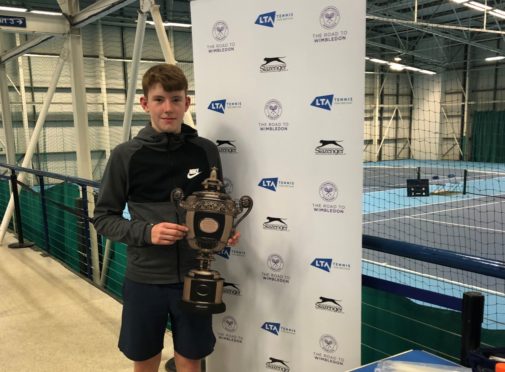 Rising star Ben Hudson thinks it will be "cool" to be following in the footsteps of Andy Murray at Wimbledon.
The Dundee tennis player, who is ranked number two in the 14-and-under age group across the United Kingdom, is heading to the hallowed grass of SW19 this weekend.
Ben (14) will compete in the Road to Wimbledon national finals after securing one of the top two qualifying places at the Scotland County finals and will be one of only 10 Scots lucky enough to play on the stage graced by superstar Murray at the All England Club.
The tournament is the UK's largest junior grass court competition, with more than 7,000 girls and boys from over 750 clubs, parks and schools competing to qualify.
Ben, who started playing tennis at the tender age of five, said: "I am so excited to be headed for Wimbledon.
"I've been working so hard to get to the grass courts as it's something I've never had the chance to experience before.
"It's also cool that I'll be playing where Andy Murray was just a few weeks ago – I can't wait!"
Tennis talent obviously runs in the Hudson family, with Ben's sister Amy sitting at number three in Scotland's 12-and-under age group.
Ben has already enjoyed a successful 2019, winning the Scottish junior indoor under-18 championships and the Tennis Europe Edinburgh event in the singles and doubles. Also, at Tennis Europe Dublin he won the singles and doubles (with Jack Deveney) in week one and the singles in week two, as well as being doubles runner-up.
Eight fellow Scots who won their county finals winners will be joining Ben and fellow qualifier Jack Deveney. They are: North of Scotland (Elgin): Nicholas Bradley and Rosie Woodward; East of Scotland (Kirkcaldy): Scott Malcolm and Lucy Beetson; South of Scotland (Galashiels): Mitchell Feggans and Felicity Walls; West of Scotland (Glasgow): Hector Fullone and Sorcha Caves.