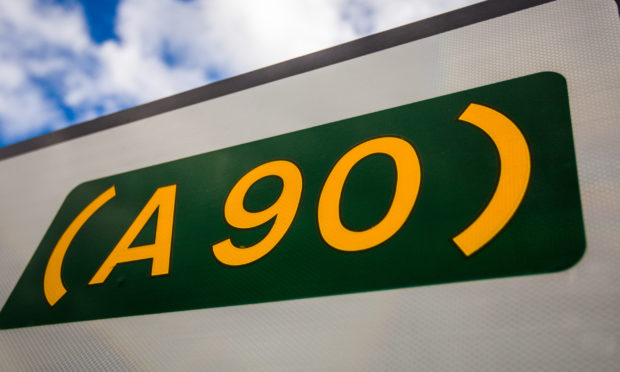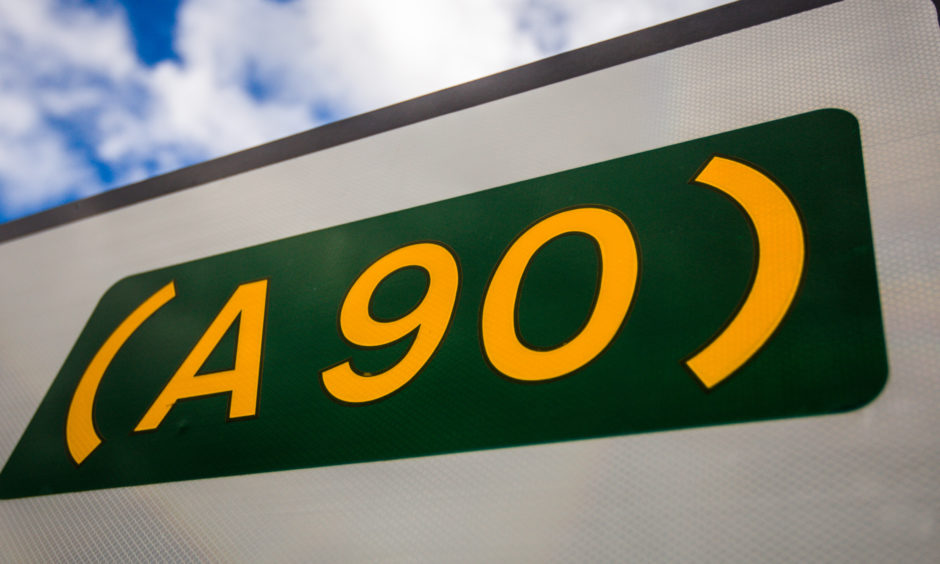 Sir, – I had a stressful weekend last weekend, with the amateur diversion signs on the approach to the roadworks on the A90 from Perth.
On Friday evening heading home to St Madoes from Perth I met a warning sign on the carriageway Dundee side of the Toll House, followed by an inside lane closure and a diversionary sign putting me under the bridge, and nothing visible thereafter.
After doing this circular route twice, and the dead end route to Kinfauns, I used the closed slip access to join the A90 and got safely home. I then telephoned the police regarding the inadequate signage and lack of basic information.
Next day, at least in daylight, I approached the same junction and was blocked by a road worker who told me to follow the diversion signs – although he did not know where they might be diverting me to.
Another car stopped and asked how to get to Dundee. He followed me and we saw a dirty sign with a scribbled message with arrows advising for the A90 north to follow either the Kinfauns, Perth or the A90 north – when we were wanting to go east.
I returned to the slip road and asked again, and when a Breedon lorry arrived I refused to move until I had confirmation of my route home.
The lorry driver explained the diversion route for Dundee was to return to the motorway and head south to Bridge of Earn and head back on the A90 heading north, swinging east to Dundee .
The simplest message would have been: "For Dundee please follow motorway to junction at Bridge of Earn and return on the A90 for all destinations east of Perth."
We also have to put up with the closure of the Glencarse Bridge over the A90 and no indication when it might reopen, and a dangerous section of the A90 westbound after the Glendoick Bridge, with no road markings.
And we recently had the closure of the Errol Station to the A90, with no indication of the reopening being further delayed on the morning it was meant to reopen.
Perth and Kinross roads department should properly serve the residents of our area.
Hugh Anderson.
Leetown,
Glencarse.
An idea for virtue signallers
Sir, – During the current general election campaign, green virtue signalling is higher up the agenda than ever before.
I have an idea. Why don't the 1,229 members of Westminster and the devolved assemblies trial a green lifestyle?
They could remove their gas heating in favour of ground source heat pumps, eat meat just once a week, only travel on non-fossil fuel transport and give up single use plastic. And they could have a special smart meter fitted which rations electrical consumption when wind plus solar generation is below average.
They could get back to us on how it went just before the 2024 general election, and then we could have a people's vote on whether we want to do likewise.
Geoff Moore.
Braeface Park,
Highlands.
Sad decline of Scots education
Sir, – For a country that was once a leader in public education it has been desperately sad to see Scotland's decline by UK and international standards.
As education was named by Nicola Sturgeon herself as the service by which she wanted to be judged, the SNP's failure is particularly embarrassing and shameful.
To cover their tracks, and make comparisons difficult, the SNP have adopted the neat trick of withdrawing from comparative studies.
Since the SNP took over responsibility for education they have pulled out of TIMMS, the longest running, large-scale, international assessment of mathematics and science in the world and PIRLS which measures trends in reading achievement.
The Scottish Survey of Literacy and Numeracy has also been scrapped, leaving a "data gap" according to the Scottish Parliament's education committee.
The one remaining study that gives us an insight into Scotland's declining performance internationally is the PISA study which is conducted every three years.
The latest results were published this week and the previous one in 2016. The latter showed that Scotland's scores across all three categories –reading, mathematics and science – declined and, for the first time since the survey began 20 years ago, none of the three was given an "above average" rating.
John Swinney said then that his education reforms needed time to bed in and the results would be better next time. One in five primary pupils left school "functionally illiterate" leading England's outgoing chief inspector of schools to note that Scotland is "dragging down" the UK average. "Scotland used to be a beacon of excellence" he said, "It's not any more."
This week's results show a marginal improvement in reading – but only back to where we were 10 years ago. Science and maths have dropped again.
No wonder Lindsay Paterson, a professor in educational policy at Edinburgh University, has said "Scotland's overall performance is best described as stagnating in mediocrity."
Denis Munro.
Beaumont House ,
St John's Place, Perth.
Practical policy for businesses
Sir, – I agree with Messrs Smerdon and Paterson, both running small businesses (Letters, December 4), that the Labour manifesto is inimical to SMEs.
Yet what about the other parties? Their business policies aren't much better.
Payroll taxes should be abolished as they discourage employment.
VAT should be slashed as far as the EU permits (another reason to leave that protectionist club).
Instead, the basis of revenue should be land values ("land" in the Smithian sense including natural resources and the ether).
These values are ultimately state property, but every government allows them to be trousered by their land-owning pals.
As a multiple landlord, I get richer in my sleep, at the expense of working people.
George Morton.
29 Hudson Road,
Rosyth.
Business needs Brexit done
Sir, – I have deep concern as to the economic uncertainty in a country that has been a stable backbone to the world economy for decades.
Being part of a family business and responsible for the livelihoods of men and women who work extremely hard to pay for themselves and their families, why would any new government want to stall progress in getting a Brexit deal done?
For businesses to move ahead and prosper, spending needs to continue, and business owners need a stable and certain foundation on which to do this.
How do Labour propose to fund the loss of revenue and harm to businesses, even beyond recovery, if Brexit was to be further postponed or the country taken back to another referendum?
Would Labour rather push businesses over the cliff at the expense of their own political ambitions instead of pulling the country back from the brink of a recession?
By further delays, are we not risking pushing more businesses to consider moving out of the UK and, in turn, further weakening the economy that our country depends on?
Daniel Paterson.
23 Craigfoot Walk,
Kirkcaldy.