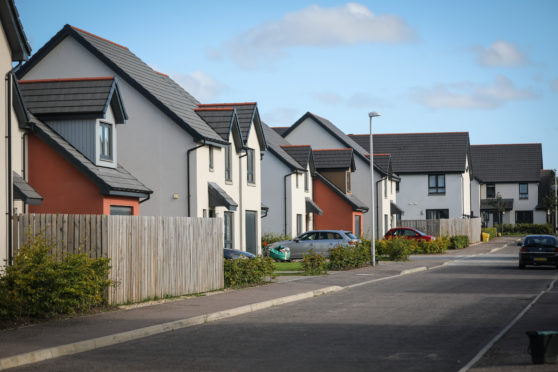 Sir, – The ire of Western Gateway residents, while understandable, misses a couple of key points (Residents' anger over 'forgotten' school promise, Courier, January 28).
Firstly, a parent is entitled to apply for a place for their child in any local authority school in Scotland, and the only basis on which that can be refused is if the school is at capacity.
If I am wrong then no doubt I will be corrected.
The downside to that is that parents are responsible for transport to and from a school that is outside the catchment zone for their home.
Thus Western Gateway residents can apply for places at Invergowrie, Liff and Birkhill primary schools, or even at Longforgan if they care to make the three-mile drive.
Western Gateway parents should also not be nervous about their secondary children going to the new Baldragon Academy.
I know several 18-year-olds who have just left Baldragon with six A-Grade Highers.
If young people have the ability and work ethic, that school will not be an obstacle to their success.
The other key point is that Western Gateway parents are blaming the wrong cause, which is actually the local authority boundary.
Until 1996 Dundee covered a wide area beyond its present boundaries, so the schools at Invergowrie, Liff and Birkhill were all in Dundee.
But then the Conservative secretary of state (pre-devolution) reviewed local government structure and Dundee was cut back to a very tight boundary because, at that time, it voted heavily for the Labour party.
The only exception to that political straitjacket was a modest area of development land at the Western Gateway.
But the new boundary also placed all three nearby primary schools into Angus and Perthshire.
So how was Dundee supposed economically to provide schooling when the Western Gateway was developed?
The new boundary did similar harm to Perthshire and Angus, leaving a secondary school population in Invergowrie that is 22 miles from the nearest school in their local authority.
It also left those from Fowlis, Liff, and Birkhill in Angus with a nearest school 10 miles away at Monifieth.
The answer to the schooling problems of all these places is for them to be brought back within the Dundee boundary at the next local authority boundaries revision, which I think is due in 2022.
At that point Dundee could, at little cost, incrementally expand the existing schools to cope.
You might want to start campaigning for that.
Gordon Fleming.
2 St Nicholas Place,
Dundee.
Talking sense on drugs crisis
Sir, – At last someone of medical prominence speaking some common sense about drug addiction (Drugs policy failings go back years, Courier, February 1).
Professor Tim Hales of Dundee University recognises that shifting heroin addicts on to methadone is simply substituting one addictive drug for another. And, while he appears to approve of legal shooting galleries in principle, I am glad to see that he is exercising caution in that he prefers to await the results from other countries where such galleries are in operation and where there are differing views as to their success.
However, I was disappointed to find he is looking to social causes such as deprivation as the reasons for drug addiction.
The primary cause of drug addiction is the availability of drugs.
It may seem a somewhat simplistic solution to the problem, but if there are no drugs there are no addicts.
As has been said before, this is something which should be tackled at government level as governments have the resources to cut off the sources of drugs.
Or is it the case that drug addiction is so widespread not only among the socially deprived but among our political and cultural elite that it has become so institutionalised in our society that all we can do is tend to the casualties?
In the meantime, in Dundee a drug addict is dying every week and this number will increase as the number of addicts increases due to the availability of drugs.
George Dobbie.
51 Airlie Street,
Alyth.
Protections as council member
Sir, – Let us take some comfort that we are still members of the Council of Europe whose stated aim is to uphold human rights, democracy and the rule of law in Europe.
The UK is a founding member of the Council of Europe which predates the EU and has a membership of 47 states.
The European Convention on Human Rights -ratified by the UK in 1951- and the European Court of Human Rights are both parts of the Council of Europe and it is to be hoped that our membership will hold the government to account over any diminution of our human rights.
The flag, which predates that of the EU, has the same 12 yellow stars on a blue background and sometimes with a large white "C" superimposed around the stars.
Ian Auchterlonie.
93 Denoon Terrace,
Dundee.
Brexit chickens home to roost
Sir, – The Brexit chickens appear to have come home to roost.
With the UK's departure there is no sign of the £350 million each week promised by the Leave campaign, and specifically Prime Minister Boris Johnson.
Of course there is no sign of it because it was a lie. Conspicuous by their absence are the 40 trade deals Liam Fox said he would have ready the second Brexit happened.
Again this was another whopper.
Arch-Brexiteer Jacob Rees-Mogg was saying what fantastic opportunities lay ahead in the post-Brexit utopia.
All this while the company he helped found, Somerset Capital, moved some of its operations to Dublin to continue seamless trade within the EU.
Michael Gove who said during the Brexit referendum that people were "fed-up" with experts. Now Gove is saying post-Brexit trade with the EU will not be frictionless after all.
He has implicitly conceded the experts were right after all.
Sajid Javid said the era of austerity was over. That wasn't true either.
He is asking all government departments to come up with 5% cuts across the board.
Brexit will usher in an era of nativism, isolationism and a rise in racism across the UK.
This will be stirred up by the Tories in order to deflect blame from the coming economic chaos.
Even though Scotland rejected Brexit and has rejected the Tories since 1955, the Brexit chaos will affect here to.
There is no "legal" route for Scotland to leave the UK.
So in the absence of a Plan B from Nicola Sturgeon, this will be the situation for the foreseeable future.
Alan Hinnrichs.
2 Gillespie Terrace,
Dundee.
Why is V&A not using cutlery?
Sir, – We hear so much about how successful the V&A is.
One thing for sure is they are most successful in creating waste in their coffee shop.
Why is the coffee shop not using china cups and metal knives and spoons which can be used again and again?
There must be a mountain of waste each day.
Mary Conacher.
Beech Cottage, Balgowan Place,
New Alyth.