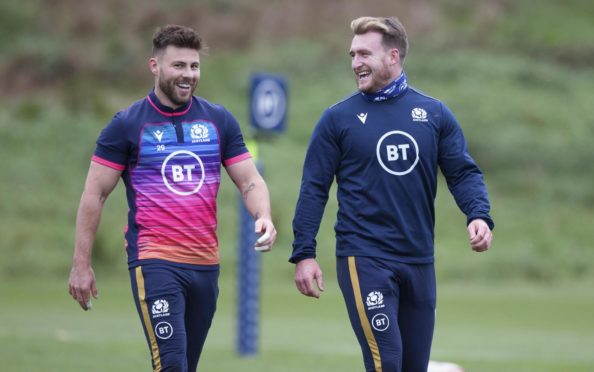 Stuart Hogg always wanted to get the old band back together, and he couldn't be happier that Finn Russell is back in the No 10 shirt for Scotland against Wales.
"I love it, just love it," said the skipper of Russell's return. "I'm a huge fan of the way that Finn plays rugby: you've just got to give that guy the licence to express himself."
Hogg as captain was involved in the chats with Russell over the summer period as they and Gregor Townsend paved the way past the dispute of the spring towards a reconciliation.
"He's been playing some outstanding rugby for Racing over the last few months and hopefully he can continue that form," said the skipper.
"It's been great to have him back. His experience is one thing and the way he speaks to boys is another – he really drives standards and drives us around the field."
Hogg returns to lead the team after an emotional two weeks winning the double with his club Exeter, but with all his focus on helping Scotland to their first win in Wales in 18 years – albeit at Llanelli's Parc Y Scarlets rather than the Principality Stadium in Cardiff.
"It has been an amazing couple of weeks, so let's continue it for an individual point of view and a for the nation as well," he said. "We feel we are in a good place and ready to take on Wales.
"I have been given the opportunity to play in a Scotland jersey and that is enough to get me highly motivated and ready for a game, I just have to make sure I am in the right emotional mind set and be ready to lead the troops into battle."
Hogg's schedule has been punishing but he prefers it that way now, believing that he's able to work up a vein of his best form if he plays most weeks.
"I have played nine or ten games since we came back from lockdown, even if the last couple of week the ball has not come to me a lot," he said. "I have missed a fair bit of rugby (with injury) over the past three years so yeah, I feel good, fit and ready and the most important thing is I am excited about making a difference."
The weather conditions in Llanelli are expected to be difficult, with strong winds after rain early in the day, but Scotland have that covered, says Hogg.
"We have touched on the weather conditions in our team talks all week," he said. "We all know fine well when it is on to play and when to get rid of the ball and defend.
"Finn has been at the forefront of those discussions. He has a terrific kicking game and his game management is right up there with the best in the world.
"Hopefully he can put us in the right areas and make sure we are constantly going forward. We've also talked a lot this week about how every time we get in the attacking 22 we come away with some sort of points, whether that be a penalty, drop goal or try and conversion – whatever it may be as long as we keep that scoreboard ticking over."
Hogg can't change Scotland's poor past record against Wales – and his own personal ups and his personal ups and downs in this fixture which included a red card in 2014 – but he's well up for changing the future.
"Our away record has not been good enough, simple as that," he said. "We can't change what happened in the past but we can control what happens in the future.
"What better start to that than kicking off with a win down in Wales? We are in a position to create our own little bit of history and start winning on the road."