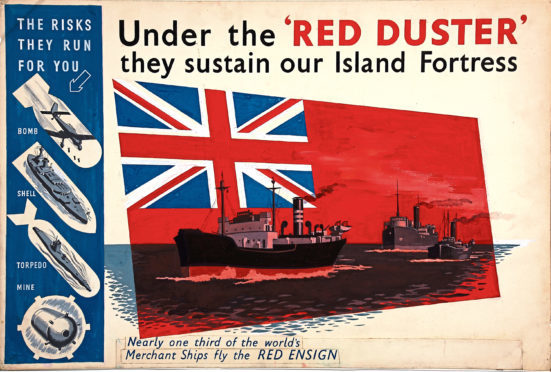 Sir, – I refer to previous correspondence concerning Councillor Duff's opposition to flying the Merchant Navy flag on September 3.
Similar to most people today, Mr Duff is ignorant of the vital part played by the Merchant Navy in the Second World War, and without which the war could not have been fought.
Merchant ships carried the troops to the various theatres of war, the fuel and ammunition they required and the wounded, the fuel for the Royal Navy and – perhaps the most dangerous cargo of all – aviation spirit for the Royal Air Force.
And, in addition to all this, they brought food, as, in spite of the Dig For Victory campaign, Britain was unable to produce enough to feed her people.
The enemy, of course, knew all this so that they did everything in their power to sink our merchant ships by U-boats, surface craft, aircraft and mines, and even in port, docks were targeted.
Some 2,426 British merchant ships were sunk, 36,749 seamen and women were lost (including boys as young as 14 and men in their 70s), 5,720 were taken prisoner and 4,707 were wounded – a total of 47,176 casualties: a minimum casualty rate of 25%, considerably greater than any branch of the armed services.
In view of the above, I ask Mr Duff to withdraw his opposition to flying the Red Ensign in Montrose on that one day.
And I would also like to remind him that the Saltire is Scotland's flag – not the SNP's.
Ian M Malcolm.
2 Morton Crescent,
St Andrews.
Spanish trip is not necessary
Sir, – We now learn from the media that Nicola Sturgeon is planning a second official visit to Catalan, which we know is perpetually embarked upon a separatist path from Spain.
There is nothing constructive that can come out of this visit, in that she has no powers or authority to enter into any sort of political or trade negotiations of any kind with Catalonia.
We have thus to ponder that this must be either a jolly junket or a meeting of kindred spirits engaged in the march towards separatism.
Some might feel that this is a way of endorsing her commitment toward independence and thereby satisfy her core nationalistic aficionados.
In any event it can be concluded that – with all the basic needs of her people and with a withering NHS, falling educational standards, a police service heavily in debt and roads not fit for purpose, to name but a few areas in desperate need – the cost to the public purse of this sojourn would be better directed toward these requirements than on such needless and spurious directions.
David L Thomson.
24 Laurence Park,
Kinglassie.
Beware the 'People's Vote'
Sir, – The so-called People's vote on the terms of the final Brexit deal is something the yes movement for Scottish independence should absolutely avoid.
It is a Unionist honeytrap designed to thwart a second referendum on Scottish independence.
They hope to persuade those who have moved from no to yes because of Brexit to move back.
The campaign to reverse Brexit is being run by the same people who were prominent Better Together activists.
It is being headed from London by the untrustworthy "Lord" Peter Mandelson.
As an ex-EU commissioner "Lord" Mandelson receives a monthly stipend from the EU.
These remainers all support a neo-liberal economic policy and a neo-conservative foreign policy.
They have been enthusiastic in cheering for every illegal war the UK has been involved in over the last 15 years.
Brexit was caused by Blair's illegal wars which created the refugees, Brown's "light-touch regulation" which precipitated the 08 crash, and Cameron's unnecessary referendum all for naked partisan gain.
Scotland has already voted to remain in the EU.
It would not serve Scottish interests to take part in a second EU plebiscite which would deliver the same result as before.
Even if Brexit was reversed, the unionist remainers would deploy the same measures they are currently using against Brexit when Scotland votes to the leave the UK in the near future.
An endorsement of them by the yes movement could be a fatal blow.
The old chestnut of "federalism" is again being trotted out.
This dead parrot was trotted out in 2014.
Instead of more powers what was actually delivered was the UK Government going to the Supreme court and arguing Holyrood was subordinate, the Tories selling off the Scottish NHS to Trump's donors, David Mundell saying Scotland was part of the UK rather than an equal partner and many other lies.
Alan Hinnrichs.
2 Gillespie Terrace,
Dundee.
Union doing us no favours
Sir, – Derek Farmer has surpassed himself with his unionist bias in last Monday's letter.
The UK is in the midst of its worst crisis since the Second World War.
The Government is in complete disarray, as is the official opposition, and the UK will shortly be leaving its main trading partner and casting itself adrift into a very uncertain world.
Our industrial base is likely to be decimated, the pound is headed south, peace in Ireland is threatened, and there is talk about imminent food rationing.
Despite such a challenging backdrop, all Mr Farmer can write about is the threat to our "economic and political stability…of yet another referendum on Scottish independence".
At the present time there is no prospect of an imminent second Scottish referendum.
No one has asked for one, and Westminster has certainly not offered one.
So I would suggest that Mr Farmer focuses his concern on the imminent danger, which is the reckless and foolhardy Brexit being doggedly pursued by the unionist government in London.
Les Mackay.
5 Carmichael Gardens,
Dundee.
Recycling plan must be binned
Sir, – Now let me get this straight.
Some businesses were trying to evade the commercial user fee at recycling centres in Fife by cunningly parking outside and then carrying in the items, posing as householders.
So, rather than try to be a bit smarter in identifying these rogue users from bona fide householders, the council decides to insist upon people driving to the recycling centre, no matter how portable the items they are taking and even if they live just around the corner.
This is insane; it would be ridiculous to insist somebody in Bobby Jones Place, say, or the west end of Scooniehill Road, must drive to the St Andrews recycling centre which they can see from their windows.
What happened to the council policy of making it easy to use environmentally-friendly alternatives such as walking rather than forcing people to be dependent upon a car?
Not only is this proposed policy environmentally unsound, it actually discriminates against those who cannot drive or do not have a car, many of whom are poor, sick or disabled.
Paying the council to come and take the items away instead is unpalatable, particularly for the less well-off, and it results in more stuff being landfilled, incurring more penalty taxes.
There is also the possibility that people who feel the council – by turning them away from a facility – has effectively turned its back upon them, just might be tempted to dump their items, meaning more costs to the public purse to clear up the mess.
In short, the policy of banning people from bringing items on foot to recycling centres is environmentally incoherent and socially discriminatory.
It must be cancelled before it ever comes to pass.
Jane Ann Liston.
5 Whitehill Terrace,
Largo Road,
St Andrews.
No favours from Westminster
Sir, – Every year the release of Scotland's finances look more ridiculous than the last time.
Now we are told Scotland has a £13.4 billion deficit and the RUK has a £40 billion deficit – so five million people have racked up £2,467 per head whereas 55 million only £490 per head.
All GERS tell us is how Scotland is not doing too well under Westminster control.
Rod Selbie.
45 Silver Birch Drive,
Dundee.