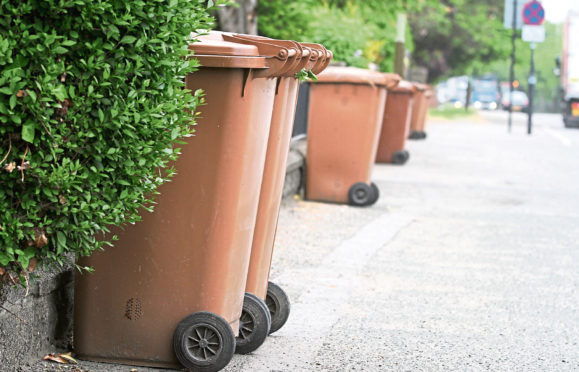 Sir,– I was astonished and dismayed to read in The Courier that Dundee City Council had decided to cancel all brown bin collections from November to March.
Do council officials not look at their gardens or visit the parks and countryside? If they had, they might have noticed that due to a lovely summer and autumn many of the summer annuals are still flowering and the grass is still growing. Therefore many gardeners have not yet started their autumn clean-ups.
It would have made more sense if the council had announced that due to the lovely weather they had made the decision to have two bin collections in November instead of one.
Could someone also tell me what is going to happen in the aftermath of Christmas?
All those real trees, wreaths, floral arrangements and Christmas plants will have to be dealt with. Does the council really think that people will take them to a skip?
Finally could someone please tell me what the men who man the collection vehicles will be doing for the next four months?
I assume they will still be employed by the council so where is the projected £45,000 saving to be made and will the council guarantee that they will inform us of the actual saving made, taking into account the cost of tidying up flytipping and dealing with people using other coloured bins for disposing of their garden waste?
Moira Nolan.
Shamrock Street,
Dundee.
Policy drives trade away
Sir, – The councillors who monitor Kirkcaldy High Street wish to keep it as a graveyard for retailers. It has to remain a pedestrian area, despite the gradual loss of viable shops.
I had 30-odd years of experience in wholesale and retail selling. My start was with a company whose annual turnover was £250,000. When I retired and sold my share of the business we had grown it to a business with 18 shops, its own warehouse and showroom in Glasgow and an annual turnover of £5,000,000.
If learned anything it was that shoppers looked for the nearest convenient sources of merchandise. They would, if possible, drive into a store.
High street parking attracted many customers to Leven.
The advent of pedestrianisation was the beginning of the end.
The authorities' income from the street can now only be a fraction of that achieved in its heyday.
A A Bullions.
Glencairn Crescent,
Leven.
A question of residents' rights
Sir, – The folk who bought their beautiful homes within the quiet environs of Abbey Park in St Andrews have every right to be aggrieved with Fife Council (bureaucrats and elected members alike) and the developer in what seems to be the inevitable move towards an unacceptable and inappropriate additional development.
Had any councillor, other elected individual or any responsible high paid official heard or truly care about Article 8 of the European Convention on Human Rights, I believe, embedded in the Act which set up the Scottish Parliament?
Mike Scott-Hayward.
Sawmill House,
Kemback Bridge.
Tale of two campaigns
Sir, – I have been struck by concerns from those supporting Scottish independence that the backing of the People's Vote on holding a referendum on the Brexit deal would set a precedent in the eventuality of a vote for Scottish independence.
It should, however, be noted that the circumstances are completely different.
Mr Cameron announced the date for the EU referendum in February 2016, with the referendum itself held on June 23, a mere four months later.
The referendum campaign amounted to a matter of weeks, trying to get across what were often highly complex issues, against a background of half-truths and disinformation. Remember the £350 million on the side of a bus and also spending irregularities?
When it came down to it there really was no clear idea of what Brexit actually meant, with those campaigning for Leave promoting often contradictory views. The electorate were effectively presented with a blank sheet of paper, acting on blind faith as to what Brexit meant.
Contrast this with the Scottish independence referendum, with the date of the referendum announced in March 2013 – a year-and-a-half before the actual vote. This gave the electorate the time to fully debate the key issues.
In November 2013, the Scottish Government published Scotland's Future, a 670-page white paper laying out the case for independence and the means through which Scotland might become an independent country. Contrast this with the Brexit campaign.
While one can share the concern of some in the SNP, it should be noted that the circumstances for the People's Vote are very different from what may happen with an independence referendum. It should also be noted that such a vote is backed by the majority of SNP supporters.
Ultimately, the public has a right to change its mind, that's democracy. Many did not know what they were voting for when it came to the EU referendum and I doubt many voted to make themselves poorer, with the continuing negative impact on our economy and society.
Alex Orr.
Marchmont Road,
Edinburgh.
Russia likely to be unruffled
Sir, – The recent Nato military exercises and war games in Norway are no doubt most impressive and frightening – to us.
I doubt the Russians are losing much sleep over them, though.
After all, if Nato couldn't prevent or retaliate when Russia killed one British subject on British soil, they are unlikely to be able to do much to prevent them from killing hundreds of thousands.
It seems rather odd that British forces are protecting Norway when we are incapable of protecting ourselves.
George Dobbie.
Airlie Street,
Alyth.
Clocking the reason for cars
Sir, – Further to my letter of October 17, I attempted to park my car on a recent weekday at the Riverside Walk parking area in Blairgowrie and every space was occupied.
There were two walkers further upstream (both Castle Water employees), according to my wife whom I wished to collect. I suggest, therefore, that many of the parked cars might have been owned by other employees of Castle Water.
I wonder if such ownership might be determined if some early-rising and concerned Blairgowrie residents could join me by parking their cars there on a week day to occupy all such spaces before 8.30am, then removing them, perhaps an hour later, in order to provide parking facilities for "legitimate" visitors to this scenic amenity.
JPK Garthwaite.
Ashgrove Road,
Blairgowrie.
Sympathy has a hollow tone
Sir, – I find it rather hypocritical of Gordon Brown (The Courier, November 3, "Inquiry's bid to protect children in wars") when he states it is "unconscionable" that the global community stands by while children are being killed.
When he was prime minister, I wrote to him on three separate occasions (October and December 2009 and February 2010) regarding the catastrophic consequences on service personnel and their offspring due to the radiation from the British nuclear tests, but he never bothered to reply.
There have been many miscarriages, stillbirths and disabilities caused by the British nuclear tests, but Gordon Brown, like many of his political associates, refuses to apologise or pay compensation.
Dave Whyte.
Blackcraigs,
Kirkcaldy.
Herself or Hjulbot?
Sir, – Is Jenny Hjul a real person or some artificial fake news generator from the internet?
Quite cunning if so, as her articles generate a lot of scorn and counter argument which seems to have the opposite effect to what she has written.
Nick Cole.
Balmacron Farmhouse,
Meigle.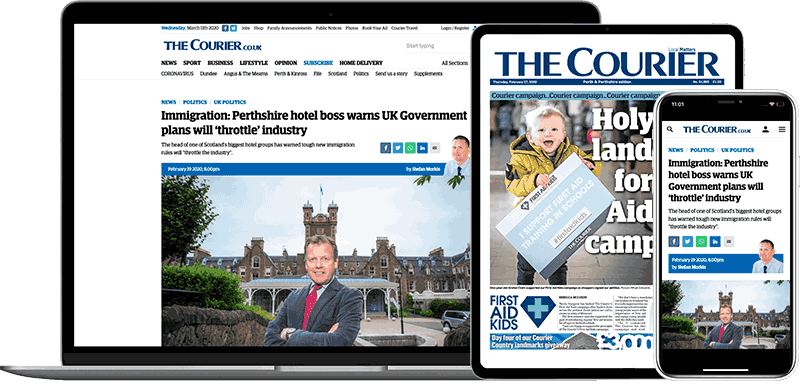 Help support quality local journalism … become a digital subscriber to The Courier
For as little as £5.99 a month you can access all of our content, including Premium articles.
Subscribe