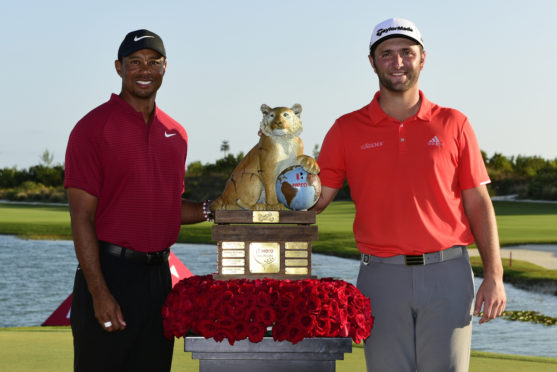 The Official World Golf Rankings have many, many faults, but as a method of working out the labyrinthic machinations of the game at the elite level, they're probably the best we can hope for.
That's a fairly low bar of credibility, to be fair. But we must make allowances for how complicated it is to draw up a level system of rankings from so many events organised by so many different tours in so many weeks – I think Christmas week is the only one where there's no professional event in the world.
For a flawed system, however, the OGWR now wields considerable power in the elite game. Top 50 will get you in every major, on every tour, in every restricted, big-money WGC event. It's a primary career target of any player who swings a club on the tours.
Therefore, while allowing for the difficulty in establishing the system, it is of such importance that it must not bring itself entirely into disrepute. We don't want that bar of credibility lowered too far.
But I think last week's Hero World Challenge is a step too low. This is a restricted 18-man event held in the Bahamas, hosted by Tiger Woods for the benefit of his foundation.
The top 11 in the World Rankings are eligible – but don't always play – and the remainder is made up of invitations at Tiger (or the sponsors') discretion. And of course Tiger always plays, even when he was on one leg with a bad back and 1000-and-something in the world rankings himself.
It is – charitably – a knockabout event for Tiger and his pals at the end of a long season. However, in terms of the Official World Golf Rankings, it carries as much weight as the Scottish Open, or the Dubai Desert Classic, or the Shell Houston Open.
Incredibly, you get as many OGWR points for winning Tiger's charity tournament as you do for winning our national open and those other prestige events.
In fact, finishing 18th out of 18th at the Hero World Challenge – there's no cut, of course – gets as many OGWR points as finishing 48th at the US Open; a major championship that features 156 of the world's top players on some of the most difficult courses which attracts a qualifying entry of around 10,000 in some recent years.
It shouldn't even be ELIGIBLE for OGWR points, in my opinion. I'm not as naïve to think that invitational events shouldn't get OGWR points – the Masters is one, obviously – but a field of less than 20?
The prime beneficiary of the unbalanced, unfair ranking points from the Hero World Challenge has been, unquestionably, Tiger himself. Having not played for many months after back surgery, he finished seventh in last year's event and jumped 538 places in one bound. He could have gone sixth had he won at the weekend, but his 17th place finish saw him drop a place to 14th.
He's made up the remaining 600 of so places in the world rankings from this time last year by his own sweat and toil in premier, full-field events, which is exactly how it should be.
But the fact that his own invitational event is regarded even on equal terms with such events demeans and diminishes the entire concept of the world rankings; and given their central role in determining where players can or can't play, therefore golf as a whole.
NOT ONE FOR OPTIMISM
Scottish Golf's second annual conference seemed to be completed with the general feel-good atmosphere as the first I attended last December, everyone apparently leaving flush with optimism that the club game's difficulties could be solved.
Of course, that optimism last year turned out to be misguided. The membership voted down the plan that everyone had been so optimistic about by the AGM in April, only for it to be rescued – in part – later in the year by an emergency SGM.
In the meantime a year has been largely wasted in inaction as playing numbers have continued to fall, more clubs have closed and the level of women among golf club membership has stayed stuck at an appallingly low 13%.
This year we have a dynamic, proactive chief executive in Andrew McKinlay, and last week's announcement that a new, centralised booking system available free to all clubs can potentially solve the problem of "nomadic" golfers sweeping up tee-times at ludicrously low prices.
This system will theoretically by-pass the websites offering cut-price golf and allow clubs to keep the entire green fee without giving up anything in commission.
It certainly has potential, and I like the general thrust that you could book a tee-time on a phone app with a couple of clicks the same way I do for air travel or hotels, with the club I'm playing getting the full benefit.
But remember who we're dealing with here. Golfers – even the nomadic ones – are heftily of a certain age group not altogether trained in this the way I have been, exhaustively, by my tech-savvy children.
Last year showed that golf club membership is a large, elderly beast that moves slowly. I hope it all works out, but I'm not optimistic.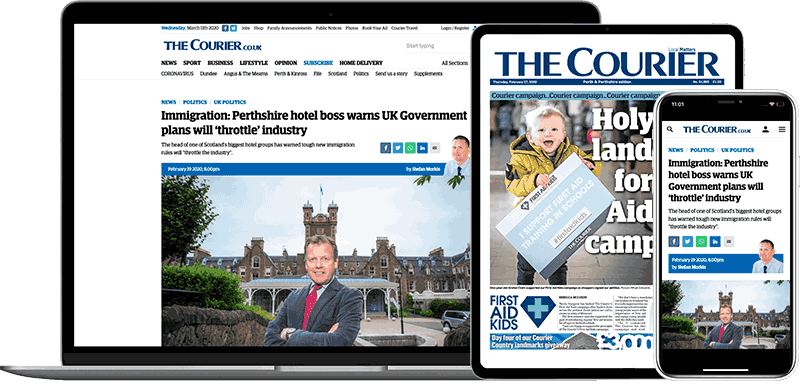 Support The Courier today.
The Courier is committed to delivering quality content to our communities and right now that's more important than ever — which is why our key content is free. However, you can support us and access premium content by subscribing to The Courier from just £5.99 a month. Because Local Matters.
Subscribe