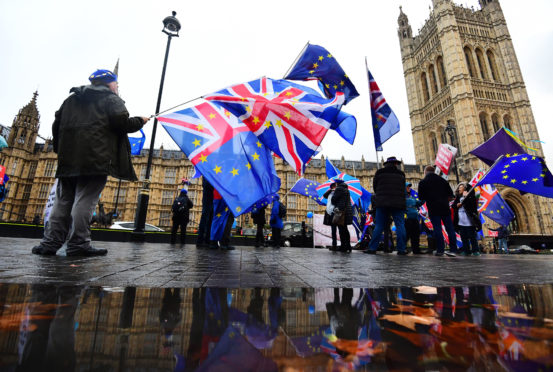 Sir, – Here we are facing a crisis in government as we are blindly led into a Brexit deal that will leave the bulk of the population worse off.
Yet all the Tories can do is shout and stamp their feet because Jeremy Corbyn either did or did not call Prime Minister Theresa May a stupid woman.
Over the past eight years the living standards of the majority of the population have gone down.
Just because Theresa May says that austerity is over it does not mean it is true.
The general secretary of the National Teaching Union is recently quoted as saying that – "The government is out of touch with the distressing new reality of children's daily lives: with what it means to live without enough money for basics such as food, shoes and adequate clothing".
The TUC says that Britain has suffered the worst slump in real wages of the major economies.
The charity Crisis estimates that there will be 24,000 people sleeping rough this Christmas.
In a report by the Joseph Rowntree Foundation earlier this month, it is stated that pensioner poverty is increasing after a decline over the last two decades. The main reason, the report says, is that benefits have remained frozen for the third year in a row.
What a picture of Britain this paints for those of us outside the Tory Party bubble.
However, we should at least be grateful that we have a government in Scotland that has chosen to soften some of the blows imposed by the Tories.
I am thankful that some politicians are closer to the real world in which we live instead of fighting about whether or not someone called the prime minister a stupid woman.
Brian Batson.
7 Lour Road,
Forfar.
A shocking lack of respect
Sir, – I wish to comment on the spectacle which took place in Westminster on Tuesday, December 18.
The SNP had been able, through the Speaker of the House, to introduce an emergency debate on the Brexit Withdrawal Bill.
In essence the debate related to a vote of no confidence in the government (body swerved by Labour) and that the vote cancelled by the prime minister be held before the Christmas recess.
A plea by the SNP that all opposition parties unite in pursuance of the vote of confidence was an essential part of the delivery by Ian Blackford, leader of the SNP in Westminster.
In my opinion, the reaction to the debate on the Tory benches was an absolute disgrace and the total absence of the prime minister and hundreds of Tory MPs was utterly deplorable.
It was clear from the start that their agenda had little to do with the debate agreed by the Speaker of the Commons and their behaviour was that to be more commonly encountered in a child's playroom.
Nat bashing was their order of the day, punctuated with personal insults shouted across the chamber.
It is worth emphasising these were Tory MPs representing Scottish constituencies which all voted remain, yet these MPs followed their party line in an arrogant way, fully supporting Brexit with great gusto, showing little regard for Scotland's position.
All they provided was sarcasm and derision.
Little was seen or heard from the official opposition, not surprising as only a handful of Labour MPs were present.
The SNP were in fact doing their job.
What can be deduced from this spectacle?
It is quite clear that the SNP presence in Westminster means absolutely nothing.
Whether we have 56 MPs or two or three, we will not be heard under any circumstance.
As the largest democratically elected party in Scotland with a minority Tory and Labour Party you would think this would be recognised but in fact we are marginalised at every turn in Westminster.
Our voice will never be heard in "that place".
Westminster can never properly represent the interests of Scotland.
It does not and never will recognise the nations of this so called United Kingdom,
We should stop kidding ourselves that this will ever change.
It will always be like this unless we become once again a free and independent sovereign nation.
As Ian Blackford is told "get back to Skye" from the Tory benches with no sanction, how long are we as a nation prepared to countenance such behaviour before we free ourselves and gain our respect through independence?
Dan Wood.
Charles Melvin Gdns,
Kirriemuir.
Policy makes no sense
Sir, – It is evident through study of the government's latest hair-brained scheme that they are clutching at straws in a desperate bid to stay afloat.
It is suggested that immigrants coming into the country must earn at least £30,000 per annum.
Does this mean they are going to pay hospital cleaners , hotel staff and berry pickers this amount of money?
I am alarmed that these people are running the country.
It is time we were rid of them – they do not have a clue.
Alister Rankin.
93, Whyterose Terrace,
Methil.
EU better off without us
Sir, – De Gaul was right – Europe is better off without a semi-detached Britain.
The EU27 have shown greater concordance across their 27 nations than we have within our own.
Brexit may turn out to be the best thing that has happened to the European Union.
The fear had been that the exit of one of its "big beast" nations could unravel the whole thing.
Today it can safely be assumed that by the time we stagger off into the night, our shambolic departure will have well and truly spiked the guns of continental Euroscepticism.
Rev Dr John Cameron.
10 Howard Place,
St Andrews.
A hint of pots and kettles
Sir, – The heading "Challenging racism would make us all better human beings" (Courier December 17) in the Stefan Morkis opinion piece is one all decent persons would support.
However, instead of following his own lead, your reporter Mr Morkis goes on to fulminate against use of the term "snowflake" as a "derogatory term adopted by the right wing in the US" while seeming unaware of his derogatory use of the term "right wing" in putting down "snowflakeism".
He mentions "those who froth themselves…into more indignant fury then like to claim the offended are trying to take away their freedom of speech".
Having wiped away my froth, perhaps he could explain how the actions of university students in "de-platforming" speakers who might say things that would drive them into their "safe places" are such a victory for free speech?
I agree with his comment that Robson would hopefully think more closely about his actions and I would hope your reporter might do the same.
Andrew Lawson.
9 MacLaren Gardens,
Dundee.
Cashless society is madness
Sir, – I was exiting the Forfar Lidl shop where a lady was sitting by the doorway.
Seeing that her purpose was collecting for charity I stopped, preparing to take some cash from a pocket.
She then said, "you are going to give me cash aren't you Sir".
I replied that this was my intention.
She said she couldn't accept money now as only bank cards are acceptable.
Truly the world is going mad.
J R Smith.
Morar,
44 Glamis Road,
Kirriemuir.
Charitable cure for syndrome
Sir, – My wife suffers from "twitchy leg syndrome" which means that when she settles down of an evening to watch television her left leg starts to twitch.
As a diversion therapy she knits "trauma teddy bears" for delivery to our local police station.
One bear is carried in each of the police patrol cars and they are given to children they come across who are traumatised for whatever reason.
Obviously the bears are replaced so that there is another one available.
I reckon she has made nearly 100 of these bears and there is no sign that she intends to stop until the police say there is no longer any need.
A A Bullions.
6 Glencairn Crescent,
Leven.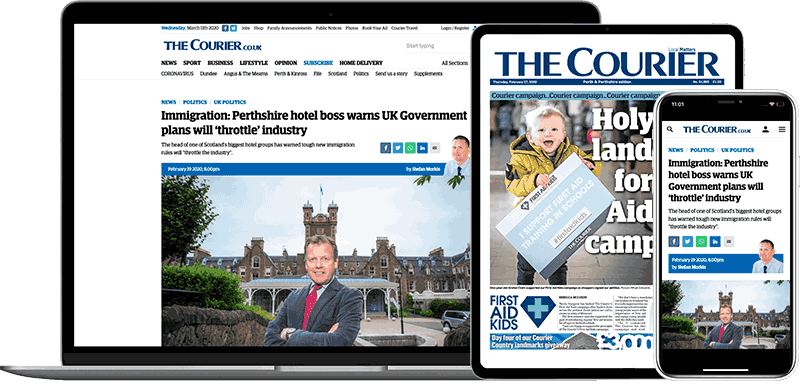 Help support quality local journalism … become a digital subscriber to The Courier
For as little as £5.99 a month you can access all of our content, including Premium articles.
Subscribe