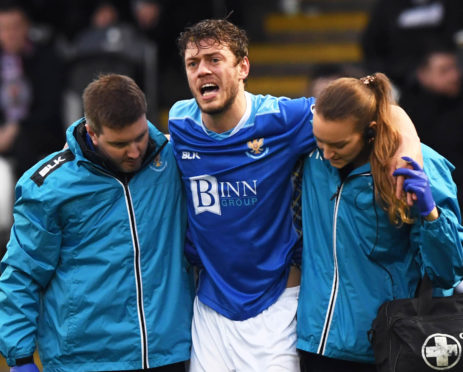 Murray Davidson will get his knee scanned, as St Johnstone seek to establish how long the the influential midfielder will be out injured.
Perth boss Tommy Wright has confirmed that Davidson will definitely miss today's clash with Dundee but there is understandable concern beyond that, given the fact that it is the same knee that has been operated on before.
"Murray's knee has settled down but we are having to get it scanned," Wright reported. "He previously had surgery on it.
"He will definitely miss the trip to face Dundee.
"Blair Alston has a bit of a dead leg so it's wait and see with him."
Wright added: "We know how difficult it was against St Mirren and how tough Dundee are going to be.
"Jim (McIntyre) has a difficult job on his hands and it is a big transfer window coming up for him.
"I'm expecting Jim to give it a real go at keeping Dundee up.
"His sides have always been organised and difficult to beat. He got a draw against Rangers recently with 10 men and that's testimony to how good a manager he is.
"I think we will see a different Dundee in terms of energy and wanting to move the ball quicker.
"They will want to ask more questions of you because Jim is a proven manger, someone who has over 500 games and knows the league inside out.
"He is an honest manager who doesn't hide behind things and puts his hand up when he makes mistakes. Jim calls it as it is.
"I'm sure he is looking to finish the year off with three points. But so are we.
"We want to finish off 2018 on a real high. If we can get to 34 points after 20 games that will be our best return. I'm not sure we have even had 31 points at this stage.
"We want to keep this run of away wins going. We have been incredible on the road."