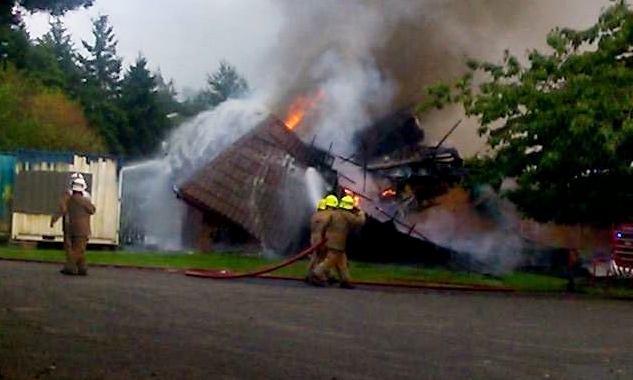 A senior councillor has said proposals put forward to replace the fire-hit pavilion in Mill o'Mains betray the memory of the late councillor Brian Gordon.
The  pavilion was completely destroyed by a fire in the summer of 2017 and Labour north east councillor Brian Gordon, who died in February, led the campaign for a replacement.
But Labour group leader Kevin Keenan has said he is dismayed at the three options being put out to consultation by the council.
The suggestions are using existing buildings such as schools and sheltered housing complexes, building an extension to Mill o' Mains Primary School or a community asset transfer of land.
If the last option is chosen, the community would be able take out a long lease on a piece of land for just £1 a year but would require external funding to build on it.
Mr Keenan said: "I find it extremely hard to believe that councillor Brian Gordon would have agreed this as a potential way forward.
"A few days before he sadly passed way Brian was writing to our building control people in the hope of seeking a way forward that would have allowed the building warrant to be issued for the temporary accommodation to go in place.
"He was extremely annoyed and seemed to be coming up against the buffers thinking  every barrier was being put in his way, given that approval was given for temporary portable cabins to be placed at Braeview School.
"If the necessary approval can be issued quickly for one, it can surely be done for the people of Mill o' Mains."
Mr Keenan added: "If the council has the ability to self-insure a building then it ought to be prepared to dip into its coffers and rebuild the pavilion for the people of Mill o' Mains.
"If it was Broughty Ferry or the West End we would be inviting the First Minister to open the replacement facility, we would not be out to consultation. It is about time the council did something for the people of Mill o' Mains."
However, a Dundee City Council spokesman said the three options being put to the community are the only "sustainable" ones available.
He said: "The options appraisal followed decision by Dundee City Council's neighbourhood services committee last year.
"The appraisal was required to look at all the options for a community facility in the area, taking into account the makeup of the population, what facilities already exist, how much it would cost to provide and run a facility and what is the fit with the plans for the area.
"Ward councillors and council officers met to look at the long list of options and unanimously agreed that there were only three options which were sustainable."
The consultation will be open to all residents of Dalclaverhouse, Emmock Woods and Mill o'Mains who are over 11 years old.