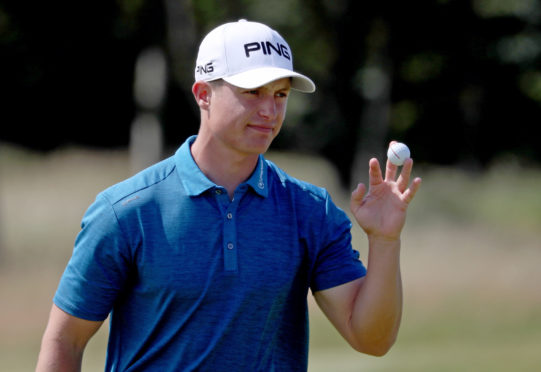 Calum Hill showed all week he belongs in the company of the European Tour elite – it's just a question of getting there on a full-time basis.
The qualifier completed his Scottish Open week at 15-under, good enough for a top-25 finish. But it's back to the Challenge Tour for the rest of the season, although with plenty of precious experience and information tucked away, and a feeling he might have found his best form in the highest company.
"Up until this point of the season, parts of my game have been nice, but not all of it," he said after four birdies in his last five holes got him to a 66 in the final round.
"This week it's been all there at once. I've had a problem with just making a mess of my score, I've not been scoring as well as I've been playing.
"This week I've not as many errors and that showed in the scoring. Hopefully I can take this on to the Challenge Tour and this form continues."
The 24-year-old from Crook of Devon was annoyed at himself for two bogeys at the end of his Saturday round, but he put them out of his mind quickly.
"I was frustrated with that finish, but I'm forgetful anyway so I just needed 30 minutes after the round to get it out of my system," he said.
"As the days gone your goals change, and that's why the finish on Saturday was so disappointing. But overall I've had a great time and really enjoyed it.
"The goal is obviously to be out here week-in, week-out, without having to qualify. That thought will keep me going until the end of the season."
Scott Jamieson finished with a 66 for 15-under that just about guarantees he'll hold on to his playing rights for next season – it took him until the last two weeks to secure last year – he he was a little rueful at the end.
"If you'd given me 15-under at the start of the week I would have thought I'd be holding the trophy," he said. "The course was pretty much there for the taking.
"To have four days of weather here like this is crazy. It is perhaps too easy for what some of the guys are going onto next week but if you made it too hard then they would be complaining.
"I'm sure if we come back next year we won't get four days like this."
The upside is that it allowed Jamieson to play without fear.
"I got hot on a little stretch on the back nine," he said. "I felt if I could birdie the last three and make it to 17 under I would maybe have an outside chance, so that was exciting.
"It's a fun feeling trying to birdie every hole, rather than trying to hang on for a position or a score."
Richie Ramsay finished with a 67 for 13-under and thought that the tour's visit to his home course got top marks all round.
"I feel it's been a successful tournament," he said. "Some have said it hasn't been the best preparation for The Open, but I just don't believe that.
"With the weather system, if it's like this here, chances are it will be the same in Portrush.
"The ball flies similar, the distances and the temperatures are very similar. The Open green speeds might be quicker, but it's still the best preparation, especially for the American guys."
Ramsay expects the organisers to "see how things have worked, take the feedback and make slight adjustments if they need to."
"Things they can control like taking care of players, the fans, taking care of car parking, accessibility, clinics for the kids…I think they have smashed it out of the park this week," he added.
For another local, Grant Forrest, it was a feeling of mission accomplished for the first half of his season and kick on to the second half.
"I'm frustrated a bit, but top 40ish is not too bad in a strong field," he said, having strong finishes in both Ireland and here to secure his card for 2020. "I think I can just go for it now, particularly in some of the smaller events. I'm just looking to try and win really, there's nothing else for it.
"At the start of the season keeping my card was obviously a goal, but I've got the Race to Dubai final in mind now, which was the higher goal at the start of the year."