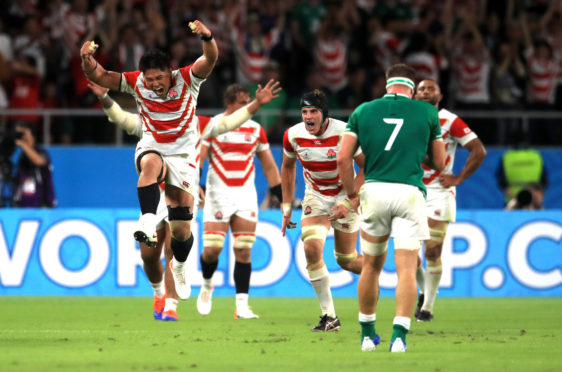 Japan's monumental victory over Ireland in Shizuoka on Saturday exploded a bomb underneath Pool A and at first glance made Scotland's potential progress to the quarter-finals much more difficult – even, in some people's view, "essentially eliminated" them.
It's true that Scotland's place in the last eight is a tough ask now. Even three bonus point wins over Samoa, Russia and Japan – not remotely a given even before the Shizuoka Storm – does not absolutely guarantee Gregor Townsend's team a quarter-final.
But it doesn't make it that more difficult than it was before. The squad were perfectly aware that three wins in these games, most likely all with a try bonus, was what was needed to qualify, even before the defeat by Ireland. The plan hasn't really changed.
Similarly, the fact that Japan leapfrogged Scotland in the world rankings by virtue of their win (you get double points for wins in the finals) doesn't sprinkle the Brave Blossoms with extra magic dust.
Scotland have never beaten a team higher than them in the rankings in a RWC, but there's always a first time and it wouldn't even be slightly strange if this was it.
What has changed is that the flimsy safety net below Scotland prior to Saturday's game has now gone. But that could easily work to their benefit.
The goal is perfectly transparent now, and that should surely concentrate the minds of the Scots. There is a considerable distance between the way Scotland played against Ireland and their actual potential, even the most pessimistic of observers would acknowledge that.
Bridging that gap was going to have to happen, and the need is even more acute now. There's certainly no need, or excuse, for tentativeness now.
What is galling about Japan's defeat of Ireland was that they did exactly what Scotland intended to do but failed. Their much smaller side came out at least level in the contacts with the big Irish pack, they defended magnificently while still playing their natural attacking game when they had the ball.
Referee Angus Gardner won't be getting many Christmas cards from the Emerald Isle this year but the Australian reffed it as he saw it and Ireland's complaints about the policing of the offside line have an Irony Overload Alert on them.
Besides Ireland were 12-3 up after 20 minutes – exactly as they were against Scotland – and that's a situation they would surely expect to convert into a comfortable victory.
What's left for Scotland is that listless performances like Yokohama last week won't remotely do. They have to shrug off Ireland and come out at full bore. There's no more room for manoevre.
The only place in Japan without aircon
It's already hot in Japan – 31 degrees but "feels like" 35 in Kobe for Scotland's visit – and although the Kobe Misaki Stadium is indoors but it doesn't seem to have air conditioning – an absolute necessity for North Country Boys like your correspondent.
Reports from the England-USA game last week had this place feeling like a greenhouse, which you imagine is going to help Samoa rather than Scotland.
The roof is retractable but it has to stay closed under a tournament rule, probably dating from the tournaments where the Principality Stadium in Cardiff was a venue.
One thing could help Scotland: the pretty clear evidence that the more days off you have between games, the better off you are.
Samoa have a five-day turnaround for this game, Scotland have had eight.
Just a little excited
Japan's reaction to the victory over Ireland falls a little short of complete hysteria, it has to be said.
Due to a Scotland press conference scheduled at the same time, we saw the game in Shizuoka at a fan bar and/or huddled round a colleague's iPad in the Scotland team hotel.
There were a good number of Japanese supporters in the bar who were suitably excited and delighted, but most of the cheering was of the underdog supporter variety, from Scots and the English, who hadn't yet moved on to their next port of call after their game in Kobe against the USA.
Out on the streets, even in the rugby-centric city of Kobe, there was no celebratory atmosphere, no cars being driven around with flags flying and horns blaring. Back in Osaka, it just seemed like a normal Saturday night.
In the morning all the local papers, which had featured nothing but the Sumo Summer Basho when we were in Tokyo, had banner headlines and pictures of Kenki Fukuoka diving over for the key try.
But you were still getting polite smiles registering little recognition from most people at the coffee shop just down the road from Courier HQ.
Even if there is a surge in interest in Japan on the back of this – and you'd think a quarter-final against New Zealand or South Africa would provide that – there's still a number of obstacles to making rugby a huge thing in Japan, points out Rich Freeman, an English language journalist based here and specialising in rugby.
There are few school teams, very little age-grade rugby is played, and there is also the "bukatsudo" system governing extra-curricular school activity, which does not allow kids to try multiple sports.