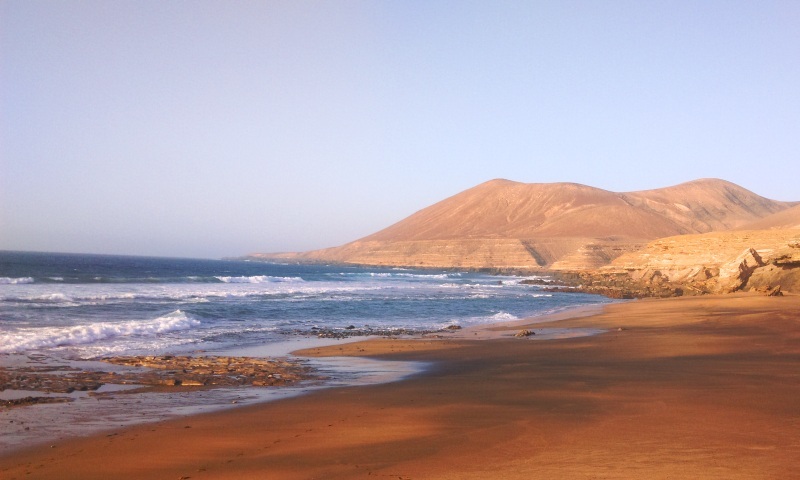 When we day-dream of pristine, uncrowded beaches, we often imagine we'll have to travel to some far flung desert island to find them but in actual fact, just over four hours on a plane will take you to some of the prettiest and atmospheric beaches on the planet.
Fuerteventura is the closest of the Canary Islands to the African coast and only 100 kilometres separates this holiday hotspot from Morocco.
Dramatic volcanic landscapes and picturesque sand dunes add to the stunning scenery of the island and its weather conditions have crowned Fuerteventura a haven for water sports enthusiasts.
It really is a great place to just go and do your thing – whether that be wind-surfing, swimming, sight-seeing, strolling along the beach feeling the sand between your toes or simply lazing in the sun letting the world revolve around you.
If you can tear yourself away from lazy days on the beaches, why not hire a car and venture inland to find some traditional villages on the island.
A trip to the old capital of Fuerteventura, Betancuria is an ideal way to get a burst of Canarian culture.
This traditional town has been lovingly preserved and visitors can catch a glimpse of everyday life for the locals.
Fuerteventura is also often referred to as the island of eternal spring and boasts pleasant weather year round.
Arguably, Fuerteventura's beaches are biggest pull for holidaymakers but there are lots of other ways to enjoy the island.
Feeling adventurous? Why not take the opportunity to explore the crystal clear water with the help of an experienced guide?
There are some great kayak and snorkeling excursions available for you to get up close and personal with the island's coastline.
If it's something more relaxing on the agenda then we've got that sorted for you too.
Book yourself onto one of the lovely catamaran cruises where you can simply sit back, relax and enjoy the sea breeze.
The most you'll have to do is take some photographs to show off to your friends when you get home!
If you are staying a little longer it's really worthwhile taking a trip over to neighbouring Lanzarote for the day. A short 40-minute crossing will see you in another great island perhaps taking in some sightseeing or a bit of retail therapy.
Whatever you choose, it's all fun in the sun and that's just what we all need to put a smile on our faces.
If you fancy a quick week in the sun this spring, this is the ideal place and with some great deals on offer from talkholiday, you can have a little bit of heaven and it won't cost the earth!
Travel themed social media networktalkholidayis a site where you can plan, prepare and purchase every aspect of your travel, even down to your holiday wardrobe! Best of all it's FREE to join.
Relax in Fuerteventura this spring with great deals on hotels from £19.45per night
Jet off to Fuerteventura this spring with great deals on flights from only £45pp return
Take The Ferry To Lanzarote For A Day Of Exploration From Only £21.69pp
Take to the sea in Fuerteventura on an exhilarating catamaran ride from only £39.75pp