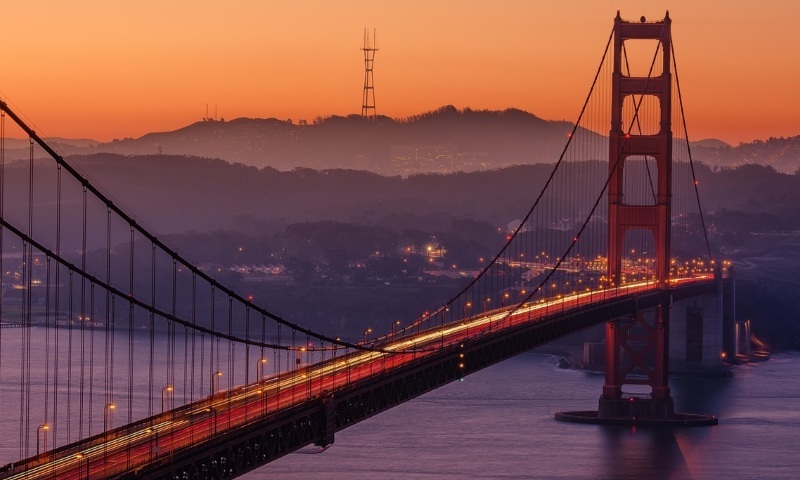 Tony Bennett's famous song may well be one of the official anthems for the city of San Francisco and you'll understand why when you get there.
This is a city to fall in love with and you could just leave a little bit of your heart behind too.
Seeing San Fran may be a trip of a lifetime for some yet the streets of this vibrant metropolis might feel slightly familiar.
San Fran has been the setting for many a movie and TV programme.
Classics such as Vertigo, The Game, The Birdman from Alcatraz, Pacific Heights and of course The Streets of San Francisco were all set here.
Bond film "A View To A Kill" also featured San Francisco and the scenic skyline is pretty much to die for!
San Francisco lies midway along the Pacific coast of California and is arguably one of the most beautiful cities in the world.
This place just welcomes you with open arms and you can almost feel the sense of pride coming from the locals who are clearly at one with their surroundings.
There's so much to take in that you might need a few days here to really appreciate everything that's on offer.
Sweeping views of the bay provide the perfect setting to get your trip off to a romantic start, and then head off into the nooks and crannies of the atmospheric streets and walkways.
Take a stroll or cycle over the famous Golden Gate Bridge high above where the Pacific meets San Francisco Bay.
It's just so idyllic and serene.
If there's one part of the city that first time visitors should head for it is Fisherman's Wharf.
There's plenty going on here and if you have kids in tow, they will love the attractions on offer – they might even learn a thing or two!
Enjoy the fascinating history of San Francisco at the Maritime Museum and don't miss USS Pampanito, an original WWII submarine.
Fun at the Wharf also includes the famous Pier 39, Madame Tussauds and the Aquarium of The Bay.
Fisherman's Wharf is a just the perfect spot for dining and sampling some trend-setting food.
Visitors won't be stuck for entertainment either, boasting an impressive calendar of art events, San Francisco is the cultural epicentre of California.
Throughout the year you will find opera, ballet, dance and art events around the city.
Here's our top things to do when you get there :
Alcatraz
Known simply as "the Rock," Alcatraz Island was home to some of the nation's most infamous criminals. Today, tourists can visit the island and is definitely one of the most interesting places to visit in San Francisco.
Golden Gate Bridge
Dominating the city skyline, The Golden Gate Bridge first opened in 1937 and is perhaps San Francisco's most recognized landmark. No holiday to San Francisco would be complete without visiting this famous bridge.
Ride the cable cars
San Fran's famous cable cars – See how tourists and locals alike rely on this historic means of transportation to get around the city.
Take a cruise of the bay
Take a Rocket Boat tour that offers high-speed thrills along with some sightseeing.
Fisherman's Wharf
Spend the day exploring and enjoying some great food at the many restaurants. Also, check out the famous Pier 39, USS Pampanito, a WWII submarine museum and memorial, and Ghirardelli Square.
Tempted to tick San Francisco off the bucket list in 2016?
Check out these great member deals with our friends at talkholiday for your next trip :
Enjoy The Sites Of San Francisco With A 7 Night Break – Includes Flights & Hotel From £599pp
Grab A Lonely Planet Guide To San Francisco & Get An Extra 20% Off