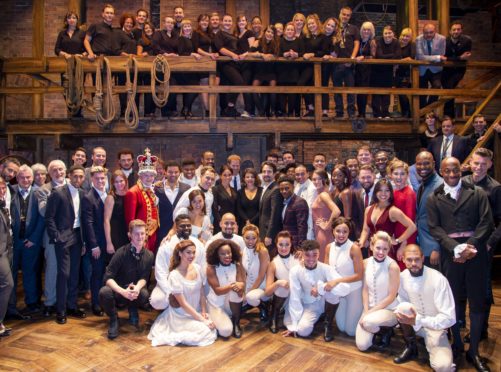 Hip-hop musical Hamilton has earned a dozen nominations for awards celebrating the most popular stage shows in Britain.
Epic drama The Inheritance and black comedy The Lieutenant Of Inishmore have also received public acclaim with nominations in the WhatsOnStage Awards.
The nominations are decided directly by theatregoers who choose their favourite acts online.
American historically-based Hamilton, playing at the Victoria Palace Theatre, has been put forward for awards in 12 categories.
Outside musicals, The Inheritance, the two-part tale of gay love during the Aids epidemic, garnered seven nominations, including Best New Play.
The Lieutenant Of Inishmore, a darkly comic story of a crazed Irish paramilitary officer, is up for six awards, including Best Play Revival.
Sita McIntosh, of WhatsOnStage, said: "2018 has proved an incredible year for new writing – for both musicals and plays – providing some of the strongest competition we have seen in recent years across the nominations.
"The calibre of work populating not just the subsidised sector, but also commercial houses across the UK, shows a shift in audience appetite for new, challenging and diverse work, and it's thrilling to see.
"The WhatsOnStage Awards unashamedly celebrate the best and most popular of UK theatre, shows that our readers pay to see and vote for in their droves."
Poldark star Aidan Turner is up for the Best Actor award, and Carey Mulligan has been nominated for Best Actress.