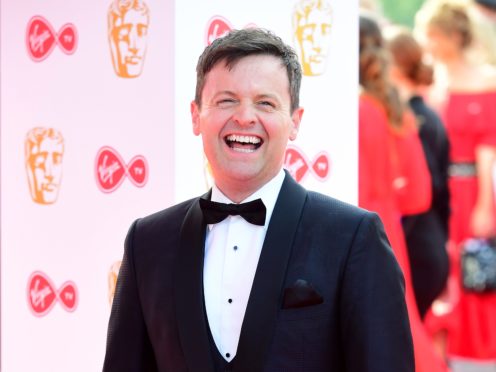 The I'm A Celebrity finalists had to brave a series of gruelling Bushtucker trials to win a feast for their last night in the camp.
Emily Atack, John Barrowman and Harry Redknapp – the final contestants remaining on the ITV show – each faced a host of jungle critters to secure a lavish Last Supper.
Inbetweeners star Atack was given the Fill Your Face challenge, which saw her wearing a helmet filled with creatures such as crickets, cockroaches and scorpions.
The actress trembled as 15 huge spiders were added to the mix, but was encouraged by hosts Holly Willoughby and Declan Donnelly.
They counted down as Atack neared the end of the trial.
"You've done it," said Willoughby. "It's all over. Shake, shake, shake!"
The actress shook off as many of the critters as she could and Willoughby tried to flick some off with her cue card – while also panicking that they were getting near her.
"Oh my God they are all in my swimsuit," cried Atack. "This is hell, the things I do for a pint!"
Barrowman had to eat a series of jungle "delicacies" for the Bushtucker Bonanza.
The Torchwood star told the presenters: "There's no question, I've come this far – I'm not going to say no to anything now and this is the one I've always dreamed of doing."
Dishes on offer included beach worms, goats eyes, a bull's penis and a dead spider.
"The whole web ass exploded in my mouth and that was horrible!" he said after swallowing the eight-legged creature.
Redknapp's endurance was tested in the Danger Down Under trial, in which he had to lay in a dark underground chamber while creepy crawlies scurried all over him.
The football manager was less than impressed when Donnelly told him there were also rats in the chamber.
"Oh don't, I hate rats, I'm scared of rats, don't let one go up my leg please, oh my God," said Redknapp.
"Argh, he's scratching my face!" he added.
After the trial Redknapp was worried that he had something in his ear.
Medic Bob was called and discovered a cricket nestled there, which he swiftly removed.
Talking about his encounter with rats, Redknapp said: "I'm not too keen on them, one started to go up my trouser leg shorts and I said, 'You won't find much up there'."
The finalists' efforts paid off and they enjoyed treats such as pizza, sticky toffee pudding and cheesecake for their last dinner.
I'm A Celebrity… Get Me Out Of Here! airs on ITV.