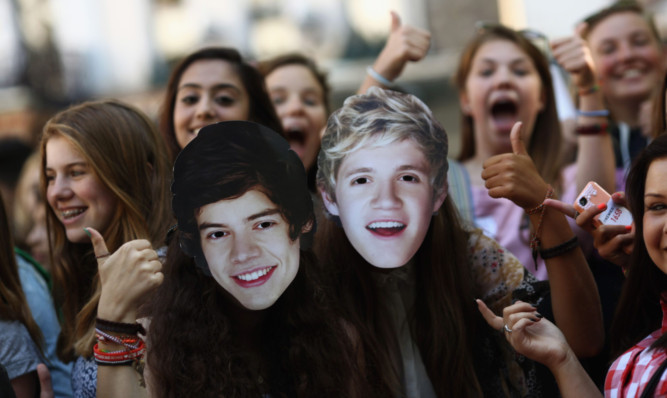 One Direction are being described as the first boyband to be worth more than a billion dollars. As their new film premieres in London, Gayle Ritchie asks: how did The X Factor runners-up become the biggest boyband in the world?
It has been an amazing journey for English-Irish One Direction since their baby faces first graced The X Factor in the summer of 2010. With the UK premiere of their movie this week, industry experts are predicting they will be the first boyband to generate a billion dollars over the next year.
The film, This Is Us, is directed by Morgan Spurlock, best known for his documentary Super Size Me, in which he guzzled nothing but fast food for a month. It follows the five of them on the road, tracking their meteoric rise to worldwide fame. Spurlock reckons fans would enjoy seeing how "normal" the band are: "You see five guys who are the same five guys they were three years ago."
Fans, or Directioners as they are known, camped out in London's Leicester Square ahead of the premiere, with some arriving as early as Sunday morning.
It's hard to remember the lads Harry Styles, Louis Tomlinson, Niall Horan, Zayn Malik and Liam Payne as they were in 2010, all individually hoping for a shot at solo stardom before Nicole Scherzinger mashed them together (the Pussycat Doll was guest judge on X Factor and suggested they form a five-piece). Watching their try-outs on YouTube is a reminder of how far they've come. Malik is so nervous about a dance routine that Simon Cowell has to give him a pep talk. Horan barely scrapes through his initial audition.
Only Styles has the confidence of someone who knows he's got the full package, and at that point, he's only 16. Losing The X Factor did them no harm. It released them from the so-called "winner's curse" and Cowell signed them to his label, Syco.
Three years on and the band have sold around 30 million records. Their second album, Take Me Home, was number one in 35 countries and they are chased by hysterical girls wherever they go. Then there's 1D dolls, hair straighteners … there's even a dedicated 1D shop. But what exactly is the secret of their success?
With their foppish hairdos, cheeky grins and apparently innocent charm, they are portrayed as the boys next door. They are good looking (of course), possess decent singing voices and boast inoffensive catchy tunes. Young girls love them, mothers want to mother them and boys want to be them. But obsession with Harry and friends arguably goes beyond Beatlemania.
Could it also be their willingness to chat with fans on social media that has helped boost their popularity? Connected to their idols through Twitter, which they monitor constantly to get an idea of where the heart-throbs might be, 1D fans have a love and dedication like no other.
The obsession doesn't stop there from death threats to band members' girlfriends, to being willing to chop off limbs and kill kittens to just be in the same room, some will stop at nothing to be noticed by the boys.
Following a recent Channel 4 documentary which exposed the more extreme side of the band's fandom, an army of Directioners took to Twitter to voice their anger. It also prompted suicide concerns after the hashtag RIPLarryShippers started trending on the social network.
Larry Shippers, referred to in the documentary, is a group of fans who fantasise about secret affairs, specifically between Tomlinson and Styles. These fans often create artworks showing the relationship and support it. Other tweets warned that Channel 4 should "hide", and hoped that the channel "burn in hell".
However, it was not just fans who took to social media to vent their anger. Band member Payne, in surprising language for a pop star with young fans, wrote: "We couldn't give a f*** what any documentary says there [sic] dramatised for entertainment and full of bull**** . . ."
When men's magazine GQ ran a story on the band, fans took issue with certain cover lines, in particular one on Harry Styles' cover, "He's Up All Night To Get Lucky." Terrifyingly, some fans responded by threatening murder including by chainsaw and acts of terrorism.
No matter who their fans are or how they behave, it seems the 1D phenomenon just keeps on growing. Their success is probably a matter of timing. Every generation needs a boy band, and 1D fitted the bill. The question is whether they can sustain it. Surely at some point the bubble might burst and one of the boys will be snapped sozzled with his head in a Glasgow gutter? Right now, they're singing all the way to the bank.