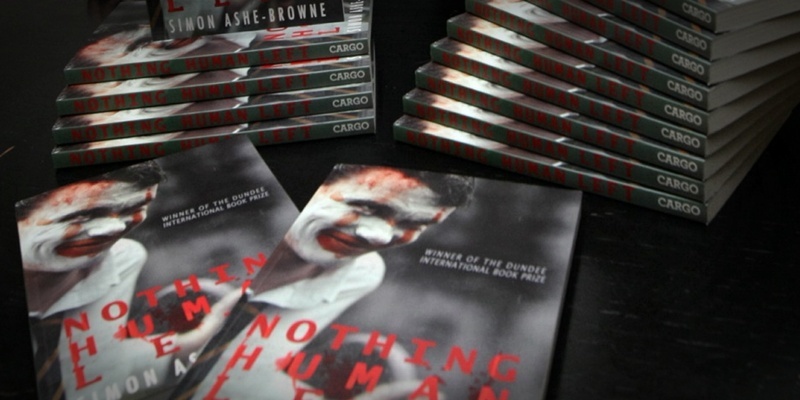 A 26-year-old writer from Dublin has been named winner of the 2011 Dundee International Book Prize.
Simon Ashe-Browne walked off with the £10,000 prize for his book, Sympathy for The Doc, which is being published by Cargo under the title Nothing Human Left.
The winner was presented with his prize at a gala dinner on Thursday night, held as part of the Dundee Literary Festival.
He told The Courier: "It's not the first novel that I have started but it is the first that I have finished. I have novels in notebooks around the place hidden in drawers and so on."
Now the prize money will allow him the luxury of being able to concentrate on being a writer an ambition he has harboured since the age of eight.
Describing the prize as "a major game changer," he said it was "a validation of all those hours spent scratching away at the page."
Anna Day, director of Literary Dundee, and one of the book prize judges, said the young Irish author's work was a worthy winner of the largest prize offered in the UK to unpublished authors.
She said: "We received well over 100 high-quality entries from around the world, but Simon's book stood out."
Fellow judge and managing director of Cargo, Mark Buckland, said: "We're delighted to be the publisher for the prize and we're looking to develop the prize in the coming years into something that can really support and energise authors like Simon."
Dundee city development convener Will Dawson added: "A rich storytelling tradition runs through Dundee whether it be in song, literature, as a narrative in a computer game or the plot of a film and the city's ongoing association with encouraging the very best in that tradition through new novel writing is reflected in the long-standing success of the book prize."
The prize is a collaboration between Dundee University, Cargo Publishing and Dundee City Council's One City, Many Discoveries campaign.
The other books on this year's shortlist were:
As it was in the Beginning by Rachel Newsome (London), 14 Variations from White by Emma Hooper (Bath), No Place to Fall by Alissa Jones Nelson (Dundee), The Broken Glass Collector by Elizabeth Switaj (Belfast), Pixelated by Lane Palmer (London), Touching Cloth by Adrian Wizneivski (Lochwinnoch), Granmere's Piano by Jay Weber (Arlington, USA), The Sacred Combe by Thomas Maloney (Henley-on-Thames), The Flax Flower by Amanda MacLean (London).