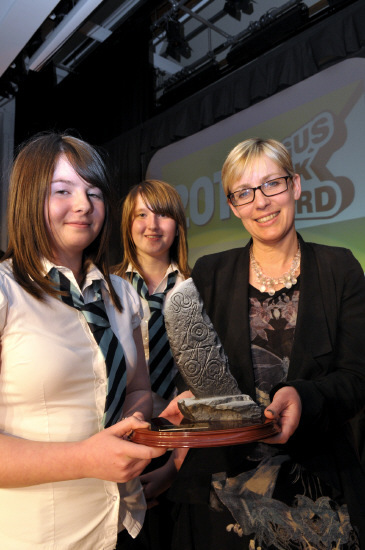 Rachel Ward has been awarded first prize at the Angus Book Awards in Kirriemuir for her debut novel Numbers.
The ceremony was held on Tuesday in the town hall, which has been refurbished in time for the 150th anniversary celebrations of the birth of Kirriemuir-born author Sir J. M. Barrie.
The event was hosted by Webster's High School S3 pupils Kirsten Wellburn and Georgina Nicol, who presented the £500 prize and Angus Book Award trophy of the Aberlemno serpent stone to the winning author.
Published by Chicken House, Numbers is a compelling fast-paced thriller, which tells the story of 15-year-old Jem who has the secret ability to see in her head the date on which people she meets are going to die.
Edgy and gritty, Numbers is a thought-provoking page-turner with a real twist at the end.
A sequel to the book, entitled Number 2: The Chaos, is due to be published in June.
Rachel Ward lives in Bath but has connections to Angus as her greatgrandfather worked as the goods yard manager at Arbroath railway station.
The other shortlisted titles were Black Rabbit Summer (Penguin) by Kevin Brooks, Guantanamo Bay (Penguin) by Anna Perera, and Crossing the Line (Bloomsbury) by Gillian Philip.
Councillor Peter Nield, Angus Council education convener, said, "I congratulate Rachel Ward on winning the 2010 Angus Book Award.
"I would also like to praise the pupils who have successfully organised this event and the voting process.
"I am delighted that in Angus we have so many pupils who enjoy reading and who have enthusiastically taken part in the process to choose the winner."
Award sponsors were D. C. Thomson, Micro Librarian Systems and Tayside Audio Visual Centre.
TAVC also judged the best film presentations which schools made about the books and which were shown on the night.
Winners Forfar Academy won £100 worth of books for their film about Numbers.
There were also prizes for the best alternative book jacket, won by Lauren McSharry from Carnoustie High for her version of Black Rabbit Summer, and for the winning review of Crossing the Line by Beth Holehouse of Montrose Academy.
Scotia Books also provided prizes for the draw on the night.