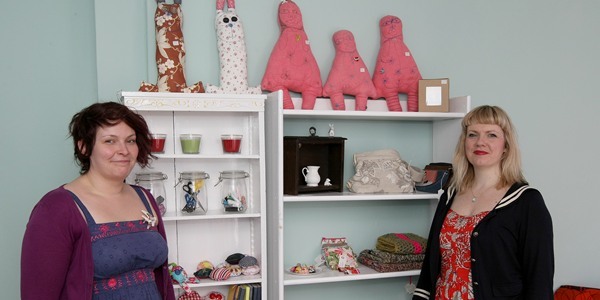 It's been said so many times before if you want something done, you've got to do it yourself, and that's exactly the advice that two like-minded Fife mums have followed. Jennifer Cosgrove met the originators of creative hub Two Dolls to find out more.
The Dolls are going to run regular activities such as sewing tutorials for beginners, crochet and knitting sessions and sewing machine hire, as well as one-off workshops, such as dress making.
"We are going to be renting sewing machines out by the hour or half-hour so if people decide to make something, but they need that extra bit of back-up, they can come in and spend a bit of time in the shop and get support from us," Zoe said.
"Lots of people buy sewing machines with great intentions, then they tackle something that's maybe too difficult and they become disheartened then it gets hidden in a cupboard like a guilty secret. It's about giving people the confidence to do things at home."
The shop is also located close to the Central Library, which will tie in with the creative writing strand Zoe hopes to introduce. There will also be events hosted by Two Dolls in conjunction with Literary Dundee.
"I'd like to run at least one creative writing group that meets once a week," Zoe said. "What we need is for people to get in touch to say what they are interested in doing it could be a group who want to share work, or people who want to be taught.
"I'd also like to run a group for older teens as I don't think there is enough out there for them. There's a requirement in Higher English to do a piece of creative writing and many teachers aren't confident teaching it.Creative benefits"I think it is so good for kids to get in touch with their own voice and studies have shown that children who do poorly in school, and who have behavioural problems, reap so many rewards if they are given the chance to pursue creative writing."
Aside from establishing a base in Dundee for creative activities, the women also identified a gap for a social arts scene whereby people can just mix.
"When Zoe and I met, my daughter was just going into primary one, I'd been in Newport for nearly three years and I didn't know anybody. It's only when she started school that I started to make friends. I've also got a studio at WASPS in Dundee, and you are in there on your own so it's not a very social thing," Jill said.
Zoe added, "It's the same being a writer you have to be on your own and you need to be in your own headspace, but it can also be quite isolating."
Another idea they've had is to bring like-minded people together by having "speed crafting" nights where visitors sit at different tables doing craft.
"We also want to help people network. As women starting out in business, we felt there was an opportunity for people to meet each other and share their skills," Zoe said.
Two Dolls HQ will also sell the work of local craft makers, for example jewellery, haberdashery, bags, scarves, soft toys and cushions. They will also sell artists' books, fanzines and some Dundee University Press titles along with craft magazines.
Zoe and Jill say they are particularly keen to hear from women who make things that men would buy. They are also preparing Easter holiday activities for kids.
"We hope if there is one place in the city doing this, then it will pave the way for more. For us, this is not about making huge amounts of money, it's about having satisfying, professional creative lives where we do our own thing," Zoe said.
"It occurred to us that if you want something to happen, and it's not there, there's no point in sitting around complaining about it you've just got to make it happen yourself."
Almost as soon as they met each other on the Newport-on-Tay school run a year ago, Zoe Venditozzi and Jill Skulina knew they wanted the same things. Both creative and both mums they soon got talking about how the artistic side of life can often take a back seat when paired with the daily routine of parenthood.
Jill (37) is a visual artist who, up until recently, worked part-time in Dundee Rep Theatre's wardrobe department. She left the job at the weekend to concentrate on Two Dolls, although she will still do costume work for future productions.
She has a Masters in Fine Art and a Bachelor of Design (hons) in interior and environmental design, both from Duncan of Jordanstone art college in Dundee. Jill's forte is textiles and sewing but she works in a number of mediums.
Meanwhile, Zoe (35) is a writer and in the middle of studying for a Masters in Creative Writing at Dundee University. Previously an English teacher in Dundee, Zoe is also an editorial intern and programmer for the Dundee Literary Salons. Aside from her writing, she has an interest in subversive cross-stitch and embroidered venn diagrams.
The women's business, called Two Dolls, has been on the go since May 2010.Two Dolls HQ opened in the Meadowside area of Dundee on March 25. Check their Facebook page for further information.Two Dolls aim to bring creative circles together in Dundee and Zoe and Jill will host events and workshops with the focus of imparting knowledge and bringing about creative partnerships, collaborations or skill swaps.
They are also committed to showcasing talent, and workshops will be held in the new HQ and as satellite events in alternative venues around Dundee and Fife.
"Jill and I weren't really friends before," Zoe said. "My daughter Lola-Ray and Jill's daughter Bea go to the same school in Newport and I remember I saw Jill and thought she seemed like a nice person, so we went out for coffee."Shared desireJill said, "After that first meeting, I went to Zoe's house after school with my daughter and we were just going for a chat but, within an hour or so, we had discovered we'd both always wanted to open a shop."
The women decided to start up a business promoting creativity and craft, calling themselves Two Dolls. The name links to childhood and motherhood but also plays with the idea of Scottish women being called 'dolls' as well as being smart and sassy, of course!
In June 2010, Two Dolls ran a stall during the Dundee Literary Festival in the concourse of Dundee University's Dalhousie Building. They have also held two "mingle and make" apron-making workshops at Manna Cafe in Newport.
Zoe added, "We spoke early on about getting a shop and we looked at various different spaces, but it was just too much of a gamblefor us.
"Then we found the spot on Meadowside near the back of the Wellgate Centre and it was suitable for various reasons. It is an area that's really under-used but it is close to the town centre and close to communities. We want to attract people from all walks of life."
Because they are mums, the shop will be open on a part-time basis from Thursday to Saturday. Future events might result in it opening on additional days at certain times.
Zoe said, "A lot of people who have very artistic and creative lives think they can't do that kind of thing any more when they have kids. Our feeling is everybody should have access to being creative.
"Another thing is the shop isn't just for women, which is why we have called it Two Dolls HQ. We will be doing specific events aimed at men, too for example, cocktail making or sushi making or sewing for beginners so that men can do maintenance or even make an iPod or iPad cover.
"Even though it might not seem as if what we do would appeal to men, we wouldn't want them to feel excluded. It's just because the business is run by two women! We want them to feel comfortable coming in," Jill added.
Continued…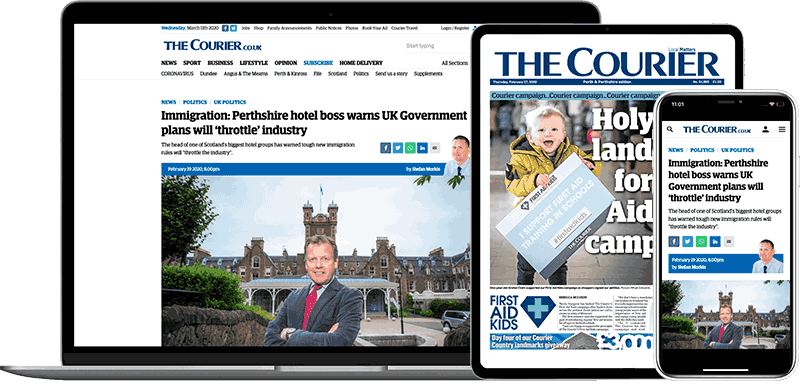 Help support quality local journalism … become a digital subscriber to The Courier
For as little as £5.99 a month you can access all of our content, including Premium articles.
Subscribe