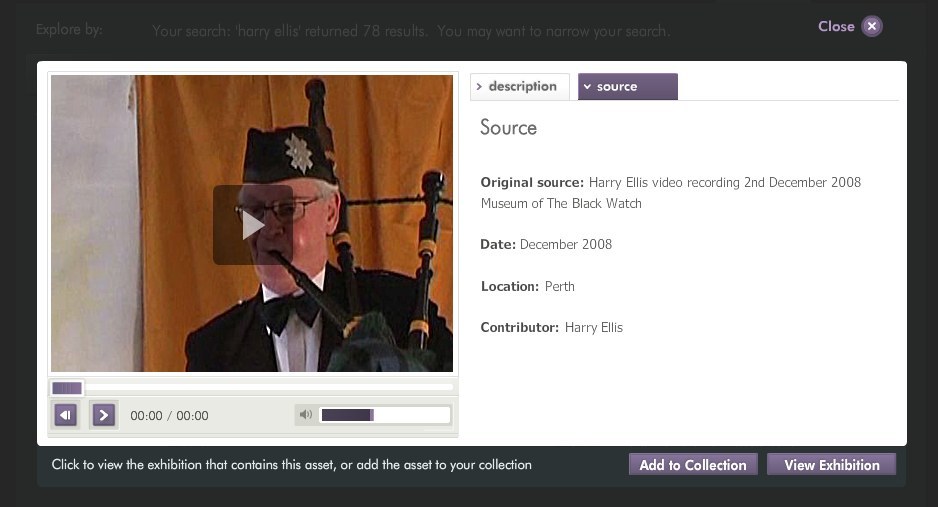 The Black Watch plays a central role in Scotland's pioneering new online museum, Remembering Scotland At War.
The site, launched on Thursday at Edinburgh Castle, is envisaged as a way of "capturing memories" and encourages personal accounts of how conflict has affected the nation's people.
It includes the recollections of civilians, veterans young and old, and those currently in service, including an extensive archive of those who have served with The Black Watch, which has its spiritual home in Perthshire.
The online museum, which can be found at www.RememberingScotlandAtWar.org.uk, is the culmination of a three-year project led by Museums Galleries Scotland and supported by the Big Lottery Fund.
At its launch it features over 200 exhibitions, interviews, photographs and footage dating from the second world war to more recent conflicts including Iraq and Afghanistan.
However, the free museum is designed to be constantly evolving and fully interactive, and it is hoped that additional personal stories will be added over time.
There are accounts of individuals, families, communities and even the impact of conflict on the landscape.
In addition to the online museum's exhibitions, there is an interactive social media area where memories can be exchanged, and anyone can create a profile to upload their own reminiscences, photographs and videos, discuss exhibitions and make comments.
Launching the resource on Thursday, Culture Minister Fiona Hyslop said, "In Remembering Scotland At War, Museums Galleries Scotland has created an important resource that spans generations.
"I am sure the museum will be inspirational to younger people, fostering a greater understanding of the impact of war."Thought-provokingMuseums Galleries Scotland worked with 13 museums and galleries across Scotland to create the thought-provoking exhibitions. These included the Regimental Museum of The Black Watch at Balhousie Castle in Perth, the Scapa Flow Visitor Centre and Museum at Lyness, and West Dunbartonshire Council and Highland Council's museums' services.
Part of creating these stories involved working closely with schools, youth and community groups to gather emotive reminiscences, together with bringing older and younger generations together to learn from each other.
The exhibitions feature hundreds of moving accounts of things such as being taken by the Germans in the second world war, being a child buried in rubble during the Clydebank blitz, and training for deployment to Afghanistan.
Another, entitled This Happens In War, saw The Black Watch Museum working with the YMCA in Perth to gather and record memories from members of the 51st Highland Division, the Wrens and national servicemen.
It has also worked with Atholl Country Life Museum and the St Andrews Preservation Trust to find stories, photographs and artefacts from the war on the home front.
The Black Watch contribution covers conflicts from the second world war to the Korean war and the Kenyan insurgency.
Featuring a number of topics from the war at home, conscription and national service to war zones in north Africa, France, Germany and, more recently, Korea and Kenya, these are brought to life through the stories and memories of veterans from Fife and Tayside.
Ruari Halford-MacLeod, who led The Black Watch Museum's contribution, said, "It's been a hugely beneficial experience for all involved, and we've created a remarkable resource for the future."
Remembering Scotland At War features a dedicated learning resources centre where pupils, teachers and parents can download school-based activities.
It will also be available to pupils and teachers through Learning and Teaching Scotland's new Scottish schools' intranet, Glow, giving more access to images.
The Black Watch Museum's touring exhibition This Happens In War will be at the Atholl Country Life Museum until September 30.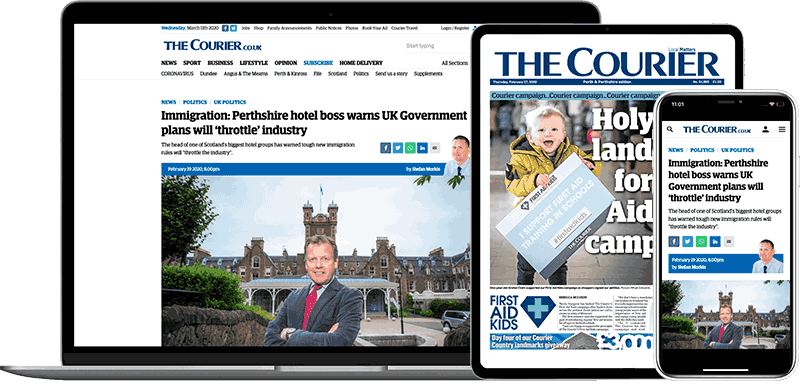 Help support quality local journalism … become a digital subscriber to The Courier
For as little as £5.99 a month you can access all of our content, including Premium articles.
Subscribe